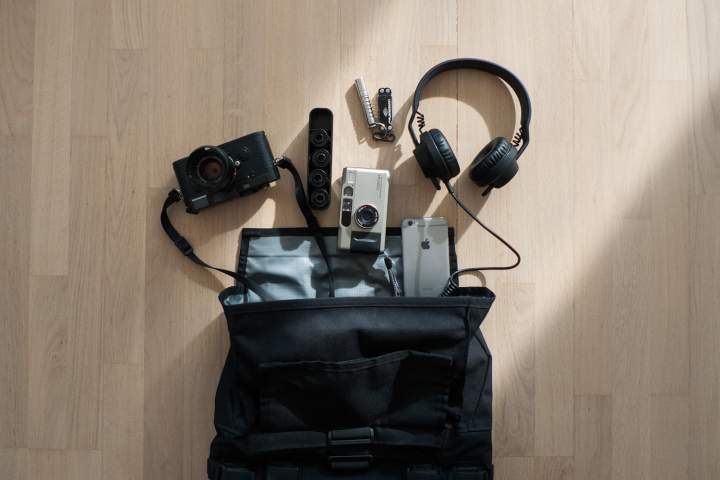 In your bag No: 1385, Marius R. Andersen
Marias has a really nice bag for us to kick the weekend off. Delightfully simple and practical, this bag is perfect for the inclement weather of Norway. Check it out.
Here's what I usually carry around!
I'm located in Oslo, Norway so we get a fair bit of rain and rough weather. I keep my gear safe in the weatherproof R6 Arkiv Field Pack from Mission Workshop. Stealthy, with plenty of modular options.
I like to keep it simple and stealthy. My main work horse is a Leica M6 Classic with a 50mm Summicron v.4, with the logos blacked out! The M6 is usually loaded with Fuji Pro 400H, Porta 400 and sometimes Tri-X 400. 
My trusted P&S is the Contax T2, loaded with Porta 400. Perfect for quick and off the hip snapshots.
The half case is perfectly sized and keep my film safe. I also have a couple of the regular cases for longer trips.
The iPhone is always with me, so I end up using for taking pictures. It's a totally different tool from the T2 and the M6, but still useful.
A small Leatherman Micra and a Lumitop Worm flashlight solves most daily problems. They're both tough and durable. Always with me.
And last but not least is the AIAIA TMA-1 headset. Perfect for listening to mood setting music while I shoot!
– Marius 
Instagram: Marwin3000
Thanks for sharing your bag with us, Marius. Love seeing the case in there being put to good use.
Check out the links and please come and comment.
Keep them coming folks, we need more submissions, so get your bag on Japancamerahunter.com
Send me a high resolution image of the bag. Optimum size is 1500px across. Please ensure there is a bag in the shot, unless you don't use one. The more you can write about yourself the better, make it appealing and tell us a story. Snapshots of your gear with a camera phone and no words will not be featured.
Oh and don't forget your contact details (twitter, flickr, tumbler et al). Send the bag shots here. Please understand that there is a long wait now as there is a backlog of submissions. Not all make the cut, so make sure yours is funny/interesting/quirky. And please make sure the shot is of good quality, as the ones that are not do not go up.
Cheers
Japancamerahunter