In your bag No: 1352, Francisco Gozon
Today we have a cracking film bag for you. A simple setup, Francisco shows us that it doesn't have to be overloaded to get the results required. Check this one out.
I have always been an observant person from what many of the people in my life tell me. I have always been interested in Photography but I actually decided to pursue Cinematography instead. I started out with my old Canon EOS 600D DSLR back in 2012 from which I learned the fundamentals of 'Visual Storytelling'. I studied a Screen and Media course at the Royal Institute of Technology University here in Melbourne, Australia where I am from where I developed my skills as an aspiring Filmmaker. I decided to focus on the aspect of Cinematography as I seem to have enjoyed its aspects the most. Lighting, Cameras, Lenses… It just felt right. 
It was not till late last year where I took an interest in Film Photography. Interesting story actually: I found myself heavily using Film look-alike presets (Colour Grading) on footage I worked with so I asked myself when I was choosing a Camera for photography purposes… "why not try out actual Film?". So I did and I have never been so satisfied with such a decision. 
Whats In my Bag?
Nikon FM2n Camera
I had done a lot of research (JCH being one of my major sources of information) and trying out of cameras before deciding what I wanted to get as my first Film Camera. From what people have said, the Nikon F and FM series are some of most robust and reliable cameras on the market for Film Photography. I was thinking about going with the F3 but I ended up going with the FM2n for that juicy 1/4000th max shutter speed of which without a doubt has kept some options open for me when shooting. 
28mm f2.8 AIS Lens
Choosing the 'go-to' lens took some time. I knew I didn't want to go the typical 50mm focal length as I don't find it versatile at all. I decided to go with a 28mm. I know a lot of people find it a bit too wide, but so far I have found it to be the perfect focal length for my tastes. Not only do I find it amazing for Landscapes/Architecture, but I absolutely love it for portraits too; There is just something magical about getting really close to your subjects as they look into your eyes though a series of glass and mirrors. I find the experience much more intimate than using a 50/70/100 from further away. I feel more connected to my subject. So far this setup has not let me down, if I need a subject to fill the frame more, I simply just get closer to it. 
Film
Safely tucked into JCH's most clever case, I mainly use Ilford HP5 pushed to 1600, occasionally using Ilford Delta 400. Like I have mentioned, remaining versatile is my priority; I would rather capture a moment with more grain (which I don't mind in the first place), then let it go due to not having enough speed on my shutter needed for the shot. Having the high shutter on my FM2n once again allows me to still take shots in broad daylight. I have mainly just been sticking to Black and White since I have started shooting, as I have been bored shooting colour on video for a while now. Its been fantastic looking at the world in a whole new way. Once I have finished shooting a roll, a chuck it into my Cub n Co pouch which came with my Leather Strap. 
Small LED Light
Occasionally I bring my Small LED light with me for those "Too-Dark" situations. I lost its filters a while back so I literally just folded some baking paper and use it as a diffuser. So far a haven't used it much. If I find my subject too dark, I prefer just re-positioning them next too/in front of more light. Keeping things as natural as possible is my style. 
Headphones
I would say one of my most needed items I have on me when I shoot are my DNA headphones. I draw a lot of inspiration from music; From Alternative to Nu Metal, Indie to Film Scores, Coldplay to John Williams, Daft Punk to Eminem, I love music. When I am taking photos in the city, I usually am alone; I like walking around at my own pace, taking the time to appreciate my surroundings and really absorb what is around me of which music helps to allow me to free myself from its realities. Having a good pair of headphones just makes sure I can enjoy music to the best of its qualities and at the same time block out the often distracting sounds around me. My lonely photo walks are filled with so much inspiration and joy thanks to this medium. 
Book
Every now and again I take a book along with me for those train rides. I lately have been inspired by Markus Anderson's 'Rage Against the Light', a photo book which "explores Sydney as an abstracted backdrop for a fragile human presence, one dwarfed by overwhelming architectural development and consumerism". I highly recommend checking it out, especially if you are into black and white street photography.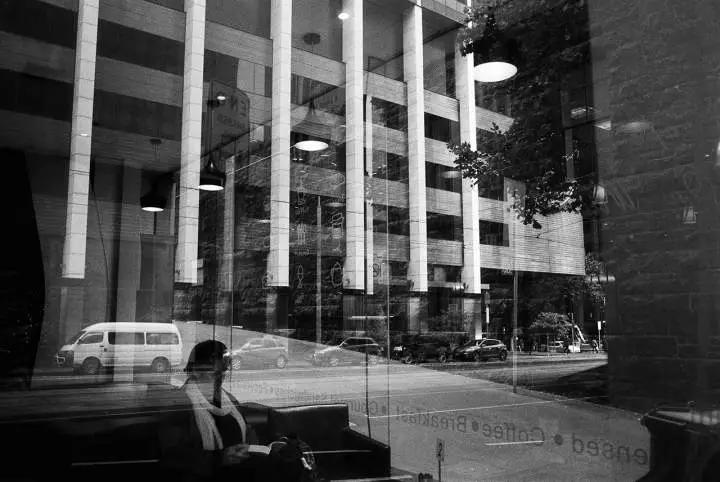 I would like to thank Mr Hunt for this brilliant website. Thanks for keeping this wonderful medium more accessible for everyone and sharing your most beloved knowledge.
If anyone is interested in my Film photography you are most welcome to follow me on Instagram @fgozon.
– Francis
Thanks for sharing your bag with us, Francis. I love the purity of this bag. Really great stuff.
Check out the link and make sure you come and comment.
Keep them coming folks, we need more submissions, so get your bag on Japancamerahunter.com
Send me a high resolution image of the bag. Optimum size is 1500 across. Please ensure there is a bag in the shot, unless you don't use one. The more you can write about yourself the better, make it appealing and tell us a story. Snapshots of your gear with a camera phone and no words will not be featured.
Oh and don't forget your contact details (twitter, flickr, tumbler et al). Send the bag shots here. Please understand that there is a long wait now as there is a backlog of submissions. Not all make the cut, so make sure yours is funny/interesting/quirky. And please make sure the shot is of good quality, as the ones that are not do not go up.
Cheers
Japancamerahunter