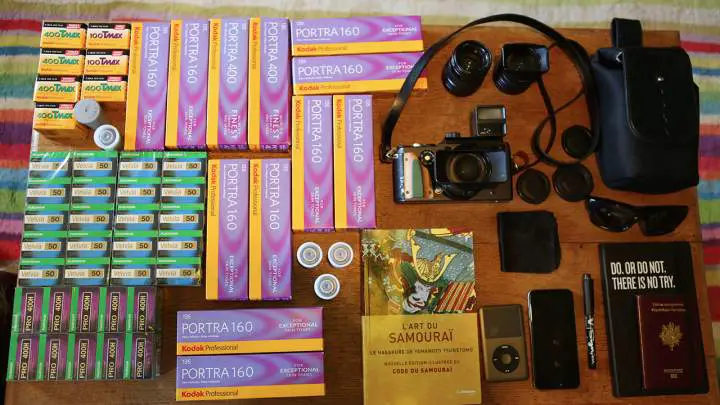 In your bag No: 1292, Fabien Lefevre
Fabien is back, and he is going on a world tour. Hence the ton of film. Now normally I wouldn't feature this as it isn't what is actually in the daily bag, but this one is a bit special. It is the start of something new, and it features a very cool camera. And it is my site, so I am allowed to break the rules. Check it out.
I'm currently packing as I'm leaving tomorrow morning for a 3 month trip around the world (California, French Polynesia, Nz, Australia, Thailand and Dubai) and i though it was the good time too send you a bag shot!
Pretty simple this time, No big Dslr and big zoom (just give them to my father who will travel with me in fact :)) 
Just the full Xpan System (30mm, 45mm & 90mm)
In my humble opinion the perfect partner to do anything you want (landscape, street portrait, sports, just everything!) and that panoramic format… You know what i'm talking about!
I Started with the 45 then the 90 and i found a perfect 30mm some month ago, veryyyy good price, I just couldn't resist…I must admit that i didn't use the 45 much since! but sometimes the 30 is so wide!
Can't wait to use it in the wild world!
The Xpan goes along a Figosa camera strap and i have two lens in the Holdfast sightseer lens pouch i can attached to my belt or on my bag. ( oh sorry about that not enough place on the shot! but the bag is just a simple Herschel bag, nothing too fancy) 
In that way i can have the whole xpan system at my fingertips and change the lens quickly.
To feed him and i understand now the #staybrokeshootfilm, i bought over a hundred films:
50 Portra 160: I just love the color, one of my favorite film.
10 Portra 400: Sometimes, 160 is no enough for low light scene or Sport (and i will definitely try to catch some of my mates riding Bmx around the globe so i will need them) 
10 Fuji ProH400: Love it like the Portra but not as easy to find! Don't shoot enough of this film!
20 Velvia 50: Maaaan, the price of this film is full on Crazy! but i don't do this kind of trip so often and we never know when fuji will get rid of it…So i tought it was the good occasion to use it and i can't wait to see the diapo taken in the desert, island, mountain,sea and jungle I'll go through
The last Tmax 100&400 who where sitting in my fridge as i know i will do an overdose of color at some point and i love to shoot portrait and sport in B&W.
Some Provia100f, i don't even now where those films come from they were just here in my fridge!
To spend the 54hours of flight i'll grab Hagakure (sure you know it) or my Stars Wars Edition Moleskine ( a gift from my sister!) to write some memories with the best Pen ever (Pilot V signpen)
And of course, Mandatory sunglasses, lens cleaning tissue, Ipod/Iphone6 and passport.
I don't know if you remember but in my first bag post here (https://www.japancamerahunter.com/2014/12/bag-1086-fabien-lefevre/) the xpan was rockin a Custom Xpan grip my boy Jerome (Insta: Yordacrew60) And he just strike again! this time with a classy Madagascan Rosewood grip! Way thicker than the first one who was already thicker than the original, the grip is perfect!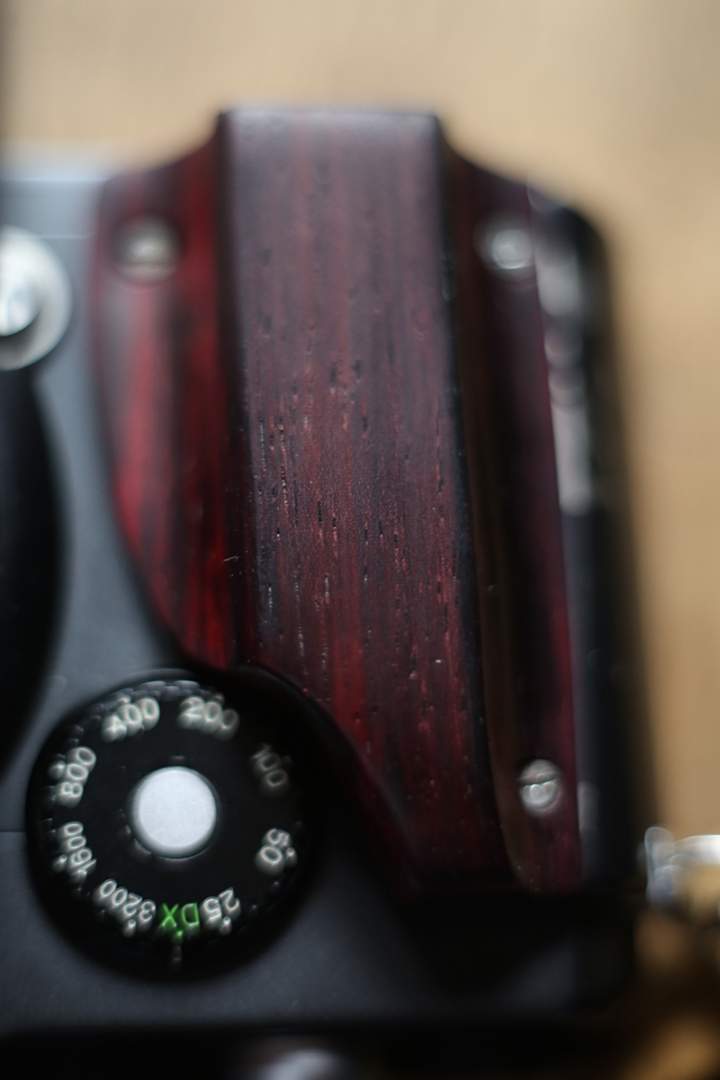 I Will certainly post some roll on my site fabienlefevre.heritage.io , on tumblr http://yordaphotography.tumblr.com or on instagram @yordalhb.
Cheers!
Fab
Thanks for sharing your bag with us again, Fabien. I hope you have a smashing trip and get tons of good images.
Keep them coming folks, we need more submissions, so get your bag on Japancamerahunter.com.
Send me a hi resolution image of the bag. Optimum size is 1500 across. Please ensure there is a bag in the shot, unless you don't use one. The more you can write about yourself the better, make it appealing and tell us a story.
Oh and don't forget your contact details (twitter, flickr, tumbler et al). Send the bag shots here. Please understand that there is a long wait now as there is a backlog of submissions. Not all make the cut, so make sure yours is funny/interesting/quirky. And please make sure the shot is of good quality, as the ones that are not do not go up.
Cheers
Japancamerahunter