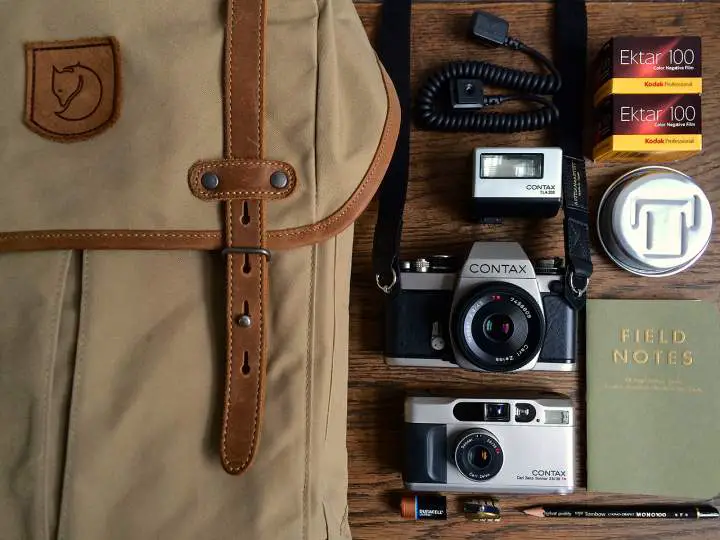 In your bag No: 1274, Neil Thain-Gray
Off to sunny Scotland today, for a fantastic Contax bag. Neil managed to pack shooting into a busy schedule, an admirable skill when kids are involved. Check this one out.
Hi JCH,
Here's a shot of my everyday bag – the cameras just have to fit in alongside everything else (with a little protection of course!). I manage to squeeze photography in around family life in Glasgow and working full-time for a humanitarian organisation.
I have a fairly happy-go-lucky approach to photography making colour urban abstracts in chance locations found on my commutes around the UK. I like to keep things simple and suppose I have a relatively minimal setup. I found my ideal camera in the Contax S2 which I have been shooting with over the last five years. Working with a fully manual SLR suits my deliberate style and careful compositions.
I love everything about the S2: it's compact, lightweight and weather sealed, it has a huge bright pentaprism finder, nice clear meter readout, precise spot-meter, and a 1/4000s maximum speed shutter with flash sync at 1/250s. Did I mention the Contax Porsche design heritage or the lovely brushed titanium finish? Anyway, I'm suckered – I have three of these bodies including the S2b.
I have owned several of the outstanding Zeiss C/Y standard Planar and medium-wide Distagon lenses but the tiny pancake Tessar is the one lens that is always with me and has brought a consistency to my images.
I also carry a Contax T2 compact for fun or for when time is of the essence. JCH readers need no introduction (but let me remind you anyway!), it has that tack-sharp Zeiss Sonnar lens with a mechanical aperture ring (a rarity on a 'modern' 35mm compact), great program AE mode, quick AF, nice bright finder, minimalist design and a titanium body that's built like a tank. Aside from a few shortcomings, like a 1/500s maximum shutter speed and a readout with no 1/250s indicator (?!!), it is great fun to shoot with and is a serious hazard to your film stockpile!
Film-wise I like the colour results I get from Kodak Ektar but occasionally use Portra 160 / 400. For black and white I use Kodak TMax 100 / 400. We are lucky in the UK to have such a ready supply of Ilford film products on the high street, and I have to give them credit for helping my find my feet in film photography using HP5 and FP4. I now trust my processing and scanning to www.ag-photolab.co.uk
So here's the list:
CONTAX S2
CONTAX Zeiss Tessar 45mm F2,8
CONTAX TLA 200 Flash
CONTAX TLA Extension Cord 100
CONTAX T2
Artisan & Artist ACAM-102 – Japanese-made camera strap
Kodak Ektar x 2 rolls at least!
Batteries – if I remember them!
The bag:
Fjällräven Rucksack No. 21 Medium – Swedish-made cotton backpack waxed for west of Scotland weather!
Some of the photogenic but non-photographic stuff sharing the space:
Field Notes – American-made note book
Tombow MONO100 F – Japanese-made cedar pencil
M+R Grenade pencil sharpener – the only German-made brass my budget can stretch to!
Trangia tin – Swedish-made camping tin for storing healthy snacks
Anyway I usually can't find what I need in the bag because there's too much work stuff or kids stuff in there too, but that's life!
Thanks for reading and happy shooting to you all.
If you have the time please stop by neilthaingray.tumblr.com
Cheers, Neil
PS There is a great contemporary photography scene in Scotland, check out: www.streetlevelphotoworks.org , www.stills.org , www.institutephotographyscotland.org
Thanks for sharing your bag with bus, Neil. And thanks for the links too, it is good to see such a strong scene going on in Scotland.
Check out the links and please make sure you come and comment.
Keep them coming folks, we need more submissions, so get your bag on Japancamerahunter.com.
Send me a hi resolution image of the bag. Optimum size is 1500 across. Please ensure there is a bag in the shot, unless you don't use one. The more you can write about yourself the better, make it appealing and tell us a story.
Oh and don't forget your contact details (twitter, flickr, tumbler et al). Send the bag shots here. Please understand that there is a long wait now as there is a backlog of submissions. Not all make the cut, so make sure yours is funny/interesting/quirky. And please make sure the shot is of good quality, as the ones that are not do not go up.
Cheers
Japancamerahunter