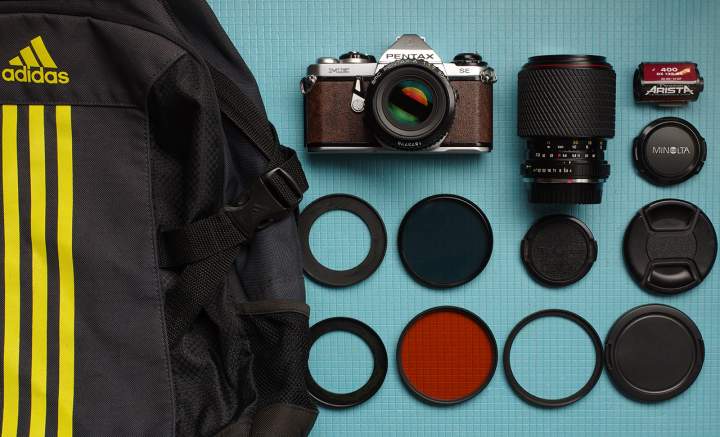 In your bag No: 1262, Ivan Bobkov
Today we have an ultra simple bag for you. One system and just the basic bits required for a trip around the Caucasus. Check out Ivan's sweet setup. From Russia, with love….(OK, shoot me, lame joke).
My name is Ivan Bobkov, I'm 25 years old russian guy.
It all started with a Minolta. It was a time for a trip to Caucasus, my DSLR was in repair and the only decent camera remained was Minolta Maxxum 7000. I took just three rolls of film for a week. Of course, that was not enough.
I was delighted with a large viewfinder, convenience of work, feeling good quality product from awesome 80's and, certainly, the photographs. Colors were delicious, the photos were full of depth with a volume of true "full frame".
Later, I moved to Pentax system, tried black and white film developing and remain faithful to this cause nowadays.
That's in my bag:
– the bag itself – adidas backpack. Backpack is more convenient if you move on a bike or go hiking. But if you notice something interesting in the city – the speed of pulling out the camera, of course, will be low and decisive moment may gone.
– Pentax ME SE, cause of design and lightweight. Works with "Sunny 16" rule only now. Some time ago I was shooting a game of pool and at some point the light meter just stopped working. The floor was paved with a carpet and there were serious reasons to believe that a light meter was ruined by static. So, ground yourself. Or better use full manual film camera. It does not fail.
– SMC Pentax-A 50mm f1.7. Just a classic fifty.
– Tokina SD 70-210mm f4-5.6. Cheap telephoto lens.
– Roll of Arista Premium 400. Works like Kodak TriX. Sadly, but discontinued now.
– Kenko CPL filter.
– Noname YA3 (orange) filter. The sky looks like you're on the moon.
– 49-67, 52-67, 67-72mm step-up rings to fit large diameter filters to different lens.
– Lens caps. To keep it all clean.
Here is my flickr: http://www.flickr.com/gp/124986234@N08/ekf0rG
and twitter page: http://twitter.com/ikitano
Be yourself and love what you do.
Best wishes.
Ivan.
Thanks for sharing your bag with us, Ivan. Interesting to hear your light meter stopped after the static, I have never heard of that before.
Check out the links and please make sure you come and comment.
Keep them coming folks, we need more submissions, so get your bag on Japancamerahunter.com.
Send me a hi resolution image of the bag. Optimum size is 1500 across. Please ensure there is a bag in the shot, unless you don't use one. The more you can write about yourself the better, make it appealing and tell us a story.
Oh and don't forget your contact details (twitter, flickr, tumbler et al). Send the bag shots here. Please understand that there is a long wait now as there is a backlog of submissions. Not all make the cut, so make sure yours is funny/interesting/quirky. And please make sure the shot is of good quality, as the ones that are not do not go up.
Cheers
Japancamerahunter