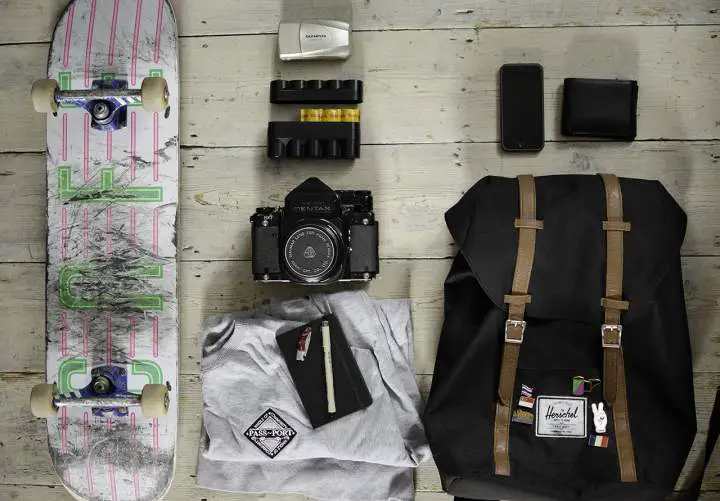 In your bag No: 1239, Keegan Holman
Although it is technically not part of his bag, the skateboard adds a nice touch to this bag shot. Keenan doesn't mind lugging around a whopper of a camera either. Check it out.
My name is Keegan Holman, I live in the UK, and I'm 20 years old.
I've been following the site for quite a while now and thought it about time I submitted my bag. This is what I carry around with me most days:
Skateboard
Ok so while technically never in my bag, if I have this with me then I'm guaranteed to have a camera with me as well. Skateboarding is why I started taking photographs. Plus, skateboarders for the most part are a varied and interesting group of individuals so I always have somebody to pester into letting me take their portrait.
Olympus Mju II "Stylus Epic"
This comes with me pretty much everywhere, even when I'm not carrying my bag. I love the size and THAT LENS. I've not had it long but it's already the perfect casual shooter for me. "It's not the size, it's how you use it"
Usually loaded with Portra 160 or Echtachrome for color and Ilford films for black and white.
JapanCameraHunter 120 Film Case
Half full of Kodak Tri-X at the moment but would otherwise be either Kodak Portra 400 or Ektar 100.
I've also tried some chrome film recently with Fuji Velvia and Provia which I loved.
Pentax 6×7 (MLU) with 90mm f/2.8
Man, I love this camera. Sure it weighs as much as a chubby baby and sounds like a door slamming when it fires but that 6×7 negative is worth every calorie burned from lugging it around all the time.
I actually bought this from a collector for a great price (Any cheaper would be considered theft) whilst I was living in Sydney last year. I still had to eat instant noodles for two weeks straight with my budget at the time but it's a labour of love this film photography jazz, isn't it?
I also have the 200mm f/4 but I only bring that out if I have planned using it beforehand.
Sweater
For those brisk British evenings at the skatepark. Also pads out the bag a bit.
Notepad and pen
I've gotten better with recording settings and stuff but it is easier when there's only 10 shots and you want them all to count.
Tiny pocket knife
In case I need to carve a girl's name into a tree.
Phone and wallet
Phone doubles as a light meter when I need it and music for when I'm having a lone wander. I like to shove these two in the bag because it's nice having empty pockets when popping ollies up curbs at speed.
Herschel backpack
Adorned with a few pins I've picked up along my way. Not much to say about the bag; it does the job and it's pretty comfortable to skate about with.
We'll that's everything, and as you can see it isn't much but I wouldn't want to pack any more weight into this bag for the sake of future-me's back problems.
Occasionally I will swap out the 6×7 for my Polaroid Automatic Land Camera for when I'm in the mood for instant, easy photos and when I'm feeling some landscape work I will leave the skateboard at home in trade for my tripod.
Hope you've enjoyed what's in my bag!
You can find my photographs on Instagram @willskateforfilm
And recently I started a simple Tumblr page to show some of my favourites off on the bigger screen. It doesn't have much on there just yet but I will be updating it fairly regularly.
http://willskateforfilm.tumblr.com/
Thanks for sharing your bag with us, Keegan. Nice to see a skater on here.
Check out the links and please make sure you come and comment.
Keep them coming folks, we need more submissions, so get your bag on Japancamerahunter.com.
Send me a hi resolution image of the bag. Optimum size is 1500 across. Please ensure there is a bag in the shot, unless you don't use one. The more you can write about yourself the better, make it appealing and tell us a story.
Oh and don't forget your contact details (twitter, flickr, tumbler et al). Send the bag shots here. Please understand that there is a long wait now as there is a backlog of submissions. Not all make the cut, so make sure yours is funny/interesting/quirky. And please make sure the shot is of good quality, as the ones that are not do not go up.
Cheers
Japancamerahunter