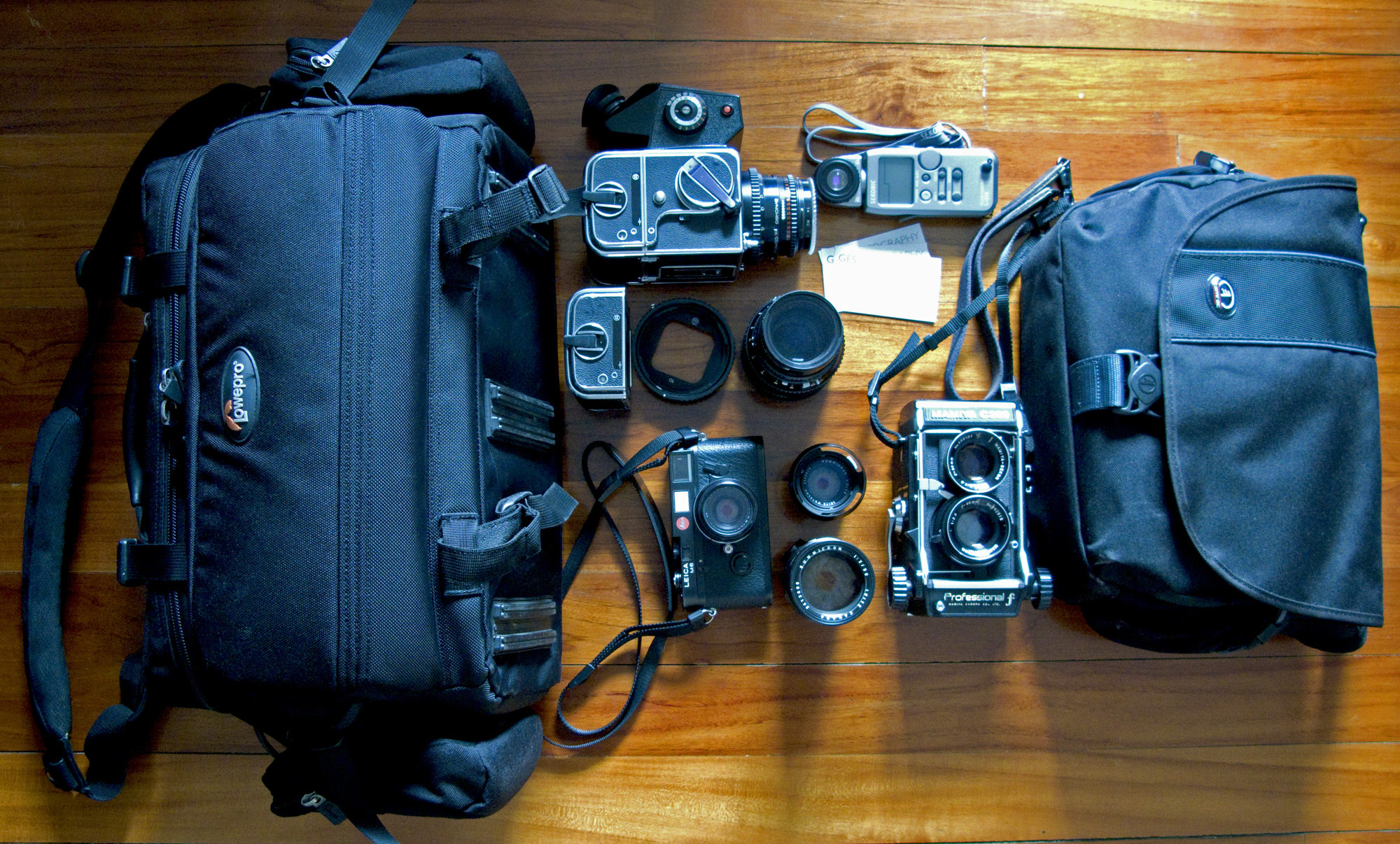 In your bag number 50, Gordon Shkurhan
Merry Christmas to one and all. I hope that santa has been and emptied his bulging sack for you all:)It has been a wonderful year for Japancamerahunter and the 'in your bag' series. On this Christmas day we have another wonderful bag for you all. This time it is from Gordon Shkurhan. I will let Gordon tell you all about his kit, Merry xmas:

Hi. My name's Gordon Shkurhan, and I'm originally from Vancouver, Canada. Though I have lived in Hong Kong for the past 6 years, my true second home is Osaka, Japan.
By day, I'm an English teacher in the local school system but a struggling photographer the rest of the time. The style of photography I do, as you can well imagine from the gear I carry, is in the areas of street photography, landscape/ fine art and portraits.
Technically, I tend to use two bags. My everyday bag for tromping around my current city of residence, Hong Kong, is a simple, black Tamrac 3-section courier-style bag in which I typically carry around my M6 with 35 and 50 mm summicrons along with my Mamiya C330 F with the standard 80 mm f2.8 lens for super-stealthy medium format street shots. To compensate for not having a meter built in to the Mamiya, I also carry my trusty Sekonic L-358 light meter. Obviously, 135 and 120 film, notebook, pen and business cards round out the package.
My travel bag tends to be a bit more, how shall I say, weighty: a virtually indestructible Lowepro AW Magnum. I do a lot of medium format photography, so I have to have room to take my Hasselblad 500 C/M with Kiev metered prism, two A12 film backs to allow for colour as well as black and white, and the 80 mm Planar and 150 mm Sonnar lenses, with a #10 extension tube for more close-up work. I also take along the same M6 set-up with the 35 and 50 mm summicron lenses, but add to that, a 90 mm summicron. Other sundry items not in the photo are a Sureshot flashlight for illuminating dark corners of temples, lots of rolls of 135 and 120 film, notebook, pen, batteries for meters, business cards and other, small nuts 'n bolts such as film tabs, quick release tripod plate and shutter release cable. And, just so I'm not completely stuck in the analogue age, the Canon G9 that I used to take this photo.
Anyone interested in checking out my work can go to:
website: http://gesphotography.com
blog: http://shkurhan.wordpress.com (in English and Japanese)
Thanks for sharing your bags with us Gordon, especially on this special day. It is wonderful to see so many goodies, seems like you have been a very good boy:)
Keep them coming folks, we need more submissions, so get your bag on Japancamerahunter.com. Send me a hi resolution image of the bag (please make sure it is horizontal) and its contents, with some details about yourself and what you shoot. Oh and don't forget your contact details (twitter, flickr, tumbler et al). Send the bag shots here Send the bag shots here.
Cheers
Japancamerahunter