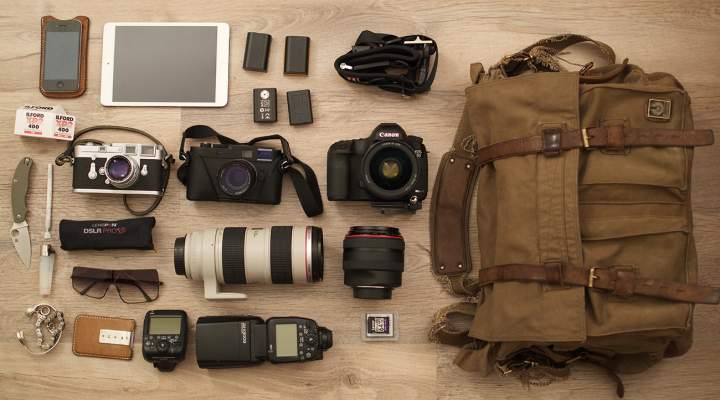 In your bag No: 1189, Joseph Seven
Joseph doesn't say much, but he does carry a lot. I do hope for his sake he didn't bring that knife to Japan though, that is a definite no-no on the streets of Tokyo. Check out this whopper of a bag.
Thought I throw my bag/contents into the mix,
Iphone 4
Ipad mini
spare batteries
Carryspeed strap for 5d3
Ilford XP2 400 for M3
Leica M3 SS
Leica Monochrom & scummilooks 50mm ASPH
Canon 5D mk3 &24-70mm L f2.8
Belstaff bag on its last legs from being over stuffed
Spyderco UKPK foliage green g10 micarta
Lenspro cleaning kit
Chloe Asymetric sunglasses
Canon 70-200mm f2.8 IS mk1
Canon 85mm f1.2 L
Clipper Lighter
Canon Tr commander
Canon 600 Rt flash
Personal Items
I'm a regular reader of the site and it's excellent, I'm in tokyo in March with Magnum and Gilden and am planning to hit up the camera shops so might even bump into each other,
Site is amazing and best of luck with JCH in general,
Joseph Seven
Thanks for sharing your bag with us, Joseph. My that is a lot. I hope you had a good trip to Japan and a rewarding workshop.
No links today, so just comments please.
Keep them coming folks, we need more submissions, so get your bag on Japancamerahunter.com.
Send me a hi resolution image of the bag. Optimum size is 1500 across. Please ensure there is a bag in the shot, unless you don't use one. The more you can write about yourself the better, make it appealing and tell us a story.
Oh and don't forget your contact details (twitter, flickr, tumbler et al). Send the bag shots here. Please understand that there is a long wait now as there is a backlog of submissions. Not all make the cut, so make sure yours is funny/interesting/quirky. And please make sure the shot is of good quality, as the ones that are not do not go up.
Cheers
Japancamerahunter