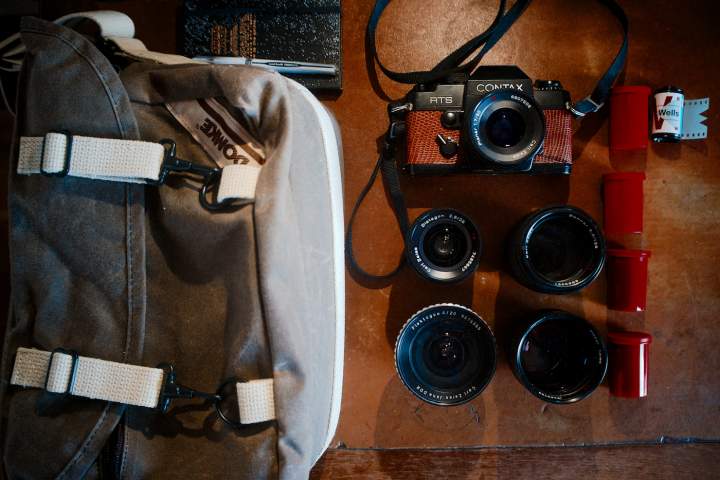 In your bag No: 1188, Alessandro
Another secretive bag today. Alessandro shares with us little detail about himself, but does share with us a superb bag, containing a true masterpiece of a camera. Oh how I wish Contax could still make cameras. Check this one out.
Hi all,
My name is Alessandro and I work as a video editor.
I'm relatively new to JCH, but I'm a long time vintage photographic gear user/hoarder, so I kinda feel at home.
I partially got back to film recently (after some digital-only years) as it felt natural, having used only old manual lenses for a long time.
Here's what has become my somewhat standard bag recently:
Camera:
Contax RTS
Lenses:
– Carl Zeiss Jena Flektogon 4/20 (with c/y adapter)
– Carl Zeiss Distagon T* 2.8/28
– Carl Zeiss Planar T* 1.7/50
– Carl Zeiss Planar T* 1.4/85
– Carl Zeiss Sonnar T* 2.8/135
Film:
Some rolls of "Wells" 50 iso B/W film by italian Six Gates Film
Other:
the always present moleskine, this time in a star wars attire
Bag:
A nice little Domke f6 ruggedwear.
I usually also fit my Nex 5R with viewfinder and C/Y adapter, but I was using it to take the photo.
Thanks for sharing your bag with us, Alessandro. I love that Contax, what a beauty.
No links today, so just comments please.
Keep them coming folks, we need more submissions, so get your bag on Japancamerahunter.com.
Send me a hi resolution image of the bag. Optimum size is 1500 across. Please ensure there is a bag in the shot, unless you don't use one. The more you can write about yourself the better, make it appealing and tell us a story.
Oh and don't forget your contact details (twitter, flickr, tumbler et al). Send the bag shots here. Please understand that there is a long wait now as there is a backlog of submissions. Not all make the cut, so make sure yours is funny/interesting/quirky. And please make sure the shot is of good quality, as the ones that are not do not go up.
Cheers
Japancamerahunter