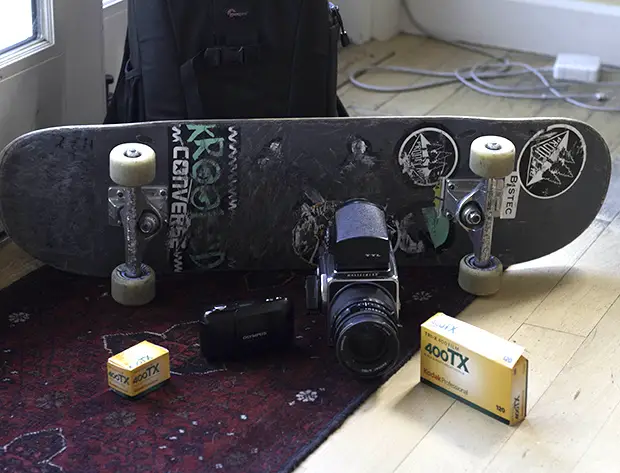 In your bag 1163, Zachary Mosher
Lucky young Zachary has access to some cool gear thank to his dads profession. And he is a skater too, so that ties in nicely with yesterdays post about Tim Kerr. Check this one out.

Hi, JHC! Im Zachary Mosher, 14yrs old, San Francisco, Ca. I have been Using a camera since I was 7. My dad is a photographer and luckily I have a lot of access to camera stuff (he's the fucking best). I got in to film when I was 11 and my mom and I were cleaning out an old storage unit, I looked down and found my first film camera (konica ft-1). I love photography and shooting film.
currently in the bag
Hasselblad 500c/m
150mm f/4
keiv veiw finder (got it on eBay for 40 bucks !!!!!!)
Olympus stylus epic really cool little point and shoot great lens
also use a cannonet ql 17 (not pictured)
Tri-x bunch of that 120 and 35mm. I mostly shoot b&w because I develop and print all my photo's. I love printing my photos and seeing that final product.
skateboard use that a lot
bag my dads old camera bag lowe pro flip side 300
I love the website and check it when I should be doing home work hahahaha. If anyone wants to check out my photos or shoot in the bay area check my stuff. Peace….
instagram: zacm_
tumblr: fogcityphoto.tumblr.com
Thanks for sharing your bag with us, Zach. It is cool to see the next generation of film shooters. Keep it up.
Check out the links and make sure you come and comment.
Keep them coming folks, we need more submissions, so get your bag on Japancamerahunter.com. Send me a hi resolution image of the bag. Optimum size is 620×473. Please ensure there is a bag in the shot, unless you don't use one. The more you can write about yourself the better, make it appealing and tell us a story. Oh and don't forget your contact details (twitter, flickr, tumbler et al). Send the bag shots here. Please understand that there is a long wait now as there is a backlog of submissions. Not all make the cut, so make sure yours is funny/interesting/quirky. And please make sure the shot is of good quality, as the ones that are not do not go up.
Cheers
Japancamerahunter