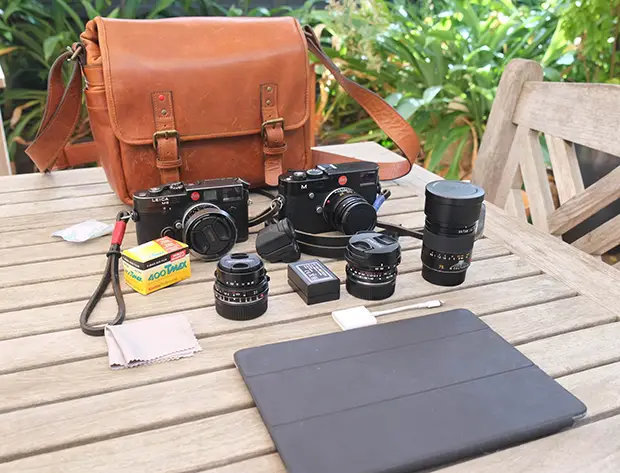 In your bag 1131, Nick Everingham
Nick has a very contemporary bag. Film and digital Leica cameras and a rather spiffy bag to put them in. Check it out.

I am an amateur photographer from Melbourne Australia. I enjoy taking photos of everything except cats! You can see from the photo that my camera enjoys the wonderful Australian sun.
My "day job" is a management consultant however I love the creative aspect of photography. I travel allot for work and invariably take one of my cameras to take advantage of down time to photograph wherever I am. When I can, I take as much of my camera gear as I can fit into my luggage and use it all.
I like both digital and film so therefore use a Leica M6 and M240. I am still developing my passion for film!
The lenses I carry are an old Summilux 35mm, a Summicron 50mm, Summarit 75mm, Voigtlander 21mm and 15mm.
I use the ONA Berlin II, the perfect bag for my needs. I got this one off the shelf with scratches so the store knocked 25% off the price – it is not a cheap hobby we dabble in so we have to find the bargains.
I carry an iPad and SD card attachment thing for backup. I use the Gordy straps which work very well and are fantastic value. I always take the silica pack to help with humidity protection.
Only just started putting my photos up on my website: www.nickeveringham.com and on 500px.
regards,
Nick
Thanks for sharing your bag with us, Nick. That Ona looks good, I bet it will look fantastic in about 5 years.
Check it out and make sure you come and comment.
Keep them coming folks, we need more submissions, so get your bag on Japancamerahunter.com. Send me a hi resolution image of the bag. Optimum size is 620×473. Please ensure there is a bag in the shot, unless you don't use one. The more you can write about yourself the better, make it appealing and tell us a story. Oh and don't forget your contact details (twitter, flickr, tumbler et al). Send the bag shots here. Please understand that there is a long wait now as there is a backlog of submissions. Not all make the cut, so make sure yours is funny/interesting/quirky. And please make sure the shot is of good quality, as the ones that are not do not go up.
Cheers
Japancamerahunter