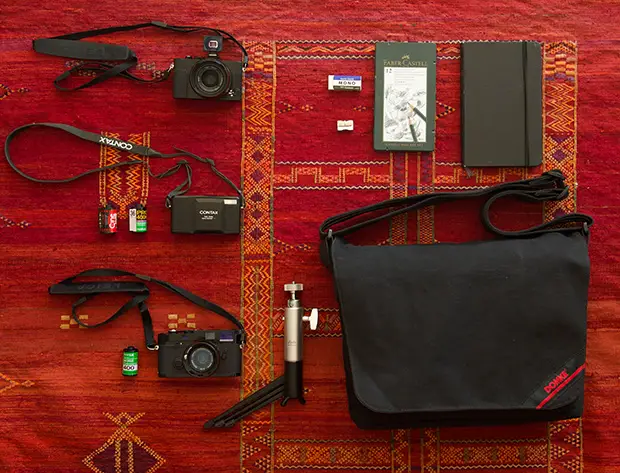 In your bag 1120, Christopher Chee
A delightfully colourful and well laid out bag. Check out this beauty.

I'm based in LA and a big fan of your site. I generally carry two film cameras- one with black and white film and the other with color. While film is my first choice, I sometimes carry a digital camera as well. Here's a recent bag that I took with me to Italy.
– Domke F-832 courier bag
– Sony RX1R with a Zeiss Sonar 2/35 ASPH and a FDAV1K optical viewfinder plus a Leica M strap.
– Contax TVS III. I sometimes shoot CineStill but mostly Fuji Pro 400H color negative film
– Leica MP with a Summicron 2/35 and a 12585 hood. I shoot Fuji Neopan 400 with this camera
– Leitz ball head tripod.
Sometimes I like to slow down and think through composition, detail and light by sketching what I'm trying to photograph so I also carry…
– Moleskine sketchbook/notepad
– Faber-Castell pencil set
– Mono plastic eraser
– Kum pencil sharpener
I've attached a few photos including one (with two of my yoga teachers) that was used as the cover art for the album Invocation by Krishna Das. I have a few more pictures posted up on instragram @ctchee but generally keep my work private. I'm fortunate to have taken a workshop with Steve McCurry but have had no other formal training.
Thank you and keep up the great work!
Thanks for sharing your bag with us, Christopher. I really like this bag, a lovely range of gear.
Check it out and make sure you come and comment.
Keep them coming folks, we need more submissions, so get your bag on Japancamerahunter.com. Send me a hi resolution image of the bag. Optimum size is 620×473. Please ensure there is a bag in the shot, unless you don't use one. The more you can write about yourself the better, make it appealing and tell us a story. Oh and don't forget your contact details (twitter, flickr, tumbler et al). Send the bag shots here. Please understand that there is a long wait now as there is a backlog of submissions. Not all make the cut, so make sure yours is funny/interesting/quirky. And please make sure the shot is of good quality, as the ones that are not do not go up.
Cheers
Japancamerahunter