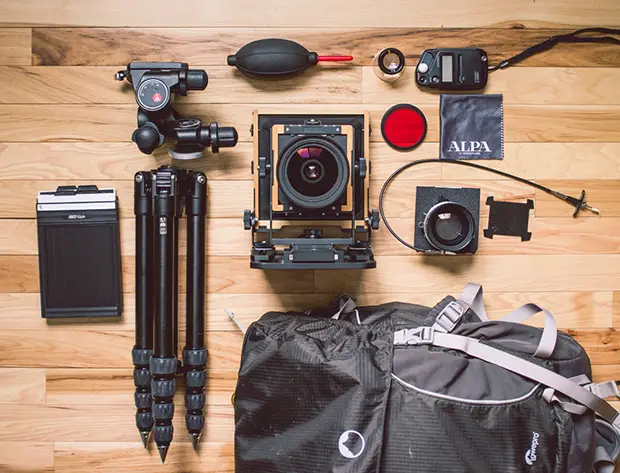 In your bag 1111, Zac Henderson
Something a bit different for a change. A proper large format bag, and a beauty it is too. Check it out.

I'm a large format landscape photographer based out of Colorado.
My bag is the LowePro Photo Sport Pro 30L AW at the bottom. I usually take more than I need, but these are the essentials of my kit.
-Chamonix 045N-1
-Schneider 90mm Super Angulon XL
-Fujinon 210mm f/5.6 W w/Red Filter
-4×5 Film Holders
-Toyo Spanner Wrench
-Sekonic L308S
-Loupe
-Rocket Blower
-3 Legged Thing X2.1a DAVE Evolution 2 W/ Manfrotto 410 Junior Geared head. (A lot of LF photographers would flip at this tripod choice, but with a lightweight Chamonix it gets the job done no problem (even with significant wind).
Not pictured is a Phase One branded Jacket for a dark cloth or in case it gets chilly.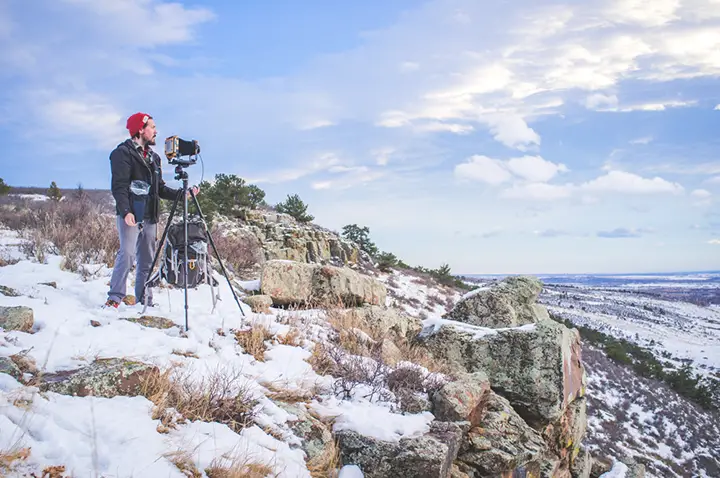 I recently relocated to Colorado where I started a Wedding Photography business with my wife. I shoot the weddings for rent, and large format landscapes for pleasure.
www.zachenderson.net
www.groundglassweddingphotography.com
Thanks!
Thanks for sharing your bag with us, Zac. That is a pretty awesome setup you have there.
Check out the links and make sure you come and comment.
Keep them coming folks, we need more submissions, so get your bag on Japancamerahunter.com. Send me a hi resolution image of the bag. Optimum size is 620×473. Please ensure there is a bag in the shot, unless you don't use one. The more you can write about yourself the better, make it appealing and tell us a story. Oh and don't forget your contact details (twitter, flickr, tumbler et al). Send the bag shots here. Please understand that there is a long wait now as there is a backlog of submissions. Not all make the cut, so make sure yours is funny/interesting/quirky. And please make sure the shot is of good quality, as the ones that are not do not go up.
Cheers
Japancamerahunter