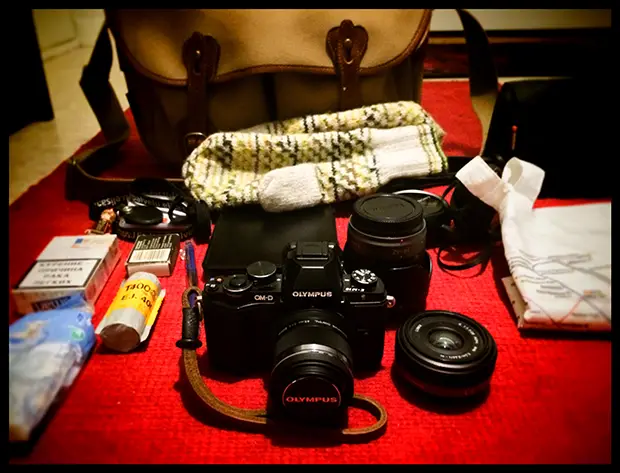 In your bag 1092, Mikko Kalavainen
Mikko is back after a very long absence. And with a rather spiffy new setup too. Check it out.

I just felt like a sending you a new bagshot, since it's been a new beginning on all sorts of fronts for me lately. You featured me before, as bag #365.
So here goes:
Straight to the point:
– Olympus OM-D E-M10
This one I LOOOOOVE. The old Panasonic GF-1 got retired, and replaced with this. The viewfinder, the looks, the sensor, the IS, basically everything is better, and lovely. It's actually the cheapest digital camera I've ever bought, and what a monster it is for the price. Unbelievable.
– Olympus 45mm f:1.8
Just got this yesterday. Shot 12 frames with it so far. Looking extremely good so far.
– Panasonic 14-42mm ASPH somethingsomething.
Come on now, everyone needs a basic zoom every now and then. Mostly for the wide end for me, this one.
– Panasonic 20mm f:1.7
Everyone knows what it's about. An absolute staple in every m4/3-guys' bag. I shot with this (and ONLY this) one for nearly 3 years.
– Billingham Hadley Pro
Returned to this after I got the lenses, that Domke F-5XB just isn't big enough for the other stuff that I carry everyday. We'll see if we get along now, I'd really like to get a Domke F-803 or F-802 though. In black. Because everything is better in black.
– That black thing on the right rear is a Manfrotto Nano VII pouch. The lenses go there, and the pouch under the OM-D, since I use 2/3 of the bag for the other stuff. Also excellent for the body and one lens to put in any other bag that's not camera-friendly.
– A BVG ( <3 Berlin ) tote bag for groceries. Just say no to plastic bags, will you?
– A pair of Sony XB400(maybe) headphones. Cheap and extremely cheerful. A boy needs his bass on the move after all. Also excellent for keeping my ears warm. It's Finland, and it's winter after all.
– Amazon Kindle. Couldn't live without it anymore. Needs more Paperwhite though, and quick please.
– Assorted small things: My work-ID (with Lego Bilbo Baggins attached to it), matches, pen, backup-smokes (from Russia of course, since it's just across the border, and they're cheaper there) and weirdly enough, a single, lonesome 120-roll of T400CN. Expired 05/2004. Kept for sentimental reasons maybe?
– Oh and this camerastrap is too from Gordy's Camera Straps (http://www.gordyscamerastraps.com/). I think that one is well over 10 years old. That dude is hurting his own business deeply by making these things freaking indestructible.
– And this being Finland and the winter is with us, my woolly mittens. Handmade specifically for me, there are actually two pairs on both hands. They are lovely and warm and soft and cuddly and don't itch at all. An absolute lifesaver, because it's bloody cold already and I hate it. And yes, you CAN shoot with these on.
Work goes in to my blog as always, at http://fotomik.blogspot.com/
Mikko Kalavainen
Thanks for coming back to us, Mikko. It is always interesting to see how things have changed.
Check out the links and make sure you come and comment.
Keep them coming folks, we need more submissions, so get your bag on Japancamerahunter.com. Send me a hi resolution image of the bag (please make sure it is horizontal) and its contents, with some details about yourself and what you shoot. Oh and don't forget your contact details (twitter, flickr, tumbler et al). Send the bag shots here. Please understand that there is a long wait now as there is a backlog of submissions. Not all make the cut, so make sure yours is funny/interesting/quirky. And please make sure the shot is of good quality, as the ones that are not do not go up.
Cheers
Japancamerahunter