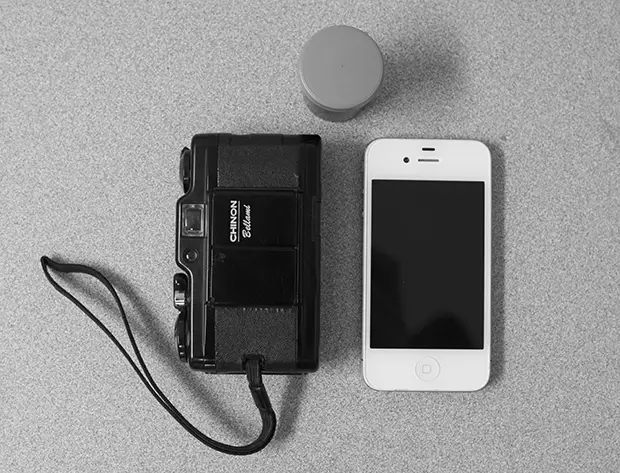 In your bag 1063, Sam Barkwell
Sam has no bag. But he does have a camera that shares my name. Check it out.

Hello Bellamy/Readers of JCH,
My name is Sam, I'm an 18 year old student currently attending school in Ottawa, Ontario Canada for photography.
Since I was around 16 I have been shooting film as well as digital, but always with a preference towards film. Even on a college students budget I shoot as much as I can, developing my black and white film in the bathroom of my dorm room. I shoot a wide variety of stuff, and while I've been mainly shooting 35mm I have just begun to get my feet wet with large format and medium format photography.
Today, I will be sharing with you my on-the-go set up.  As you can see its a simplistic one.
The camera is a Chinon Bellami which I picked up this summer for 3.50 from a local thrift store. I can not say enough good things about this little camera. With the lens collapsed into the body, its smaller then my phone and easily slides into my pocket, plus its bullet proof. The lens itself is a dandy 35mm f 2.8, which is very versatile. The lenses focus is adjusted such as that of a rangefinder, while all other settings are handled by the camera. It's the perfect compact, on the go 35mm camera.
Next is obvious, my iPhone. If we're getting specific its an iPhone 4, certainly not the newest technology but its all I need. Its good for the odd snap if I'm out of film or simply don't want to waste film on a specific shot.
Finally, the film pictured is Ilford Delta 100, which I typically push to 400. I shoot more and more black and white because it's the most economical and enjoyable way for me to shoot film.
This picture was taken on a Nikon D610 with a 50mm f 1.8. All of my school work is digital, and when I can't afford film so are my personal shots.
Feel free to give any of my social media a follow, I post frequently and I shoot have some interesting work up soon as I dive into large format photography.
Tumblr: http://samuelbarkwell.tumblr.com/
Instagram: http://www.instagram.com/sbarkwell/
Facebook: https://www.facebook.com/sambarkwellphoto
Cheers!
Sam Barkwell
Thanks for sharing your gear with us, Sam. Haha, I have a Bellami too (of course), such a cool little camera.
Check out the links and please make sure you come and comment.
Keep them coming folks, we need more submissions, so get your bag on Japancamerahunter.com. Send me a hi resolution image of the bag (please make sure it is horizontal) and its contents, with some details about yourself and what you shoot. Oh and don't forget your contact details (twitter, flickr, tumbler et al). Send the bag shots here. Please understand that there is a long wait now as there is a backlog of submissions. Not all make the cut, so make sure yours is funny/interesting/quirky. And please make sure the shot is of good quality, as the ones that are not do not go up.
Cheers
Japancamerahunter