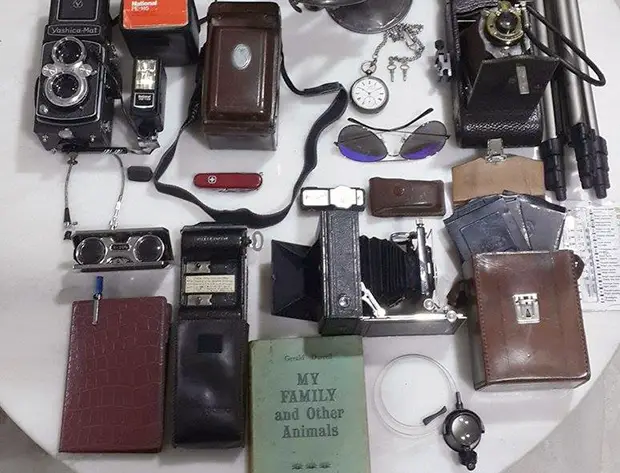 In your bag 1047, Caleb Goh Hern-Yi
Caleb is a bit naughty. He hasn't given us any links and he has sent the wrong sized image (a big no no). But…he has a cornet in his bag, so my argument is invalid. Check it out.

My name is Caleb Goh Hern-Yi. I am a Malaysian Chinese, my grandparents having left China in the 1930s. I just turned 21 this July.
I started shooting film when I was 12. I used a crappy werlisa viewfinder camera and, with no notion of how far 10 feet is, made crappy shots. Living in a country where film is expensive and scarce, I became extremely stingy, taking no more than 5-6 shots per trip.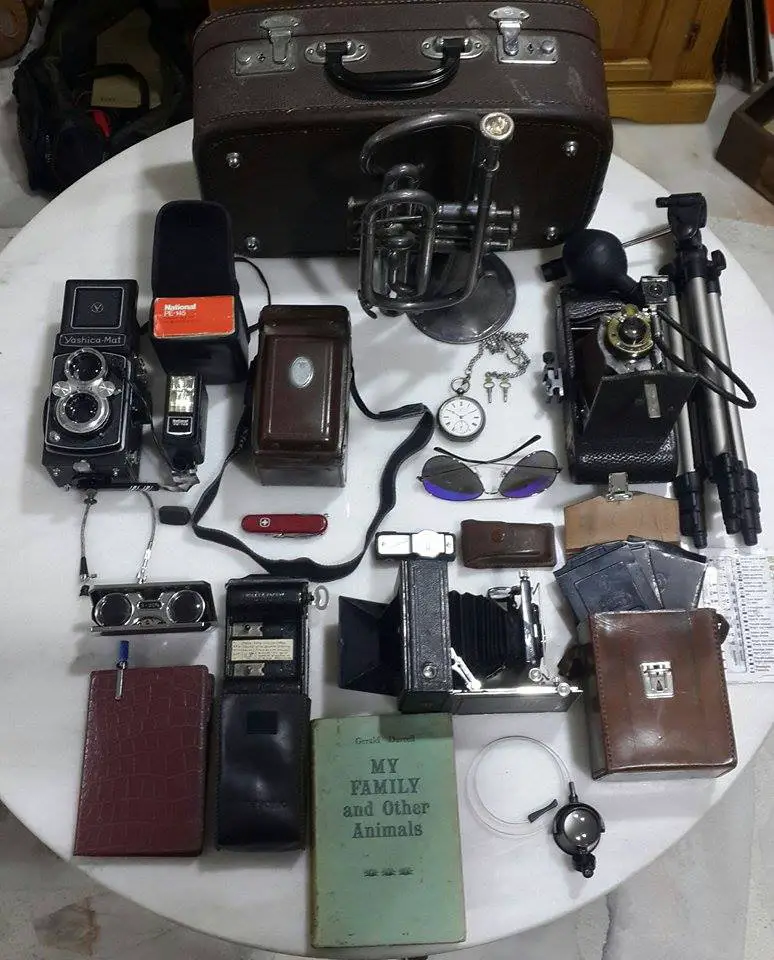 Here is my bag. OK, I lied; I don't carry ALL these stuff In My Bag. The phone and watch I carry in my jean pockets, as do the swiss knife. The shades I wear, and the cornet (that squashed-looking trumpet) I carry in my hand.
I busk; if I were to go shooting, I would bring my cornet with me downtown too. I would spend 3 hours tooting and 3 hours shooting to while away the afternoon. I am studying law in Malacca; as you may know, the Old Town of Malacca is pretty picturesque. That is usually where I head to toot n' shoot, although I sometimes head for Klebang Beach nearby, which is a favourite destination for abandoned building photographers.
Here you can see my 3 cameras. The Yashica-Mat is my old reliable workhorse. I have had it for 4 years now; my other cameras come and go, but the Yashica-Mat always stays. I keep it in an old Rolleiflex leather case that I found at a yard sale (or pasar karat as we call it here; literally: "rust market"). The Rollei case fits it just fine, but I had a cobbler reinforce it with a few additional stitches just in case.
The flash which I use is my dad's old National PF-145. Unfortunately i do not have a TLR flash bracket; that sort of thingis almost impossible to find in Malaysia. So I had to rig one up from an old three-prong fork, with one prong removed and the remaining two acting as rails. The black eraser you see beneath it acts as a cap protecting it from scratching other stuff in the bag.
My Zeiss Ikon Trona I use with a Rollex back. This is only for streetscape and landscape shots; it attracts too much attention for street photography, unlike the Yashica. And a black cloth over my head does not make it any less inconspicuous. At times where using the ground glass to focus is impractical, I have to resort to my Smena rangefinder to do the focusing. The sheet film holders are loaded with instant film; I later develop them in a darkroom by simply crushing the chempods with a rolling pin.
My latest camera is a No.1A Special Folding Kodak. Though rather difficult to use, as the brilliant finder only offers ab image no bigger than a thumbnail, wobbling and winking in the bright sun, it brings the promise of a 6X12 negative an extremely wide depth of field, given that the aperture goes all the way down to f45, which can be achieved with the shutter speed at 1/25 and the release cable attached. The bulb and rubber hose for the release cable was salvaged from a broken blood pressure meter.
Though you cannot see it, the cameras are all loaded with Kodak Tri-X film, my favourite (everybody else too I believe!), except for the Yashica with is loaded with Kodak Portra 400 (I was shooting my grandmother's 89th birthday with it last weekend). The magnifying loupe is always with me in case I spot something cool and retro for sale on the streets of Malacca.
The aperture/shutter speed chart was given to me by my dad when I was 12, back in 2005. I have carried it ever since, though it is more of lucky charm these days.
Cheers.
Sincerely,
A Great Fan.
Sorry, no links on this one, so you shall just have to comment and hope Caleb sends us one.
Keep them coming folks, we need more submissions, so get your bag on Japancamerahunter.com. Send me a hi resolution image of the bag (please make sure it is horizontal) and its contents, with some details about yourself and what you shoot. Oh and don't forget your contact details (twitter, flickr, tumbler et al). Send the bag shots here. Please understand that there is a long wait now as there is a backlog of submissions. Not all make the cut, so make sure yours is funny/interesting/quirky. And please make sure the shot is of good quality, as the ones that are not do not go up.
Cheers
Japancamerahunter