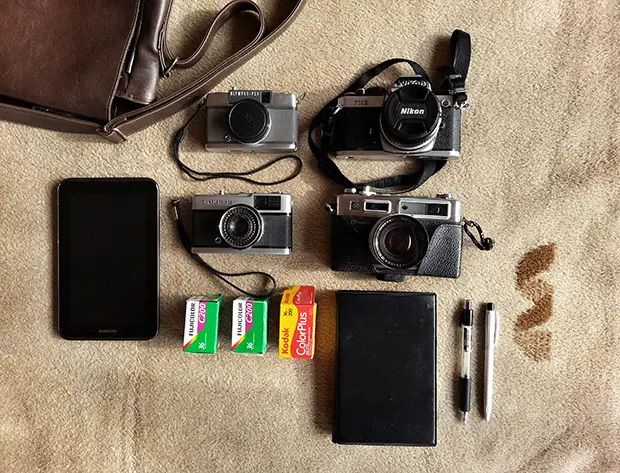 In your bag 1025, Jomar Tanchongco
Jomar is making a valiant last stand in his area, as film and film cameras are somewhat of a rarity. Come and see what he uses to keep the film flag flying.

I'm Jomar Tanchongco 22y.o all the way from Zamboanga City, Philippines.
Im An amateur photographer and into film photography for about 2 yrs now, id just like to share something about the super narrowed doors for film photography here in our place, like I think so far I am the last one using film/film camera here and majority of the cameras turns to be decorative display or destroyed.
Film and film developing on other hand becomes so rare to none due to the trending dslr and digital cameras that are more convenient and easy to use, and because of that I needed like to order online and have it ship just have one and ship again the films to other cities just to have it printed. Sad to say Film and film cameras are dying here in our place, but even if ill be the last one standing for as long as I can still hold and raise the camera and look through the viewfinder and click the shutter ill still be using film and film cameras no matter what.
Check out Whats in my bag;
Olympus pen ees 2
Olympus trip 35
Nikon fm2n with 50mn nikon nikkor 1:1.8
Yashica Electro 35 GSN
2 Fuji film 200
1 Kodak color plus 200
Samsung Galaxy tab 7.0
Notebook and Pens
Above all I love using my Nikon fm2n because its is a very fantastic,reliable and versatile camera and I also love using my olympus pen ees 2. i named it the "small but terrible" camera, due to its size and capability,  I love the collage and never ending panoramas that its capable of.
Check some of my work on flickr.com/caliber1320
Sorry but I got the most terrible scanner in the world:)
Thanks for sharing your bag with us Jomar. I am happy to see you still fighting for film.
Check out the links and make sure you come and comment.
Keep them coming folks, we need more submissions, so get your bag on Japancamerahunter.com. Send me a hi resolution image of the bag (please make sure it is horizontal, 720px across is optimal) and its contents, with some details about yourself and what you shoot. Oh and don't forget your contact details (twitter, flickr, tumbler et al). Send the bag shots here. Please understand that there is a long wait now as there is a backlog of submissions. Not all make the cut, so make sure yours is funny/interesting/quirky. And please make sure the shot is of good quality, as the ones that are not do not go up.
Cheers
Japancamerahunter