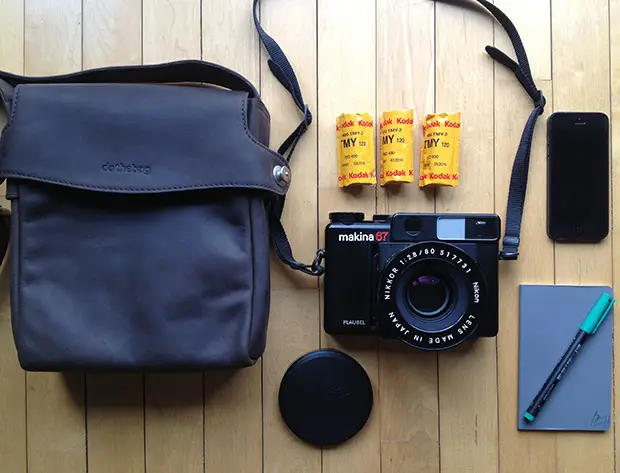 In your bag 1019, Benny Asrul
Benny shares with us a really nice and simple bag. No excessive cameras or camera bits, but the bare essentials. Check it out.

My name is Benny Asrul, Indonesian, currently living in Singapore. I'm working in oil industry, and photography is good for me to keep the balance of my life. I just had a photo exhibition in Caracas, Venezuela which was organized by the Indonesian Embassy there. There are 41 black and white photographs about Indonesia for the exhibition, all are silver prints done by a professional lab in Singapore.
I love shooting with films and I've been using Leica for streets and Hasselblad for landscape. Recently, I like shooting with Makina 67 too, a medium format range finder camera. This is the version with Nikon 80mm lens f 2.8. I found it's of the most compact medium format cameras, and it's very easy to use. I am happy with the results too. Bigger negatives are always nice I guess.
I process my black and white films at home, in my kitchen (due to limited space), so I can't cook whenever i'm developing the films.
I had some shots with Makina when I was in Havana, Cuba not long a go, please find some of the shots here:
https://www.facebook.com/benny.asrul/media_set?set=a.10152629385928329.1073741865.684573328&type=1
and some shots of people too:
https://www.facebook.com/photo.php?fbid=10152586651958329&set=a.122784633328.93273.684573328&type=3&theater
https://www.facebook.com/photo.php?fbid=10152647383313329&set=a.122784633328.93273.684573328&type=3&theater
In this small bag, i can put the Makina, together with some rolls of film, a note book, a pen, and an i-phone, which i use as lightmeter (apps).
I try to keep it as simple as possible, so it's convenient for me too when I'm walking without people noticing that there's a medium format camera inside the bag.
cheers,
Benny
Thanks for sharing your bag with us Benny. Very nice to hear about your show. Well done.
Check out the links and make sure you come and comment.
Keep them coming folks, we need more submissions, so get your bag on Japancamerahunter.com. Send me a hi resolution image of the bag (please make sure it is horizontal, 720px across is optimal) and its contents, with some details about yourself and what you shoot. Oh and don't forget your contact details (twitter, flickr, tumbler et al). Send the bag shots here. Please understand that there is a long wait now as there is a backlog of submissions. Not all make the cut, so make sure yours is funny/interesting/quirky. And please make sure the shot is of good quality, as the ones that are not do not go up.
Cheers
Japancamerahunter