In your bag 1018, Dennis Santella
Wow, this is a very cool one. Dennis has a beast of a camera in his bag. Check it out.

Hello my name is Dennis Santella
I am photographer and photography professor living in Brooklyn.
I found your site through my friend and colleague Kai McBride (Featured bag #759).
I'd like to share a hip-bag/belt I developed to remove the load from my shoulders.This became more of a pain after having a child and tramping child, stroller, and diaper bag up and down subway stairs. I used a Petrol Deca Mini Dr. Bag (a gift from my wife) for a few years and loved it. But the confusion of bags and a project I started to work on which involved a lot of crawling through WWI trenches, pushed me to to try some kind of hip bag.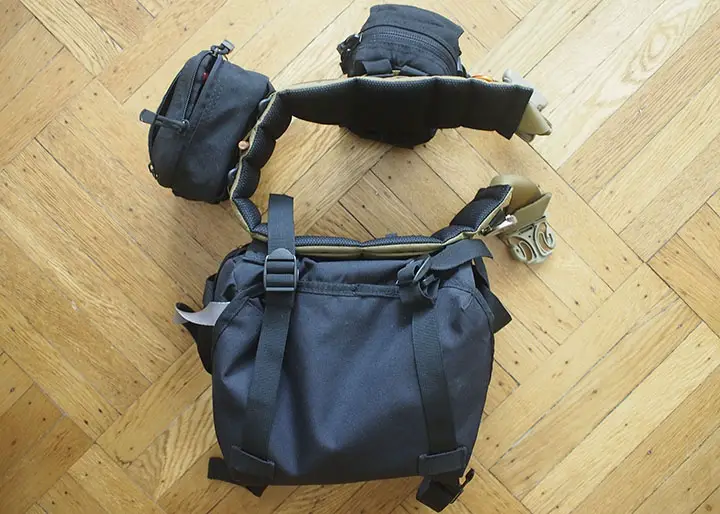 I looked a the Portabrace, Tamrac, Kata, and other waist bags, but everything is designed for dSLRs or compact digital cameras, and nothing seemed the right size for my oddly square camera. So, I found a MOLLE system tactical belt and a few different pouches to fill my needs.
This current version uses a Blackhawk tactical belt (great quality), Condor gadget pouch and EMT pouch, and a Fox Tactical butt pack with a custom insert for the camera.
I molded a perfect custom insert by making a little cardboard box to fit in the bag, filling it with spray foam, and dropping my camera (wrapped in several layers of plastic) into the foam. Once the foam hardened, I pulled out the camera, trimmed away some of the excess and had a slot that fits the camera like a glove.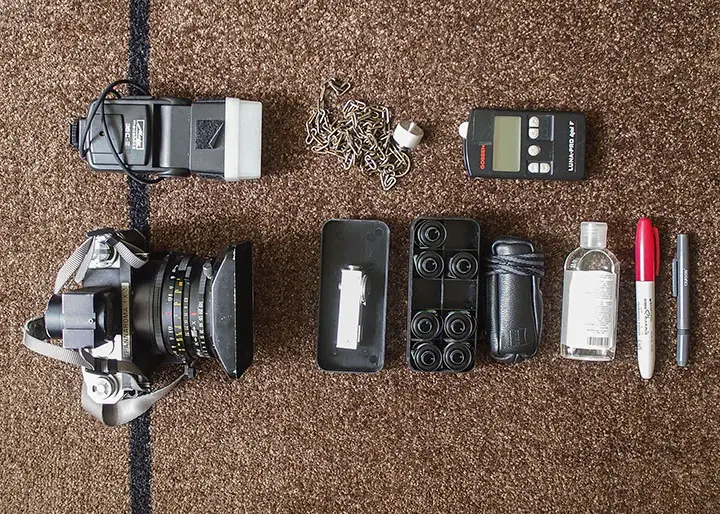 Here's the contents:
Butt pack: Siciliano Camera Works Pannaroma 1×3, Metz Flash.
Gadget pouch: JCH 35mm film case loaded with Ilford HP-5, Kodak rangefinder, chain monopod (Same key ring, machined aluminum pattern as in Kai's bag, but with clock chain which kinks less)
EMT Pouch: Gossen Luna Pro light meter, permanent marker, Zeiss monocular, alcohol wipes, first aid kit, flashlight, other odds and ends.
It's been great so far. I love being able to rotate the whole belt around to put the camera in front or slightly to the side when I'm shooting and further to the back when I'm on the go or need to crouch or lie down. Nice also to never tangle my bag and backpack straps. After shooting with it for three weeks in Italy and Austria, I want to add a water bottle pouch and replace/reinforce the straps on the main pouch with speedclips; The buttons keep popping open, although thanks to the MOLLE webbing it's nearly impossible for the pouch to detach. Only downside is that it's a bit tricky to take off.
I've been using the Pannaroma as my primary eye for the last six years and have been really wrapped up in the possibilities of the panoramic format. I keep thinking I should go back to the challenge of a more traditional aspect ratio, but keep finding new things I want to do with the panorama.
I haven't updated my website much since graduate school, but some projects, including one shot with this camera, can be seen at www.santella.org/dennis.
And of course, I love the 35mm JCH film cases. I appreciate the ten roll capacity, as this camera only gets eighteen shots per roll and I keep one slot in the case empty so I'm not juggling cassettes while changing film.
Thanks for you work!
Dennis
http://www.santella.org/dennis/photography/photo_index.htm
Thanks for sharing your bag with us Dennis. Not often we hear of how people can to have they bag that they do. And that camera is fascinating.
Check out the links and make sure you come and comment.
Keep them coming folks, we need more submissions, so get your bag on Japancamerahunter.com. Send me a hi resolution image of the bag (please make sure it is horizontal, 720px across is optimal) and its contents, with some details about yourself and what you shoot. Oh and don't forget your contact details (twitter, flickr, tumbler et al). Send the bag shots here. Please understand that there is a long wait now as there is a backlog of submissions. Not all make the cut, so make sure yours is funny/interesting/quirky. And please make sure the shot is of good quality, as the ones that are not do not go up.
Cheers
Japancamerahunter