IN YOUR BAG: 1724 – Stuart Hill
My name is Stuart Hill. My home is in Scotland, my work is in Switzerland – my soul is in London.
A few years ago, I embarked on the journey to be either a photographer or an architect by signing up for a Foundation Course in Fine Art, ultimately deciding to pursue the latter: the logic being that if I pursued my 'hobby' professionally, it would ruin it for me. Well, I managed to avoid that – and so I am still fiddling around with all things photographic – many years later.
Monorail
Prior to Art School, I enrolled on an evening class at the local college, where I had access to a fully equipped darkroom and a collection of Zenith TTLs. At this stage, I owned an Olympus Trip – which was a beautiful birthday-present camera, but not adjustable in any way. After a long time of paper rounds and saving up, I upgraded to a Canon AE1, which globetrotted alongside me for the next two decades. I also embarked on designing and building my own monorail camera, using the school metalwork room at lunchtimes. One of my original design drawings is below:
I also advanced to setting up my own darkroom, with a Russian Zenith enlarger – the collapsible 'espionage' model, which was bizarrely – although rather conveniently – contained in an attaché case: a perfect sign of the times in what was middle of the 1980's cold war – alongside a collection of used ice cream tubs as chemical trays and a huge demijohn full of water (there was no running water in the freezing roof space).  This modest set-up had the advantage of honing my darkroom skills while enabling me to puff away on underaged, illicit cigarettes, well out of sight – and reach – of my parents.
I then got distracted by other life events, and having a darkroom was no longer practical – the Zenith was packed away in its espionage case for another day. That day never came, and eventually the introduction of digital scanners meant it was no longer required. I discovered ways of developing films using a changing bag and laptop, which no longer required hours in solitude away from the family – albeit the smoking secret did come out of the closet.
London
Eventually, in 2003, my eye caught an advertisement for a London camera dealer who was offering interest free credit on new cameras. After an amazingly quick trip into central London on the tube, I became a bit poorer – albeit the owner of a Leica M7/ 50mm Summicron. Once again, I had photographic wind in my sails! Rarely a week would go past when I was not developing at least one HP5, entertaining the family by lap-fumbling with the changing bag on the sofa, while reminiscing on the true joy of solitude in a dark place.
Fast forward another fifteen years and – in a moment of madness – I part exchanged the M7 body for a used M9. It didn't take many high-decibel shutter-winds for me to realise the error of my ways. For months I perused the dealer's websites, in a vain attempt to identify my M7 and buy it back – the one which had been around my neck for some amazing adventures. I could identify it easily, as it had some bright orange Kenyan sand in the viewfinder, which had reduced its trade-in value. Alas, I never found it. Of course, eventually I got used to the M9, and now that it has the patina of a much-handled old friend, I adore it too.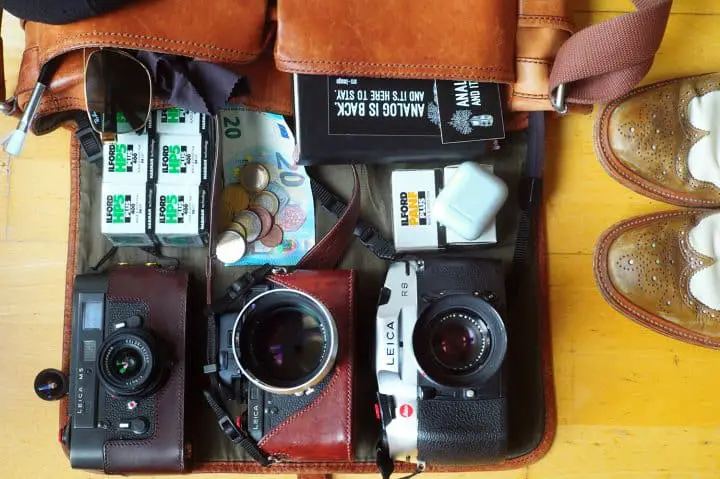 Paradoxically, buying the M9 did change my approach to cameras for the positive – perhaps bizarrely, I had never bought a used camera before. The M9 had surprised me with its reliability, and so I started to keep my eye on other second-hand gadgetry.  A slippery slope ensued, resulting first in a Leica M4-P. When not wearing its half-leather case, this is a wizened old man of a camera – a true Hemingway -with numerous war wounds and unknown stories to tell: it seems to smell of oil and leather, possibly whisky. But it is nothing but a joy to handle, scrupulously simple and reliable – as silent as a maus.
The M5 was a Christmas treat when I should have known better – bought out of sheer curiosity about how a re-design project could apparently go so drastically wrong for an experienced camera manufacturer. This is the least used of all my toys, primarily because the side hung strap is a complete nuisance, clearly a case of 'change for change's sake' – but an incredibly irritating one when the strap obstructs the viewfinder, often enabling one's street photography victim to shuffle out of shot.
The R8 was the final addition to the bag-shot family. It was ordered in June 2020 and the package was not opened for fourteen months due to covid travel restrictions – a very long story of neediness. So, I am just getting used to this object of utter beauty, the overall handling quality of which came as a revelation. For this is what many – allegedly – believe to be the ugly duckling of the Leica pond. It is the only bag shot camera which has a functioning light meter, which is taking some time – and mental arguments – to get used to.
Not shown in the picture is a Hasselblad 500EL/M which completes my quartet of gorgeousness. Regrettably, on the return trip from Scotland to Switzerland it lost a coin-flip with my clothes (…best of three, of course). This stunning piece of clockwork engineering has just been hauled around the north east coast of Scotland and – after some tear-jerking episodes of utter frustration – has produced some stunning – and huge – images, all traditionally developed and printed in a reconstituted Highland darkroom: alas, without the Zenith espionage enlarger – the sponge attaché case packing having deconstructed into what appears to be a (possibly) toxic post-soviet honeycomb. Best to keep the lid on that.
As for the bag itself – this was bought from 'Fossil' in London in the January sales – around 2011, I believe – and it has sufficient pockets for most things to get lost – although, I confess, the bag shot is fake news – all of cameras would rarely be in that bag together, as the strap would inevitably break.
So, that is that: recent images – mainly but not exclusively analogue – can be seen at:
https://www.calderhill.photography/
Stuart Hill
Keep them coming folks, we need more submissions, so get your bag on Japancamerahunter.com
Send me a high resolution image of the bag. Optimum size is 1500px across. Please ensure there is a bag in the shot, unless you don't use one. The more you can write about yourself the better, make it appealing and tell us a story. Snapshots of your gear with a camera phone and no words will not be featured.
Oh and don't forget your contact details (twitter, flickr, tumbler et al). Send the bag shots here. Not all make the cut, so make sure yours is funny/interesting/quirky. And please make sure the shot is of good quality, you are a photographer after all. 
Cheers
JCH