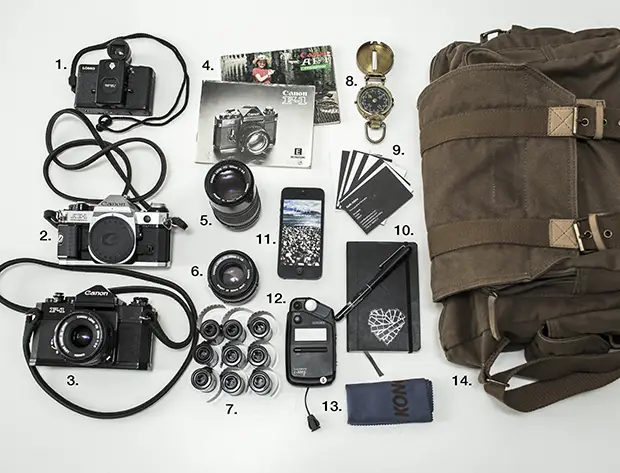 In your bag 1013, Keith Arkins
Keith shares with us a really stunning setup showing us his love of shooting film. Come and check it out.

Long time reader, first time submitting. I'm a professional photographer based in Dublin, Ireland. Although I come from a press photography background, I now shoot mainly commercial & lifestyle photography. For my day to day commissions, I shoot with Canon digital cameras and L lenses, and have been for the last 15 years. However, when I go out to shoot for the love of shooting, I take this bag with me. No surprise that it's also packed with Canon gear as well. When I started working professionally, I shot 80% with Hasselblad + slide, 15% with Sinar P2 4×5, and 5% with Nikon 35mm, and it was only when I moved over to the press that things started turning digital so it's been a real pleasure to go back to shooting film, even it's it's only for personal work.
Here's a list of my gear below:
1. Lomo LCA – for messin around.
2. Canon AE1P back-up camera – sometimes loaded with ilford Delta 3200.
3. Canon F1n w/ Canon FD 28mm 2.8 – The F1n is a somewhat recent acquirement, but I love it already and it's now my go-to camera.
4. Original camera manuals – in case of troubleshooting issues.
5. Canon FD 135mm 3.5
6. Canon FD 50mm 1.8
7. 35mm neg – I'm working my way through a whole bunch of expired Fuji NPZ 800 (love the look it produces), but I also carry some ilford Delta 3200 and some cheap film for the Lomo.
8. Vintage compass – helps to figure out the direction of the sunset, especially when my phone signal is iffy.
9. Business cards
10. Molskine journal + sharpie – where all my ideas are kept.
11. iPhone 5 – for taking snapshots
12. Sekonic lightmeter – I trust it more than the camera's lightmeter.
13. Lens cloth.
14. Canvas camera bag I picked up for €25 on ebay.
That's it for now. Keep up the great site.
All the best,
Keith
Journal: keitharkins.tumblr.com
Twitter: twitter.com/Keith_Arkins
Website: www.keitharkins.com
Blog: blog.keitharkins.com
Thanks for sharing your bag with us, Keith. Love the compass.
Check out the links and make sure you come and comment.
Keep them coming folks, we need more submissions, so get your bag on Japancamerahunter.com. Send me a hi resolution image of the bag (please make sure it is horizontal, 720px across is optimal) and its contents, with some details about yourself and what you shoot. Oh and don't forget your contact details (twitter, flickr, tumbler et al). Send the bag shots here. Please understand that there is a long wait now as there is a backlog of submissions. Not all make the cut, so make sure yours is funny/interesting/quirky. And please make sure the shot is of good quality, as the ones that are not do not go up.
Cheers
Japancamerahunter