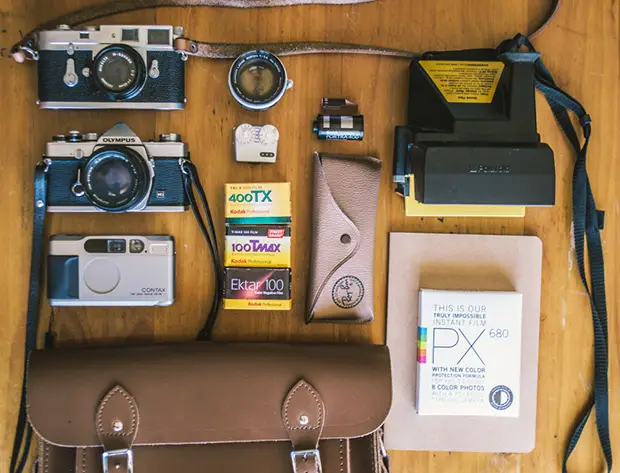 In your bag 1010, Dylan Phenning
Dylan is 18 and already firmly on the film path. Thanks to an awesome grandpa he has been bitten by the film bug. Check it out.

Hi I'm Dylan,
I'm 18, I live in Australia, and I'm currently studying my first year of a Bachelor of Arts in English literature and photography.
I got my first camera from my grandpa (a Chinon ce-4) a couple of years ago, and from there have become more and more obsessed, refreshing sites likes JCH fifty times a day (when at home or uni anyway, which doesn't help my marks – right now I'm making this instead of studying for an exam).
My main camera is my M2, which I saved for and bought instead of a car (I still can't drive), and my first lens was the canon 50mm f1.4, thanks to your 'top ten m-mount lenses' post, and was followed by the 40mm f.2 rokkor (another one from that post). I wanted an auto focus with a flash and pretty much fell in love with the T2, so I saved and finally got one recently (I'm never going to drive at this rate).
My favourite film is portra 400, it's just a shame it's so damn expensive here.
I live about a two-hour train ride from Sydney so I try to go at least once a week to shoot.
My bag is a satchel by the Cambridge Satchel Company, I love the look and it's not too bulky. Inside is usually:
Contax T2
Sunglasses
Assorted film
Sketchbook
Leica M2 (usually on my right shoulder)
Olympus Om1 (on my left shoulder)
Voigtlander vc meter 2 (for the m2, but I'm finding I prefer to guess exposure)
Polaroid 600 (not a regular but it's fun, mostly for family stuff)
Link to my recently made flickr:
https://www.flickr.com/photos/dylanpf/
And instagram:
http://instagram.com/dylanpf
Thanks JCH!
Thanks for sharing your bag Dylan. Sorry the site isn't helping with your grades.
Check out the links and make sure you come and comment.
Keep them coming folks, we need more submissions, so get your bag on Japancamerahunter.com. Send me a hi resolution image of the bag (please make sure it is horizontal, 720px across is optimal) and its contents, with some details about yourself and what you shoot. Oh and don't forget your contact details (twitter, flickr, tumbler et al). Send the bag shots here. Please understand that there is a long wait now as there is a backlog of submissions. Not all make the cut, so make sure yours is funny/interesting/quirky. And please make sure the shot is of good quality, as the ones that are not do not go up.
Cheers
Japancamerahunter