Show us your film : TrimPrint
We are getting the submissions thick and fast. And by that I mean about 2 a week. But still, it something. Come and check out the latest batches.

Tom Philips

My name's Tom from the U.K. Originally from London.
I have been following your site and Facebook page for sometime now and find it most interesting and appreciate the energy yourself and so many others have for film photography and film cameras.
I suppose i am rediscovering film. I have had a fascination with cameras and photography since a young age. Now i use both film and digital photography but to tell you the truth it took me a long time to take up digital i was still using only film until 2008 as i really didn't grasp the concept of digital cameras and storing images on a memory card, i still don't get the concept of chasing a green flashing box to focus ! I just don't like it. But after sometime of using just one digital camera, i felt frustrated with different settings effects and shooting with a computer with a lens. I decided i needed to pause and go back to the fundamentals. So, i took up film again.
Now all the reasons to shoot with film, it makes me think about each shot, it slows me down, i don't waste shots, etc etc, whatever. For me choosing a certain type of film loading it into a mechanical piece of engineering and anticipating the results is a lot more enjoyment than loading a memory card and charging a battery. Although i do now appreciate the flexibility and other aspects of digital.
Although i like classic cameras. I am totally against the snobbery by some photographers and more interested in what people are producing with cameras they bought from a charity shop or boot sale,plastic toy cameras,polaroids,compacts,iPhones or whatever they can get their hands on than the man with his Leica M(240) al le carte !
So, here is a selection of some of my film collection (taken with 120 Kodak Ektar 100) as you can see it's assorted as i am trying everything that interests me. Of course like someone once said i could spend the rest of my life shooting just Kodak400TX and like H C Bresson said colour is disgusting ! but it so interesting and fun to see the results and different tones isn't it ? 400Tx,Presto,Portra,Ektra,Reala,velvia,Provia,Ilford delta, are some of my favourites i like anything from Fuji including the cheaper superia, To me anything can be good with the correct light. As we read more lines are being discontinued there are so many i am discovering from Adox and Rollei etc.
After doing photography for i suppose nearly forty years off and on, i am still learning every time i look through the viewfinder. I try not to follow any rules and shoot anything i find interesting mainly geared around travel.
Please feel free to take a look if you have time.
https://www.flickr.com/photos/95665243@N02/
Many thanks and keep up the good work.
Tom.
Diego Vargas

Hi JCH,
I'm Diego Vargas from Morelia, Mexico, here's my small stash of film. I consider it more a collection, rather than a stock since I've been trying to get expired film and "magic" rolls from Europe, like the Rollei Retro 80 and the Revolog (Lazer an Color). I'm in love with slide film and so far I've been able to get fresh Provia and Velvia 100F, Rollei Crossbird and some expired Astia, Sensia, Ektachrome 64, Ektachrome 100 Plus, Agfa CTx 100 and Kodachrome 100 (VS and G).
I also have a lot of Ultramax for my Lomokino and some Redscale film (Lomography and Rollei). There's also a Porta 400, Lomography 800, Fuji Press 1600, Tmax 3200, Rollei 400 RPX and a very special Efke IR 820 Aura that I got from a friend from the States. I stash all the film that has no box on my JCH film case and in a Lomography metal case I got from a girlfriend (it came with a Lady Grey that I've already use).
You can check some of the photos I've taken with similar films (Sensia, Astia, Efke, Lady Grey, etc) here: http://somecallitphotography.tumblr.com/
Cheers from Mexico, have a very nice weekend!
Diego Vargas
Edgar Ocampo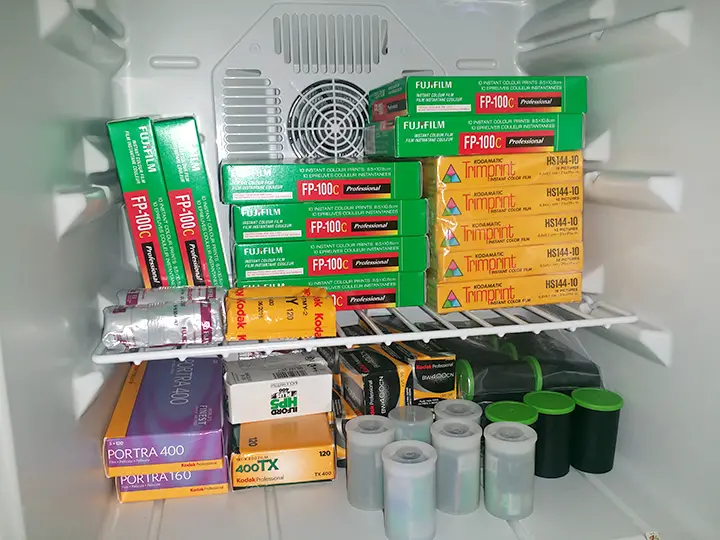 Here is my stash. I am steadily switching to shoot more color. I have some portra 160/400, trix, bw400cn, some expire fuji, ilford hp5, fuji fp100c, and some hard to find Kodak trimprint. I don't have a camera for the trimprint. Yet! I bought a small fridge to stash it all in. Wife wouldn't let me put it in regular fridge. Www.edgar-ocampo.com. Thanks, love your site! Will be sending my bag soon.
Thanks for sharing your film with us guys. We need more though. Keep the film love strong.
Also, please make sure you submit your film through the link below, otherwise I might miss it (I get an awful lot of mail).
I would love to see your collections, so if you want to send them in feel free. Perhaps you can include a couple of shots taken with your favourite films, that would be fun. Click here to send your stash. Please make sure you send the submissions to this link, otherwise they will not be featured.
Thanks
JCH