Show us your film : Film-er Madness
Well, it took some soliciting, but I managed to get some more secret film stashes for you. Check them out.

Tia


my name is Tia and I live at the moment in Vienna. I love analogue photography and I think, that I can express myself much better with film than digitally. I have more time for the image or let's i take more time for it and so the composition is always better. The colors are just beautiful and I love the excitement when you have to wait until they are developed.
So here is my Bag from a 6 Weeks trip to morocco. I shoot mainly Medium Format, so the film that used was Kodak Portra 400/160 and Kodak Ektar 100. And for fun one Ilford Film :D.
The Photos are taken with a Hasselblad 500C/M and a Lubitel 166.
Hope you like it.
Cheers, Tia
Bjarke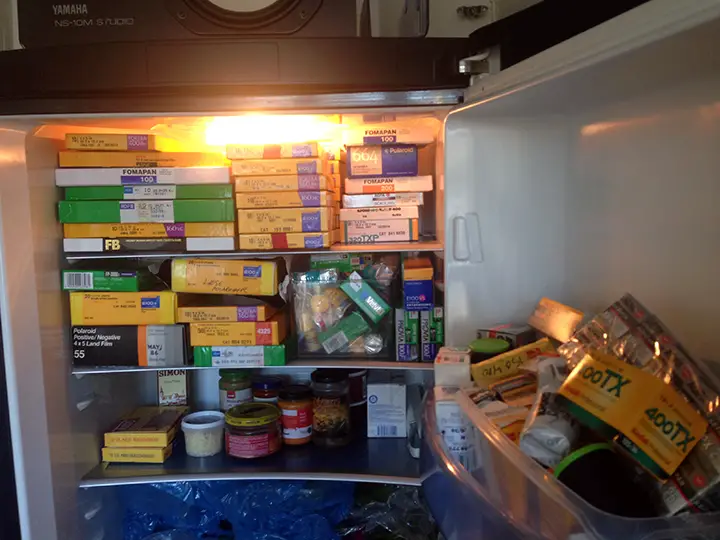 Oh I love film, new as well as well as expired. My fridge currently contains a bunch of 35mm, 120, 4×5″ and 8×10″ films, including
Velvia, Provia, Tri-X, Fomapan, Portra, Ektachrome, HP5+, FP4, Type55 + 664 Polaroids, FP3000, Agfa Ortho, T400CN, XP2, Delta100, Delta3200, Agfapan, Agfa Scala…
My 8×10″ Polaroids (Impossible Silver Shade, 809, Polapan100) and remaining 4×5″ Type55 are stored elsewhere, as I need a bit of space for food as well :-)
See some of my photos here:
www.oneofmany.dk
www.polaroid.dk
and feel free to visit my newly opened photography store in Copenhagen, Denmark (specialized in analog gear):
www.oneofmanycameras.com
Best,
Bjarke
Tomomi


Hi JCH.
Tomomi from Sweden – Malmö. Iam a hard working sushicheif and just like to walk in Malmö or Tokyo taking photos for fun.
Been shooting film for about 3 years, got bored using digital.
Mostly use Ilford hp5+ and before neopan 400.
Here is some film samples
http://www.tomomimachida.portfoliobox.se/analog-black
Have you shared your stash yet? Your hidden fridge? Come on, get involved.
Also, please make sure you submit your film through the link below, otherwise I might miss it (I get an awful lot of mail).
I would love to see your collections, so if you want to send them in feel free. Perhaps you can include a couple of shots taken with your favourite films, that would be fun. Click here to send your stash. Please make sure you send the submissions to this link, otherwise they will not be featured.
Thanks
JCH