Show us your film : The Filmalizer
There have been a few new submissions lately. Some lovely stashes of film, nice and personal. Check them out.

Martin


Not a giant collection but was just re-organising the fridge and this is what I found in my fridge clearout…
19 rolls of Kodak Gold 100
11 rolls of 120 medium format (5x Velvia 100, 5 x TMAX 100, 1 x Fuji 400)
1 roll of Velvia 100 35mm
3 rolls of Acros 100 BW 35mm
2 rolls of Konika 27exp 400
1 roll of Fuji Venus 800 (expired 2004)
Soon to put up an online gallery (getting negatives scanned)
Regards,
M..
Jeremy Sheldon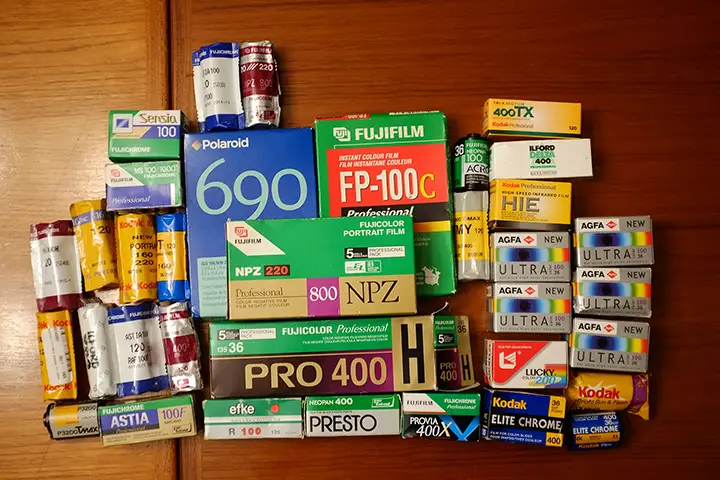 The prize here being the stash of Agfa Ultra…
J
Digby Pritchard


A nice mix of 120&35mm to feed my small collection of cameras. I always want to be able to settle upon a narrow-er selection of film products, but despite the supposed death of film, there are so many yummy choices out there and it's great to have your own film-lucky dip sitting at home.
My family like to joke that my fridge has only film or beer in it. Clearly this is unfair as the evidence demonstrates. I also have oranges.
A sound example to all the kiddies out there – use film and drink good beer. You won't go wrong.
Cheers,
Digby
Have you shared your stash yet? Your hidden fridge? Come on, get involved.
Want to see the previous stashes? Check this link https://www.japancamerahunter.com/category/show-us-your-film/
Also, please make sure you submit your film through the link below, otherwise I might miss it (I get an awful lot of mail).
I would love to see your collections, so if you want to send them in feel free. Perhaps you can include a couple of shots taken with your favourite films, that would be fun. Click here to send your stash. Please make sure you send the submissions to this link, otherwise they will not be featured.
Thanks
JCH