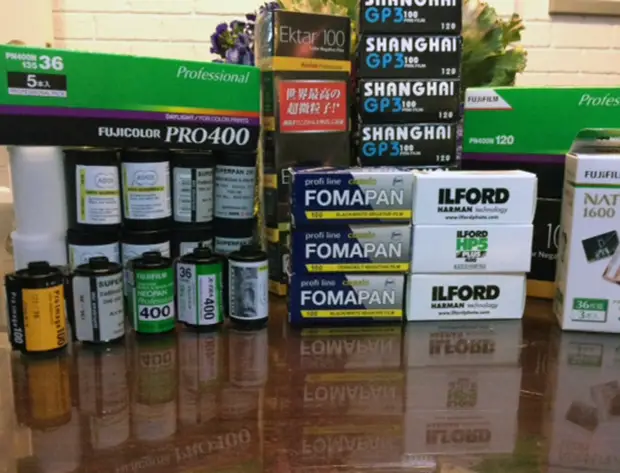 Show us your film : Bring the grain
Perhaps the largest collection of Polaroid film I have ever seen. Some more really great collections for your enjoyment. Come and have a look.

Thomas Boesgaard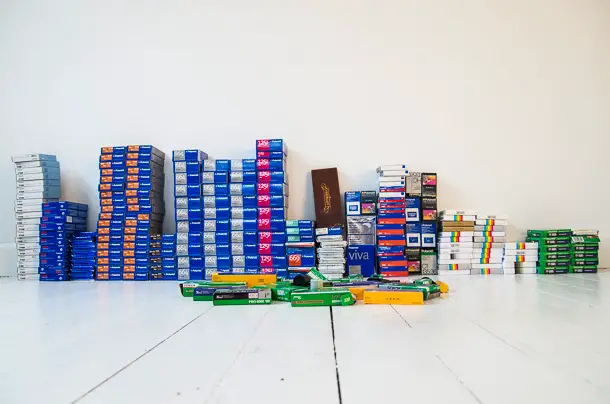 All of it on the livingroom floor. Lot's of Polaroid 664, Lot's of Polaroid Sepia. A nice stack of Polaroid Image Softtone. A healhty amount of Polaroid 665. Okay stash of Polaroid 125i. Still some original Polaroid 600 left. Various oddities, and mixed 120 and 135 in the foreground.
I'm so "old" that I have been shooting film since before digital was around. I did take a three-year film-break around 2003, but returned with a vengeance. I experienced the magic of Polaroid around 2006 – before that time, it had been economically out of reach for me. And as my experience, knowledge and love for Polaroid grew, Polaroid itself declined.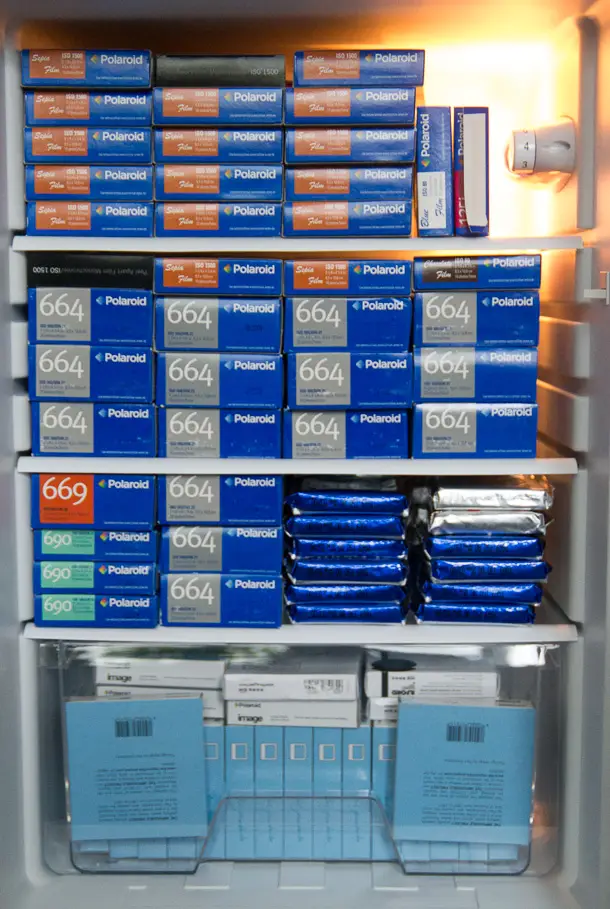 Polaroid-fridge. It's full.
I use almost all varieties of Polaroid-cameras, except roll-film and largeformat. My favourites is the SX70, SLR680, 190, 600SE and 340. I prefer the folding ones in whatever format, since they are easy to travel with.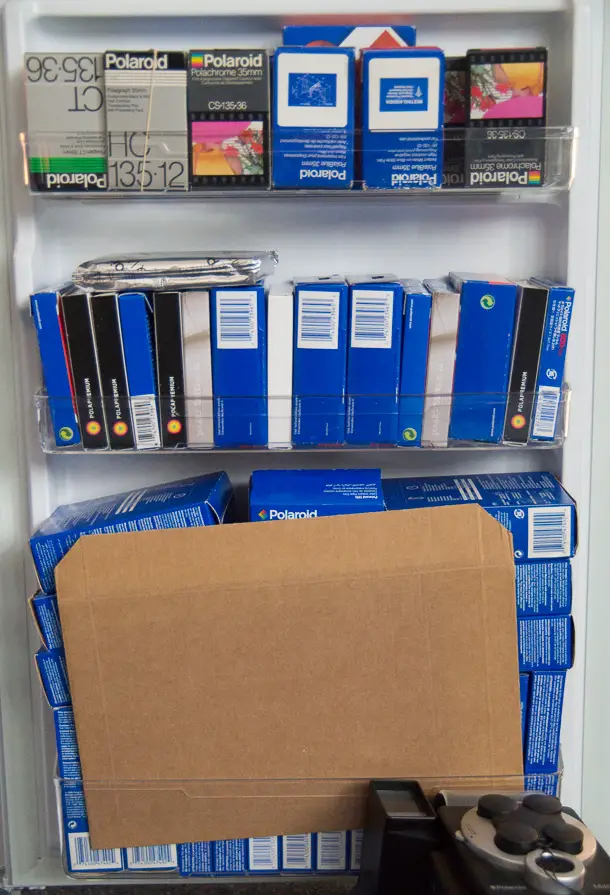 Okay, there's a little bit of free space in the Polaroid fridge-door.
Collecting cameras and film is for me about security, rather than a need for hoarding. It scares me that some day there might not be any type 100 (peel-apart) left anymore. Or that all SX70-type cameras are broken and gone. Okay, maybe it's camera- and film-hoarding. But it is sort of rational.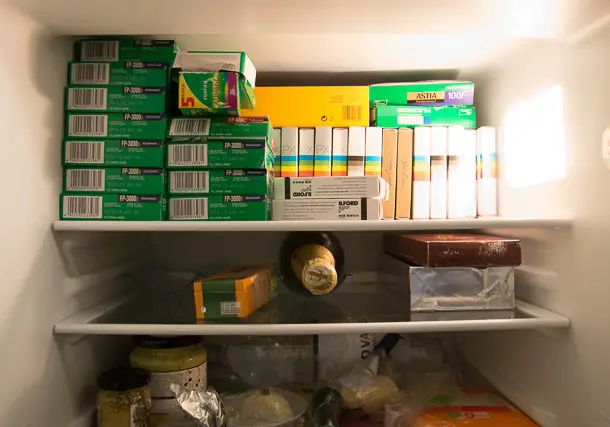 Film is still occupying one shelf in the kitchen-fridge.
I'm from Copenhagen, Denmark – that little part of cold Scandinavia, where our prime-minister shoots selfies with Obama.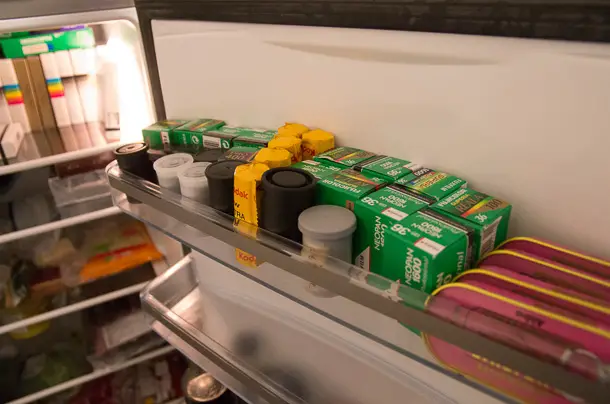 Okay, Film is occupying 1,25 shelf in the kitchen-fridge. Most of the 120 and 135 is used as spacers behind the polaroid-film. Polaroid don't like being frozen.
Personal website: http://thomasboesgaard.com/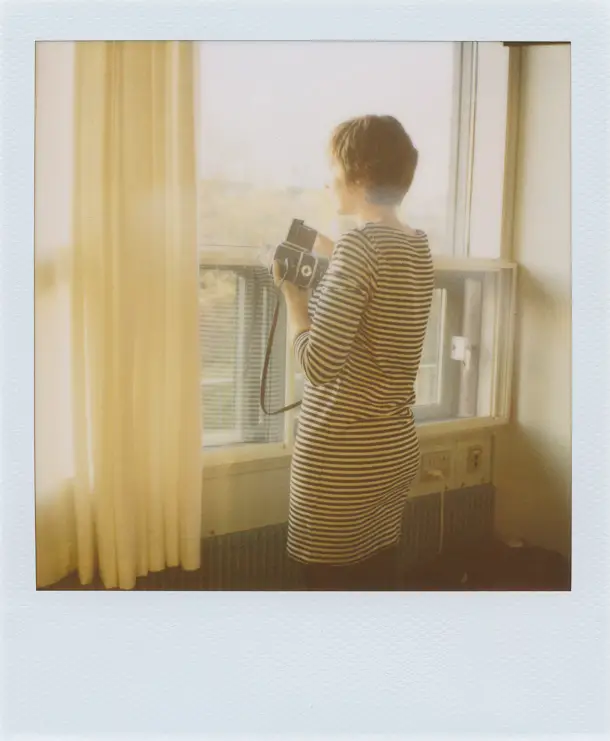 Instant photography: http://instant.thomasboesgaard.com/type100/, http://instant.thomasboesgaard.com/, http://instant.thomasboesgaard.com/black/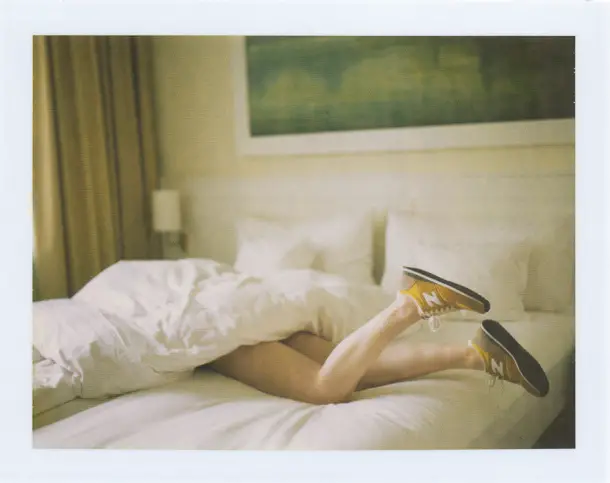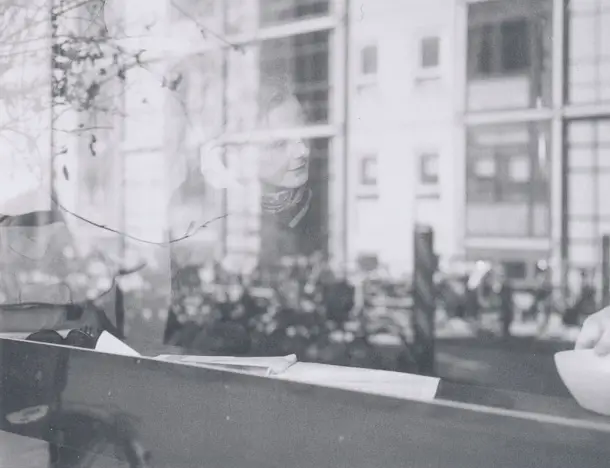 Flickr: http://www.flickr.com/photos/mindblob/
Hello Hunt,
here I come again (in your bag no.7 & 778). Here is my film provison.
On the left I have 35mm films: Kodak Tri-X, Tmax 3200 and Ilford HP5 for b&w; some cheap color negative 200 and 400 iso plus Agfa CT Precisa for color slides and Fuji Xtra 800 for color night shots.
On the center are 120 film rolls: Fuji 160 and 400, Kodak Ektar 100 for color negative, Kodak Tri-X (again) and Fuji Neopan Acros 100 for b&w, Provia 100 is my main choice for color slides in 120.
On the right I put the exposed rolls waiting to be developed by me (if b&w) or to be carry at the lab (color).
All of this films can be seen in my tumblr: http://robertonania.tumblr.com/
Thank you
Roberto
My modest hoard of films. Next step film mini-bar. I'm a 21 year old film shooter and this is all I can scrounge from my modest allowance, so I shoot slow and shoot to kill.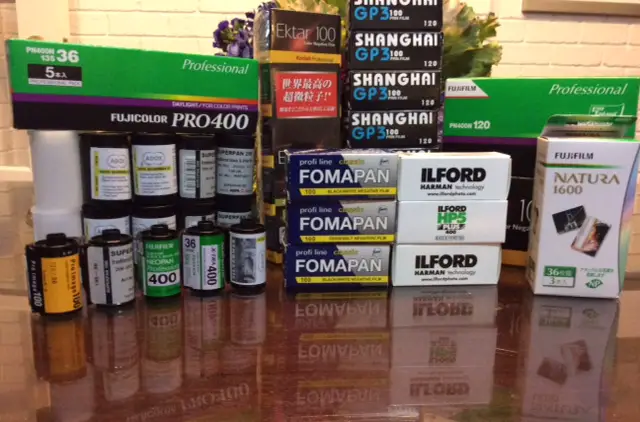 I just recently got those rolls of Shanghai GP3 for HK$20 each, can't wait to run it through my TLR to see how bad/good it is.
Daniel Roque – Philippines
http://danielroquephoto.tumblr.com/
A really diverse range of film collections this time. The polaroid hoard is sure to have some people drooling. Keep them coming, I really love sharing these.
I would love to see your collections, so if you want to send them in feel free. Perhaps you can include a couple of shots taken with your favourite films, that would be fun. Click here to send your stash. Please make sure you send the submissions to this link, otherwise they will not be featured.
Thanks
JCH