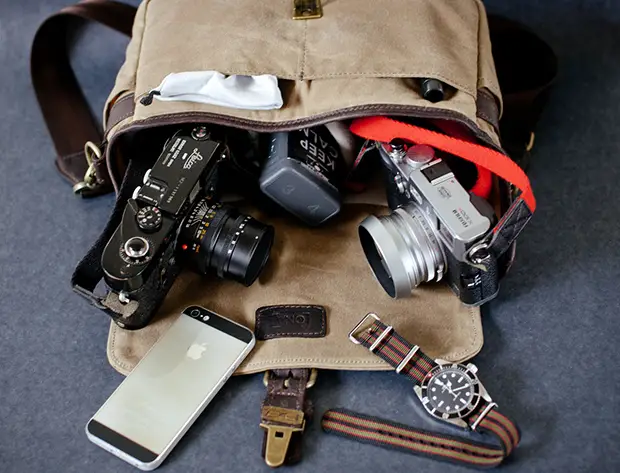 In your bag 779, Matt M
Seeing as it is a film day, Matt is sharing with us not only his bag, but his film stash too. And this bag really is a beauty. Check it out.

My bag has evolved quite a bit over the past 14 years starting out with disposable cameras, then point and shoots, followed by entry-level DSLR's and pro-level DSLRs. I used to shoot quite a bit of motorsport, concerts, and weddings and the cameras that I owned suited those needs perfectly. Of course, they were large and cumbersome and I would often leave them at home because I didn't want to carry them around with me all day if I wasn't on a paid job. 
When the Fuji x100 was announced in 2011 the way I shot completely changed and nothing has been the same since. All my Canon gear was sold in 2013 and the only digital camera I own now is the x100s. I also have a pair of Leica M2's (one chrome and one black paint) which are what I shoot with on a regular basis.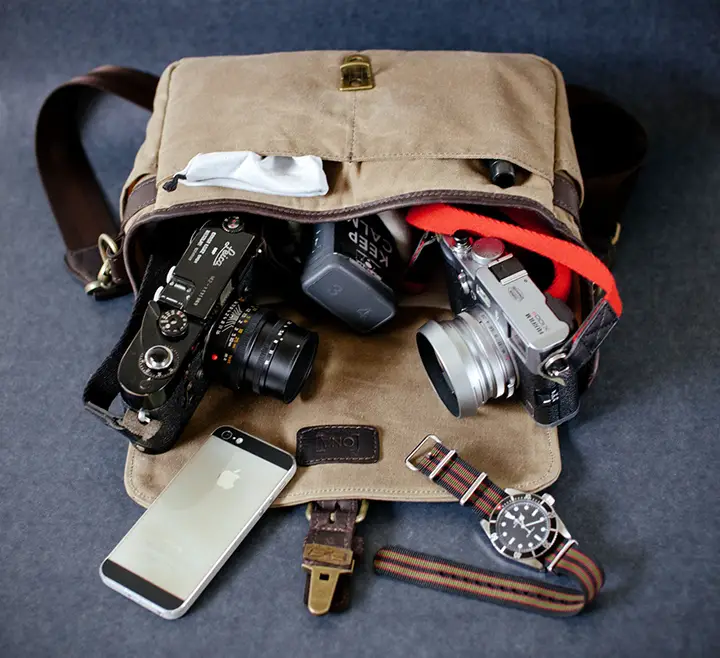 My bag now consists of two cameras that I couldn't be happier with. The Fuji x100s is a perfect travel companion and works great when the sun goes down thanks to its high ISO capabilities. With the M2 I get to use my Leica glass, enjoy the full manual/rangefinder experience, and try out different films. This kit fits 95% of my needs now and when I do need gear for paid jobs, I simply rent it.
Bag: Ona Bowery waxed Canvas
Digital camera: Fuji x100s, Tom Abrahamsson soft release, Artist & Artisan 103N strap
Film camera: Black paint Leica M2, 50mm Summicron, JCH  soft release, Artist & Artisan 103N strap
Accessories:
Hama film case typically filled with Arista Premium 400
Lens pen
Lee Seven5 filter system
BW ND filters
extra batteries
12″ gold/silver reflector
24″ cable release
MKII Bond watch
iPhone 5 w/ Pocket Light Meter app
I now revel in the simplicity of what I have at my fingertips and am more comfortable with these cameras and how I shoot then I ever have been before.
I've also included two shots of some of the film I have stocked in my freezer for your 'Show us your film' series (I will show them later-JCH). Thanks Bellamy, keep up the great site!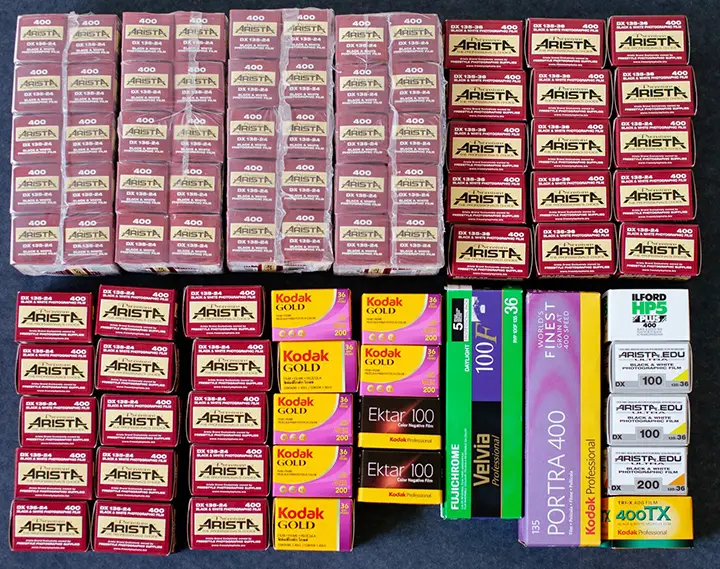 Cheers,
Matt
Flickr: http://www.flickr.com/photos/23072162@N00/
Instagram: http://instagram.com/matty_westside
Thanks for sharing your bag with us Matt. That black paint is stunning.
Check out the links and make sure you come and comment.
Keep them coming folks, we need more submissions, so get your bag on Japancamerahunter.com. Send me a hi resolution image of the bag (please make sure it is horizontal) and its contents, with some details about yourself and what you shoot. Oh and don't forget your contact details (twitter, flickr, tumbler et al). Send the bag shots here. Please understand that there is a long wait now as there is a backlog of submissions. Not all make the cut, so make sure yours is funny/interesting/quirky. And please make sure the shot is of good quality, as the ones that are not do not go up.
Cheers
Japancamerahunter