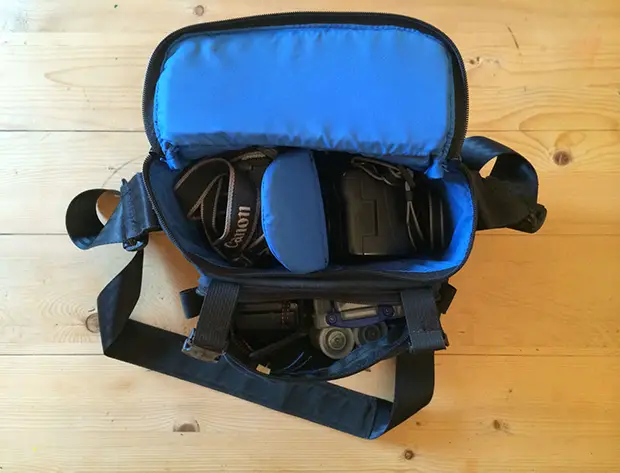 In your bag 994, Dank Spangle
Dank wins 'In Your Bag' just for the name alone. But his bag is great too. Check it out.

Here's my 'in your bag' submission.
I've been taking pictures for donkey's years, with all sorts of film and digital cameras. This is, I think, the best bagful of cameras I've come up with. Not too heavy; not too complicated; ready for anything.
The bag is an ancient Lowe-Pro Mini Magnum. It's a great size; as you can see you can get three cameras in there with a few essentials to boot – batteries, film (FujiFim Superia 200), lens cloth, CF card.
Stick a carrier bag over it and it is waterproof. Most importantly, its quick and easy to get the cameras out.
The cameras are:
1: Canon T90. The best film SLR I've ever used; perhaps the best film camera. Everything feels right. The mulit-spot metering and the 'tele' mode (which picks the widest possible aperture for the shooting conditions) make it perfect for my style of photography – I almost always want a wide aperture and to manage the exposure and focus (the focus being, of course, manual).
Why don't all cameras have these features?
The lens is a Canon FD 50mm 1.4. I love the feel you get from Canon 1.4s; perhaps not the sharpest, but the atmosphere is lovely. (Only beaten by the sublime 85mm 1.2.)
2: Canon EOS 5D Mk 1. Everything you need in a digital camera – including a full frame sensor and plenty of pixels – in a relatively small package. (Carry a 1DS Mk 2 around for a while and the 5d feels like a point and shoot.)
Everything you need except multi-spot metering that is (for that you do have to carry a 1D around). It does however have a safety buffer so I can leave the lens wide open and it will stop it down as necessary – same effect as the T90's 'tele' mode.
The lens is a Canon EF 50mm 1.4. See eulogy above. Only downside to this lens is that it is delicate – don't knock the end or the focusing will die. This is my 3rd.
3: Nikon AF3. Out of all the point and shoots I've used (Konica Big Mini, Yashica T2, various Olympus from Trip to AF10 via XA-2, Ricoh GR 1v and s, Fuji Klasse W) this is my favourite.
It gets on with the job with no fuss, the pictures have a lovely quality, it focuses nice and close (with automatic flash diffuser so good for portraits), it's easy to suppress the flash if you want. I really like the size and feel of it, and it isn't trying too hard (like the Ricoh or the Fuji – both of which feel far too ambitious for their own good).
And whereas many quality point and shoots are stupid expensive, these are stupid cheap. Come to think of it, everything in this bag (except the EF 50mm 1.4) can be bought at bargain prices.
So, I can experiment to my heart's content with the digital 5D, get quality film shots from the T90 and have fun with point and shoot and flash with the AF3.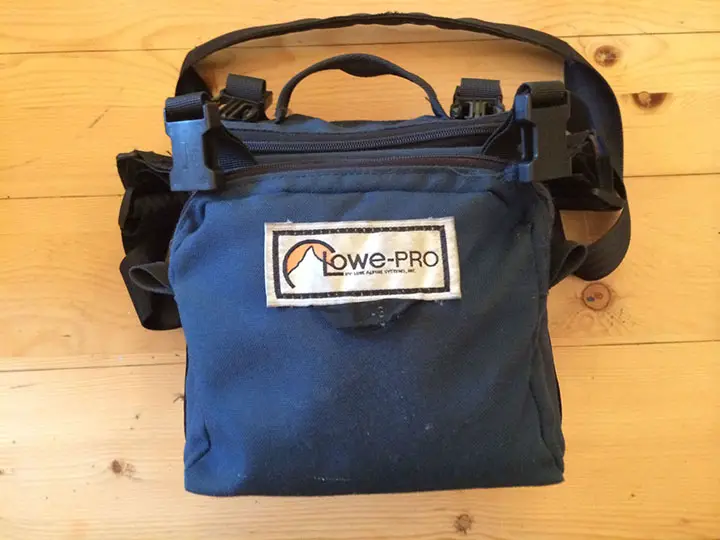 You'll find some of my photos here: https://www.flickr.com/photos/dank_spangle.
Hope you like my bag.
Dank Spangle
Thanks for sharing your bag with us, Dank. Interesting that you love the T90.
Check out the links and make sure you come and comment.
Keep them coming folks, we need more submissions, so get your bag on Japancamerahunter.com. Send me a hi resolution image of the bag (please make sure it is horizontal) and its contents, with some details about yourself and what you shoot. Oh and don't forget your contact details (twitter, flickr, tumbler et al). Send the bag shots here. Please understand that there is a long wait now as there is a backlog of submissions. Not all make the cut, so make sure yours is funny/interesting/quirky. And please make sure the shot is of good quality, as the ones that are not do not go up.
Cheers
Japancamerahunter