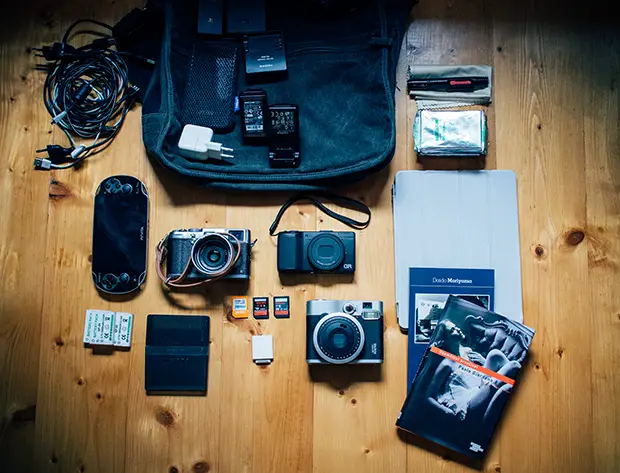 In your bag 991, Jaroslav Lukeš
Jaroslav shares with us a decidedly modern bag. He also has a very fancy job title. Check it out.

My name is Jaroslav Lukeš and I'm from Czech Republic, so please excuse if my english is not correct. I work as a Data Warehousing and Business Intelligence Consultant but one of my main hobbies is photography.
I started to shoot more enthusiasticaly at 2010 when I bought DSLR it started my main part of the trip into photography. Although I remember shooting before with fathers film cameras but I wouldn't call it proper shooting and when first digital cameras popped out I was shooting like a crazy and tried to make pictures but without any thought into process itself. So from that time i have only snaps. DSLR started it and now I ended up here with this gear setup and with lust to try different cameras.
As you can see I'm not as much film shooter as most bags here but this can change in time. I really enjoy working with my shots in computer or iPhone after taking them, to finish them to something I'm happy with. With Instax I have something as a surprise and mostly use it to please anyone who is nearby with me and give them those photos. So here's my bag as I was packing for vacation on small Greece islands of Santorini.
Bag is basic non-photography Marks and Spencer bag with cheap eBay camera insert. Bag shows signs of wear but works fine.
Fujifilm X100s with Tap&Dye strap – no comment this camera gives digital different feel and with it I more and more shoot with complete manual setting. When this is not in my bag it's probably because I use my m43 kit (OM-D and couple of primes 14/25/45mm) which i use for different situations.
Ricoh GR – my most recent camera, I wanted something pocketable and creative and Ricoh gives me that. With great sharpness it's wonderful for travel and landscapes.
Fujifilm Instax Mini Neo Classic 90 – was a gift for my 30th birthday and as I said I really enjoy shooting with it.
Memory cards – I use one Eye-fi Mobi card to transfer photos on the go to my iPhone and edit them to post online as I'm having coffee/beer somewhere.
iPad 3rd gen and Card reader – for transfer without Mobi card and for magazine reading.
Spare batteries for Fuji
Film packs for Instax.
Microfiber cloth and lens pen.
Cokin ND8 filter for longer exposures I use it handheld (adapter fell from some cliff couple of years ago).
Power adapters for all cameras and phones etc. With pile of cables.
External battery for charging iPhone on the go.
As this is bag for vacation there is my PS Vita (switching between it and 3DS) because gaming is my other passion.
Some books, actual it's Photofile of Daido Moriyama as I'm using GR type of camera. And Paolo Giordanos – The Solitude of Prime Numbers.
Whats missing from bagshot is Gorillapod and my headphones without them I can't leave.
I post online on Flickr which I have trouble to keep up to date. Although I'm computer guy, to make my all accounts online actual is pretty boring for me so I do it time to time. My G+ is mostly for complete packs of photos to share with people who attended that particular action/event. Only Instagram looks pretty up to date and I use it lot for it's easy approach and portability.
http://instagram.com/lennyKravic
https://www.flickr.com/photos/lennykravic/
I like to shoot live photography, personal events and traveling, sometimes sport because my gf is a Judo teacher. What I need to get better at is to get going some personal long-term projects which I have some ideas but have trouble to follow them. I need to work with this.
So thanks for submitting and keep up good work all of you!
Thanks for sharing your bag with us, Jaroslav. Hope you had a nice holiday.
Check out the links and make sure you come and comment.
Keep them coming folks, we need more submissions, so get your bag on Japancamerahunter.com. Send me a hi resolution image of the bag (please make sure it is horizontal) and its contents, with some details about yourself and what you shoot. Oh and don't forget your contact details (twitter, flickr, tumbler et al). Send the bag shots here. Please understand that there is a long wait now as there is a backlog of submissions. Not all make the cut, so make sure yours is funny/interesting/quirky. And please make sure the shot is of good quality, as the ones that are not do not go up.
Cheers
Japancamerahunter