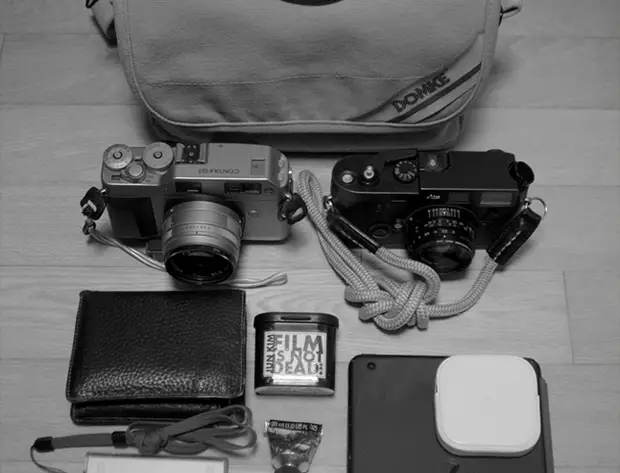 In your bag 457, Jun Kim
We have a bag from Korea today, we don't see them very often. And a lovely one it is too. Come and have a look inside Jun's bag.

My name is Jun Kim, mainly shooting street photography in South Korea these days.
I honor to send you a picture of my bag and gears…
This is the recent set of my bag (actually, it is what I was carrying on today :D )
I mainly shooting with my modified Leica M6 + minolta m-rokkor 40mm and the film I was shooting with Kentmere 400 100ft bulk but I just finished it so now I'm shooting with Rollei Retro 100 bulk and I push it up to 160 to 200 depends on what I feel like to go (I do develop myself, so it's okay to push or pull the film…)
another one is Contax G1 + G45, I bought it on ebay when the seller was trying to clearance all the Contax stuff before the license expire itself, so I bought it very cheaply. However, I haven't really go shooting with this great camera becaue I was disappointed about slow AF, small finder and MF system that I can't visually see it focused correctly or not and only it controls by an idiotic wheel on the top plate but I inserted a new roll of film because G45 is very very good lens and I can't shake out of my head even-though it has bunch of disadvantages…pictures are so great with this G lens you know hahaha..
What I do with these toys? I'm shooting street photography these days. It is very fun to do and I found that street photography is not popular in Seoul, Korea where I am visiting now.
other things?
iPad mini, iPod nano, headphone, 4G LTE transmuter, extra roll of films and hand cream….
Thats all chaps, oh and if you want to see my some of work (They are not so good but…)
Flickr : http://www.flickr.com/photos/31975473@N02/
Fotologue : http://fotologue.jp/pre-gallery
Thanks for sharing your bag with us Jun. It is not often I see a bag from Korea, so it is nice to know that the site is being viewed there.
Check out Jun's links and make sure you come and comment.
Keep them coming folks, we need more submissions, so get your bag on Japancamerahunter.com. Send me a hi resolution image of the bag (please make sure it is horizontal) and its contents, with some details about yourself and what you shoot. Oh and don't forget your contact details (twitter, flickr, tumbler et al). Send the bag shots here.
Cheers
Japancamerahunter