Show us your film : Fujiwho?
Thanks to a call to arms I have a few more epic film stashes for your enjoyment. Check them out.

Aislinn Chuahiok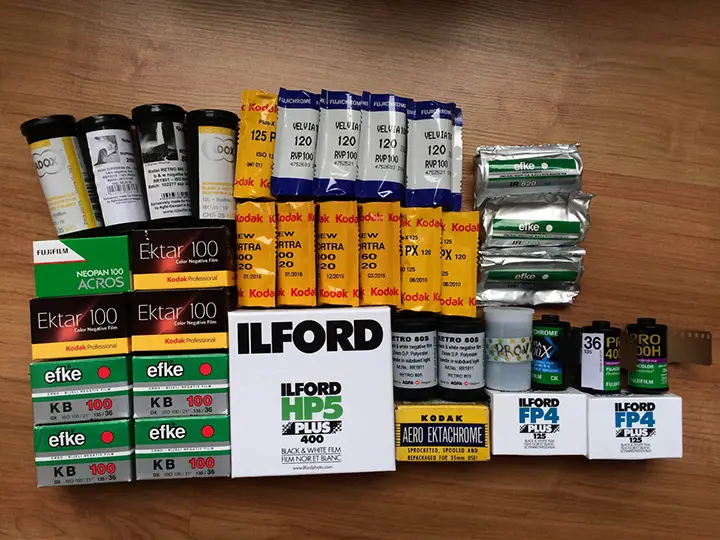 Hello JCH
Here's my own film stash. Nothing crazy, but I do love to hoard and hide my films with the mantra "Don't put all your films in one Fridge" and with the constant fear that I'll run out of film. I have a stash at home, a stash at work… a stash in my parent's little wine fridge…. Just making sure they're available to me in as many locations I frequent on my day to day routines.
The films I use generally are determined by my mood. I do dabble with more obscure or special films but very rarely…. I do have a special one in my collection: The Kodak Aero Ektachrome, EXP 10/1955. It was a gift and looks as though it travelled thru time well preserved and freshly sealed. I will probably never open it though.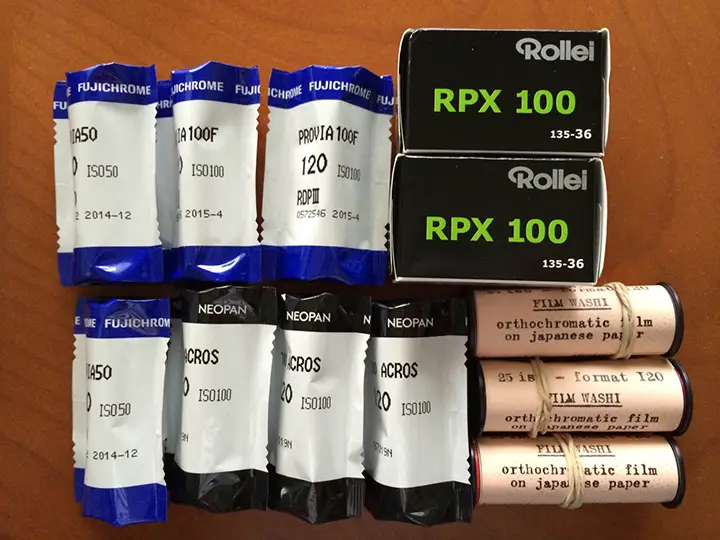 Always,
AISLINN
Nuno Cruz


My 4th batch of film that I bought this year just arrived.
I have ordered new films to try mostly, high ISO to shoot Amsterdam at night and dusk.
Together with what I have at home this is my current stash.
2 cartridges of impossible color film for Polaroid SX-70
2 cartridges of impossible color film for Polaroid 600 series
1 cartridges of impossible color film for Polaroid 600 series with colored borders
4 x Fujicolor Superia 1600
4 x Fuji Neopan 400
4 x Kodak BW 400 CN – I just ordered this one on Monday to try it out for the first time, and then I saw the news this week.
3 x Lomochrome Purple
3 x Cinestill 800
2 x Fomapan 400 Action
2 x Kodak Portra 800
2 x Fujicolor X-Tra 400
1 x Ilford Delta 3200
1 x Agfa Precisa CT 100
1 x Fuji Acros Neopan 100
1 x Porta 400
1 x efiniti UXi Super 200
Kelvin Chew


Hello JCH,
Kelvin here from Singapore. This pic was snapped about two years ago, and I've already used most of the film here.
The character in the background is a Rollei shooter in the anime "Tamayura". I thought it would be amusing to portray what she might feel if I presented my film stash.
BTW keep up the great work with the blog, it's always a pleasant read.
Regards,
Kelvin
Gerardo Jimenez Ozuna


HI JCH
Here is my film
Saludos desde México.
Gerardo Jimenez Ozuna
http://ojodezeus.tumblr.com
Thanks for sharing your film with us guys. We need more though. Keep the film love strong.
Also, please make sure you submit your film through the link below, otherwise I might miss it (I get an awful lot of mail).
I would love to see your collections, so if you want to send them in feel free. Perhaps you can include a couple of shots taken with your favourite films, that would be fun. Click here to send your stash. Please make sure you send the submissions to this link, otherwise they will not be featured.
Thanks
JCH