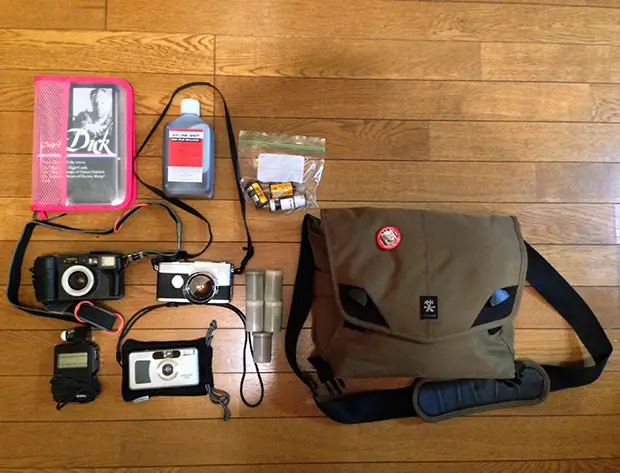 In your bag 945, Colin Barey
It is not often you see a bag with as many cool things inside as this one. Colin shares with us his cameras and his passion. Check it out.

I'm Colin Barey, an amateur photographer based in Tokyo.
I shoot a lot of street, exclusively film, mostly black-and-white, mainly just as I'm out and about, to and from work, etc. I have a lot of cameras and I choose from among them more based on my mood than anything, but in this case the selection was at least somewhat dictated by the fact that it's the rainy season and I didn't want to subject anything too valuable to the steam bath conditions today.
The Olympus Pen F is the first and least desirable model and the lens has a filter ring dent and some coating issues. Not going to worry about it collecting a few rain drops. Also, I wanted to shoot Kodak Portra 800 given the crap light, and this camera halves the cost of doing so. I slapped an 81A filter on there to warm it up a bit.
The other two cameras are my rainy day mainstay, a Konica Off Road 28, which I got from Greg Weber at Weber Camera in Nebraska brand new in its original box, with the original strap. It has a great lens and is nearly silent. My only gripe is the small viewfinder.
Also in the bag is a Konica Big Mini F, also purchased new in the box from Greg Weber; I basically cleaned out his entire inventory of old Konica point-and-shoots after learning of its existence a few months back.
The hand meter is a much abused Sekonic L-318B, which still meters accurately despite being dropped and glued back together twice.
I'm carrying an extra roll of Portra 800 and 4 rolls of bulk loaded Ilford HP5+ in the canisters.
The Philip K. Dick anthology is borrowed from John Sypal, hence the protective, mostly waterproof 100 yen store case.
The film in the bag is Kodak Super Gold 400 and a roll of Portra 800 in medium format that I'm taking in for development today along with the nearly finished rolls in the Konicas, and the bottle of Rodinal, ordered from graltd.com in Osaka, is for Ben Bell, who I'm meeting for lunch.
The bag is a Crumpler Six Million Dollar Home, the former model, which is better reviewed. I've had the bag for over a year and it looks like I just got it. I carry it every day. It is absolutely bulletproof. I added the Eugene V. Debs 1920 presidential campaign button, when he got almost a million votes as a write-in candidate while in prison.
Thanks for sharing your bag with us Colin. Love that Rodinal. I have a bottle myself.
Colin has shared his developing techniques with us before, as you can see here.
Check out the links and make sure you come and comment.
Keep them coming folks, we need more submissions, so get your bag on Japancamerahunter.com. Send me a hi resolution image of the bag (please make sure it is horizontal) and its contents, with some details about yourself and what you shoot. Oh and don't forget your contact details (twitter, flickr, tumbler et al). Send the bag shots here. Please understand that there is a long wait now as there is a backlog of submissions. Not all make the cut, so make sure yours is funny/interesting/quirky. And please make sure the shot is of good quality, as the ones that are not do not go up.
Cheers
Japancamerahunter