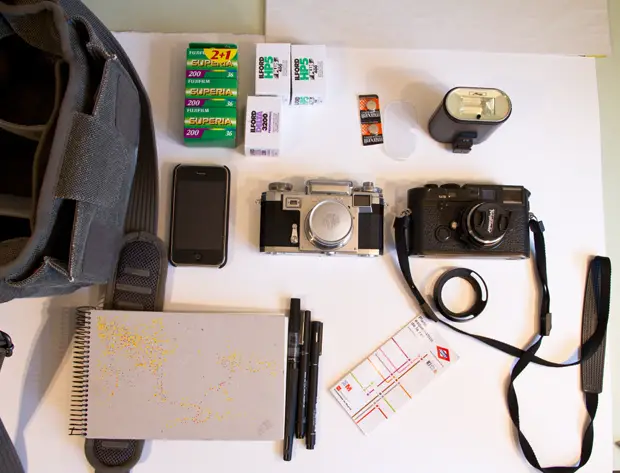 In your bag 432, Santiago del Aguila
A lovely clean and simple setup for you all today. The basics are all that are required for some people and Santiago really does have the basics. Oh, and a gorgeous Contax camera.

Hi! I'm Santiago del Aguila from Madrid, Spain. Last year I got posted here a bag that consisted of a contax IIIa and a canon 7D (that took the shots). As soon as I did my first rolls of film with the contax I fell in love with the rangefinder shooting y the telemetric focusing method. I liked the fact of the simplicity of the camera; it was compact and had a low weigh. Therefore I wished that I could manage to get a telemetric camera that actually worked, the contax didn't worked at low speeds and the viewfinder was a bit shitty… even with all these issues I appreciated using it. So I started to look for a Camera that worked y looked out for the Bessa's, the zeiss ikon and others including Leica… and that's what finally came out. I worked a lot in summer, I went out in the countryside working 8h outside per day, managed to sell some things I didn't use, and finally got enough to get a second hand leica M6 TTL and a new voigtlander 35mm f/2.5 color skopar… and I couldn't be happier, it's a dream come true.
So that is how I got this bag, I generally don´t take out the contax any more although I miss some of the lenses I had of the contax RF system. The bag is a retrospective 5 that I got recently, it`s compact and has enough space to carry along the 2 rangefinders (normally only the M6), extra film, a drawing blog A5, and a Flash. The flash is a Metz Mecablitz 20BC6 this isn't  TTL but has some short of automatism that makes it very easy to use an works fine and was very cheap, more or less 25€ (new) and it works also on my 7D.
The photography I do is first of all at my free time, when studying arquitecture I don't go out very often, so I suppose the photography I do is more or less a documentary of what I do. I hope a can soon make some trips and step up my game a little bit, for me it´s all about capturing scenes that I consider interesting… and I also think that I am great at missing then but that's what it's all about making the decision and  that is the difficult part for me.
This is my flickr: http://www.flickr.com/photos/santiagodelaguila/
This is my Leica M6 album: http://www.flickr.com/photos/santiagodelaguila/sets/72157630469529256/
Hope you all enjoy and sorry for the English mistakes if I may have.
Thanks for sharing your bag with us Santiago. Lovely to see someone shooting with that classic Contax, you don't see many of them anymore.
Check out the links and make sure you come and comment.
Keep them coming folks, we need more submissions, so get your bag on Japancamerahunter.com. Send me a hi resolution image of the bag (please make sure it is horizontal) and its contents, with some details about yourself and what you shoot. Oh and don't forget your contact details (twitter, flickr, tumbler et al). Send the bag shots here.
Cheers
Japancamerahunter