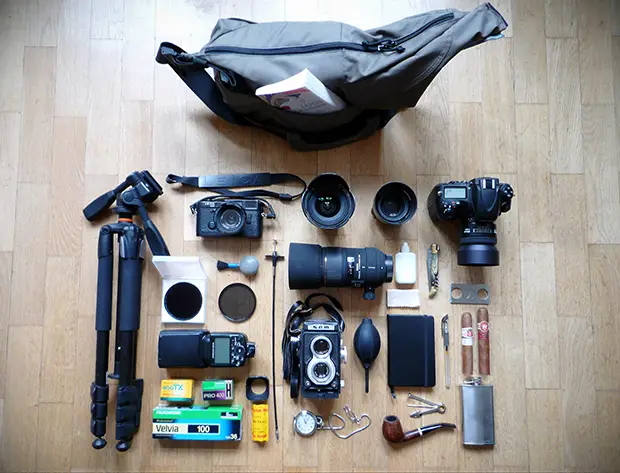 In your bag 1066, Renaud Dejarnac
Renaud has not only a pretty impressive bag, but a pretty impressive job title too. Check it out.

My name is Renaud Dejarnac, I am originally from south of France but I currently live in one of the most beautiful cities in Europe: Prague, Czech Republic. I am a thermonuclear plasma physicist, an epicurean and sometimes a photographer.
When I don't spend my time playing with electrons or enjoying a good bottle of red wine with a stinky cheese, I usually wander around to take photographs with my faithful trio: a Leica M6, a SEMFLEX (a french medium format 6×6 from 1966) and a more modern Nikon D800. I like all kinds of environments with preferences for urban and street photography.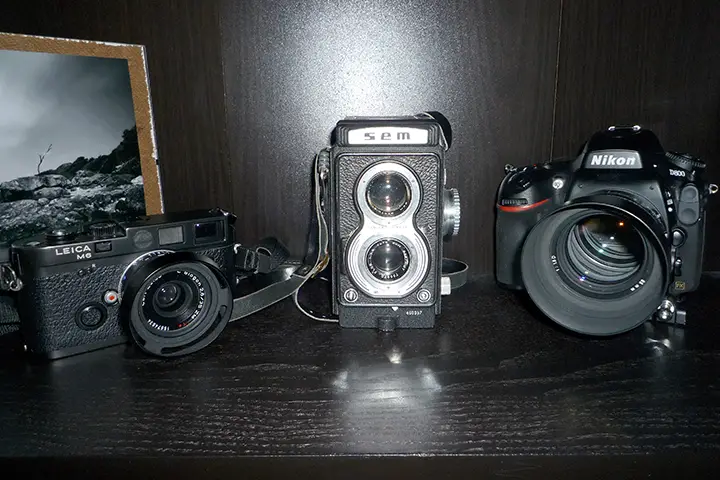 In my bag, you will find my 2 analog cameras charged mainly with kodak triX or 100 Tmax, even if I am shooting from time to time in color (mainly with provia/velvia). My D800 is usually hanging on my shoulder using a Carry Speed strap system. You will also always find a cleaning lens kit in my bag because I am a bit an obsessive guy when it comes to my gear (professional tic?).
I usually carry a Vanguard tripod for long exposure shots (especially for landscapes where water is present), with all sort of filters (polarizing, ND 8 and ND 1000 by B+W) and when I am inside for some more intimate photo shoots with people, I can use my Nikon SB900 flash with a 40x40cm soft-box even though I usually prefer natural light.
I have the privilege to travel a lot because of my job and I take this opportunity to capture different cultures and landscapes. I like walking, alone, following my intuition to find my shooting spots. When I visit a new city, I can walk in between 8 to 10 hours per day, so better to be as light as possible.
For this I use the LowePro Passport Sling camera bag, otherwise I have a Kata bag (DR 467i) where I can put up to 6 lenses (e.g. my Tokina 11-16mm f/2.8 that I use only at 16mm on my D800 because it's DX lens but one of the best I ever tried, Nikkor 50mm f/1.4, Nikkor 85mm f/1.8 and Sigma 150mm f/2.8 macro + Carl Zeiss f/2.8 35mm for my Leica), my laptop, two camera bodies, a notebook to record any kind of useful info, a pipe to relax during some deserved pauses and a pocket knife – with a cork opener, of course!
I keep one Cuban cigar for one special evening with the company of an old rum or a peated whisky and with local fellows or good friends. Not to be bored during travels or when commuting, a small book is useful.
I am now reading "Japon: miscellanées" which gives light on lots of things I have experienced during my first 2 trips to Japan this year. I think I fell in love with this country/culture and I will come again, sure. Looking forward to it and why not meeting with you, Bellamy, Lucky you to be there!!
You can find some of my pictures of Japan (and others) in my website:
www.dejarnac.com
My facebook account:
www.facebook.com/pages/Renaud-Dejarnac-Photography/342903172386611
and my flickr account:
www.flickr.com/photos/rdejarnac/ Maybe NSFW
Thank you Bellamy for giving me the opportunity to share with others what is in my bag and long life to your fantastic website.
Cheers,
Renaud
Thanks for sharing your bag with us, Renaud. That is a cool SEMFLEX, I have never seen one before.
Check out the links and make sure you come and comment.
Keep them coming folks, we need more submissions, so get your bag on Japancamerahunter.com. Send me a hi resolution image of the bag (please make sure it is horizontal) and its contents, with some details about yourself and what you shoot. Oh and don't forget your contact details (twitter, flickr, tumbler et al). Send the bag shots here. Please understand that there is a long wait now as there is a backlog of submissions. Not all make the cut, so make sure yours is funny/interesting/quirky. And please make sure the shot is of good quality, as the ones that are not do not go up.
Cheers
Japancamerahunter