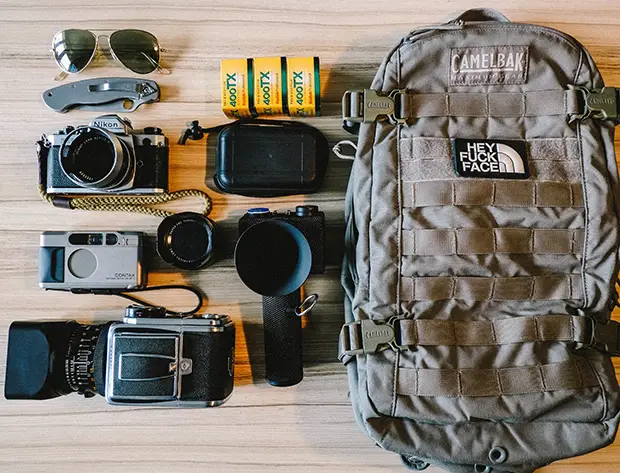 In your bag 942, Jarema Drozdowicz
Sticking with the Eastern European bags, we have a brilliant bag with a neat patch on it. Check it out.

My name is Jarema and I'm 36 year old amateur photographer based in Poznań, Poland. I'm an academic lecturer for a living, who occasionally shoots some pictures and finds real joy in doing so. I shoot mostly what surrounds me and what I feel is worth capturing one way or another. Places, spaces, faces – you name it.
Since some time I went back to film (135 and medium format), but still do digital with the Fuji XE-1. However, I was quite reluctant to share my tools in the JCH's "what's in my bag" manner as I'm not so much into this kind of presenting what I do. It resembled too much the EDC's "pocket dumps" which I'm critical about (wrote even an article on the topic). But then I thought that this is something different. This might actually have some value (and it does). I really appreciate Bellamy's efforts to bring together diverse optics on photography and what he's doing through the JCH website. Thanks Bellamy for your work and keep those bags coming. So without further ado here's what I usually carry around:
– Camelbak Mil Tac H.A.W.G. backpack in Foliage Green: sometimes I switch to my North Face Medium Messenger bag, but this one is my favorite; versatile and robust; well thought design that might be filled up with whatever you want and there's still some space to fill it a little bit more
– Fuji XE-1 (not shown in the picture): many times reviewed, much appreciated; you might say whatever you want – this is the new digital Leica for me
– Fuji 18mm f 2.0 lens (not shown in the picture): nice little 28mm equivalent when you need it a little wider; sharp from f 4 to 5.6 onwards
– Fuji 35mm f 1.4 lens: a must have for every X shooter, nuff said
– Nikon FM2 with a 50mm f 1.8: actually this one has a complex story behind it; I bought it on a flee market in Berlin, Germany from a French gardener who works on a British war cemetery in my home city Poznań; this camera never failed me in any way
– Contax T2: the best point and shoot camera I owned (I have also an Olympus Mju II and recently sold a Ricoh GR1s), I only wish it could fit any pocket
– Hasselblad 500 C/M with a 80mm Planar lens: now this camera brings me most joy to use; the results I get are the closest to what I want to achieve; I wish I had more opportunites to use it recently
– Lomography Spinner 360: real fun to use if you like panoramas; you always get those looks from people wandering what it is
– waterproof case for my medium format films (4 pieces fit like a charm)
– sunglasses
– Spyderco Military knife in titanium finish (thousand and one uses)
– a handful of Tri-x film: although I like Ilford films more this one works just as well
In case you would like to see the results of using those cameras you are welcome to have a look here:
and here:
https://www.flickr.com/photos/dervatt/
Cheers!
Thanks for the kind words Jarema. Love the bag too, the T2 is brilliant and the FM2 is too.
Check out the links and make sure you come and comment.
Keep them coming folks, we need more submissions, so get your bag on Japancamerahunter.com. Send me a hi resolution image of the bag (please make sure it is horizontal) and its contents, with some details about yourself and what you shoot. Oh and don't forget your contact details (twitter, flickr, tumbler et al). Send the bag shots here. Please understand that there is a long wait now as there is a backlog of submissions. Not all make the cut, so make sure yours is funny/interesting/quirky. And please make sure the shot is of good quality, as the ones that are not do not go up.
Cheers
Japancamerahunter