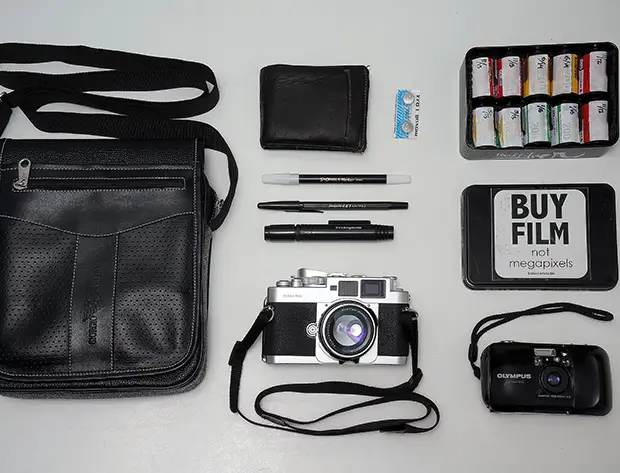 In your bag 900, Harman H.W.
Well done to Harman for being number 900. Yes indeed, 900 bags. Not long before we crack 1000! Come and check out this beauty from Bali.

Dear JCH,
Below is my bag shot consisting of:
Fake Giorgio Armani bag, I found this bag in a shop, very cheap, very light and good size, fits all the items on the right, I don't really care about the branding, would be better off with no branding at all. (Feel free to pixelate the brand if you're against piracy).
Fossil wallet, had this for more than 5 years now, in it some change and credit cards, also 2 polaroid instax photos that were taken 2-3 years ago, still in good shape.
Spare LR44 battery in case those in the R3M died.
Snowman marker, to write expiry date, roll number, and number of exposures left should I need to change film midroll.
Ballpoint.
Lenspen.
Voigtländer Bessa R3M Silver 250 Jahre Anniversary Edition, serial number #018, shame it didn't come with the included heliar 50mm f2. I also put a soft shutter and thumbs up grip, I shoot lots of portrait, the thumbs up grip does help a lot stabilizing the camera.
Voigtländer Nokton 40mm f1.4 SC, acquired this before the body, used it on a Sony Nex-5N before.
Wannabe Bikkuri case, from a wallet case if I remember correctly, fits 10rolls of film, but is a bit of a hassle taking the film in and out, would buy a real Bikkuri case sometime near the future.
In the case I have:
2x Agfa Precisa CT 100
2x Fuji Superia 200
2x Kodak Colorplus 200
2x Agfa Vista 400
2x Fuji Superia Venus 800
Last but not least, an Olympus Mju-1 I got from a guy whom inherited this from his father, comes also with the nice pouch (not in the photo), very handy in case I want to shoot indoor with flash.
This setup is not my daily setup, usually I would only take the Bessa, 2-3 rolls of film, thats it. This one is for my trip to China today (05/22), very eager to shoot on the street, hopefully I can get some decent photos to be featured on JCH! Please do checkout my IG: http://instagram.com/harmanhw
Regards,
Harman H.W.
Thanks for sharing your gear with us Harman.
Check out the links and make sure you come and comment.
Keep them coming folks, we need more submissions, so get your bag on Japancamerahunter.com. Send me a hi resolution image of the bag (please make sure it is horizontal) and its contents, with some details about yourself and what you shoot. Oh and don't forget your contact details (twitter, flickr, tumbler et al). Send the bag shots here. Please understand that there is a long wait now as there is a backlog of submissions. Not all make the cut, so make sure yours is funny/interesting/quirky. And please make sure the shot is of good quality, as the ones that are not do not go up.
Cheers
Japancamerahunter