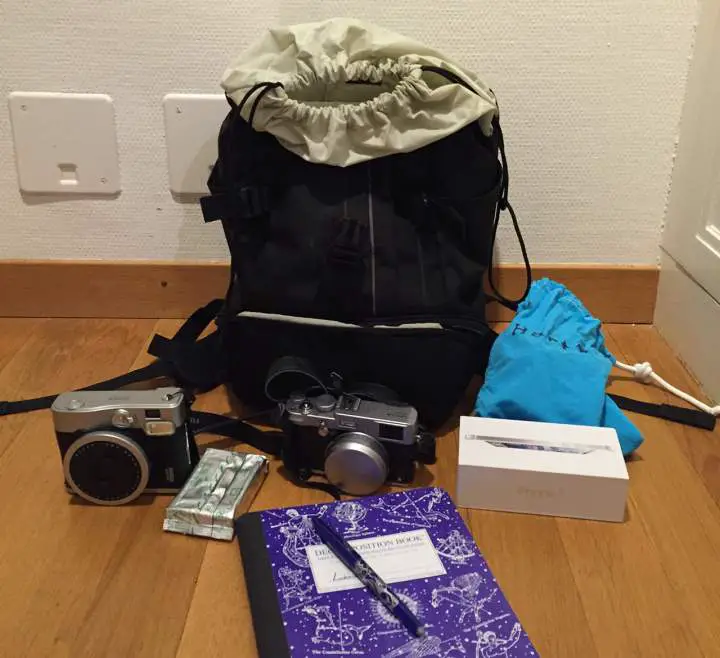 In your bag No: 1366, Luka
Today we have a students bag, and by student, I mean high school student. It is great to see the young generation getting into photography, especially when they have so much passion for it.
My name is Luka, I am 15 years old, and currently live in Switzerland. 
Photography is my passion, and I just got my first 'exhibition' (in my school's library) for a month. Seeing my own work printed out, and exhibited was great. Anyhow, here is my bag, a Crumpler: Jackpack Half Photo System Backpack. I just recently got this bag, and already think that it is great. There are two sections: one for my cameras, and one for stuff like a notebook and water. As you can see both of my cameras are Fuji cameras, which I am very fond of. I have a Fuji Instax 90, which I personally think is a great instant camera. I've got an old iPhone case, which I put my instant pictures in, and a little bag in which I put all my cables. Then comes my Fuji x100s, which I've been using for 3 years now. I shoot 99% of my stuff with the x100s, and have been enjoying it ever since. As said I've always got a notebook, some water etc. with me as well.
You can see my photos here : http://lukasecilmis.wix.com/lukaist
I also have a just recently started Instagram account: 
https://www.instagram.com/lukaistphotography/
Thanks for sharing your bag with us, Lukas. Congratulations on your first exhibition, keep it up!
Keep them coming folks, we need more submissions, so get your bag on Japancamerahunter.com
Send me a high resolution image of the bag. Optimum size is 1500px across. Please ensure there is a bag in the shot, unless you don't use one. The more you can write about yourself the better, make it appealing and tell us a story. Snapshots of your gear with a camera phone and no words will not be featured.
Oh and don't forget your contact details (twitter, flickr, tumbler et al). Send the bag shots here. Please understand that there is a long wait now as there is a backlog of submissions. Not all make the cut, so make sure yours is funny/interesting/quirky. And please make sure the shot is of good quality, as the ones that are not do not go up.
Cheers
Japancamerahunter