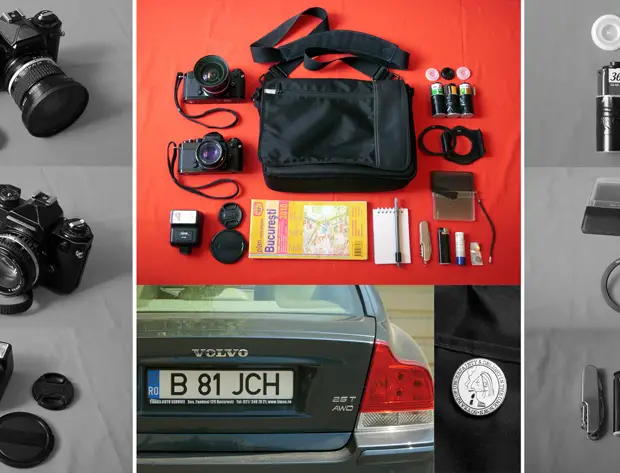 In your bag number 235, N K
Today we have a mysterious bag shot. N K has put together one of the best bag shot compilations that I have ever seen. A complete set of shots and it even has a JCH number plate! How cool is that?

The name is not important, and beside i love anonymity (i have the Vivian Maier aproach to photography), not even the location i`m from is important, but because is a map in the picture.. very well, i`m from Bucharest, the capital of Romania – a wonderful country that i recommend you to visit one day. A little warning, i love quotes so you`ll find some scattered in the text below.
I`ve been reading your posts daily for more that 6months, and got some inspiration from your articles and camera bags featured, and for about a month i keep thinking to send you a shot of my bag,… and when i saw today that bag shot number 200 is so close i`ve said to myself that that day has arrived, but i don`t want to be no.200, i wanna be no.201 and if u can do that i`ll be very happy.
Ok, so, why do i have a camera and try to create images with it? because for me photography is :
– a great excuse to dig deeper in my being
– a even greater excuse to wonder about the world i live in
– a way of sensing the energy of humans around, and sometime, when everything works ok to capture that on the film
"Photography is a love affair witgh life." (Burk Uzzle)
– a good excuse to go out every day
…because "light waits for no man, you`re either out there, or you miss it. Forever." (Ken Rockwell)
– much more than i can express..
I started shooting a few years ago because of my girlfriend at that time.. ("a man hunts the woman until she catches him"- african proverb, so keep hunting guys).
The years passed and i went from a different dslr camera to another, from a brand to another… exploring, learning, evolving..
All that until the biggest jump so far, that was a year + ago, when i bought myself a slr and got for the first time in contact with film.
That put an end to my digital past, and made me grow more in this time than all of the previous. Of course the digital learning process was a very important one, and is quite a good starting point.. it offered me an instant way of seeing what i was doing, and how my settings were affecting the end result, that is more cumbersome to do in analog process, but the main ideea is that (for me) the digital is not the end of the trip, it just kick start`s it.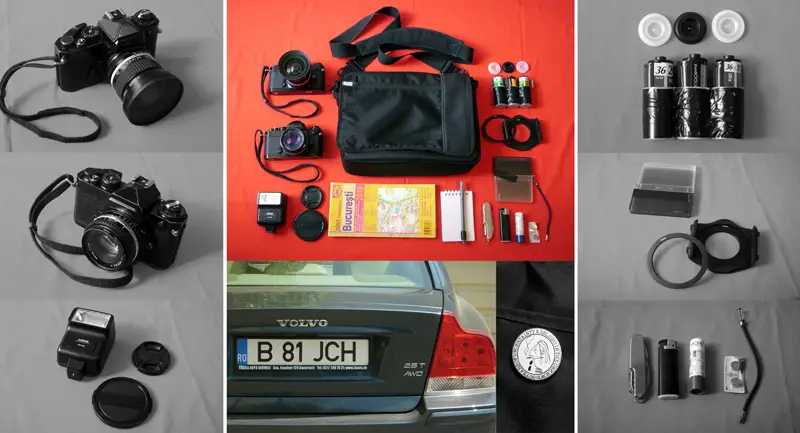 Let`s get to the camera bag itself:
– the bag it`s a small/made in China/cheap laptop/tablet bag, has a thin but light and efficient padding, and the small number of pockets offers me just just the space i need and nothing more. So i can`t put useless stuff to carry all day for no practical reason, except shoulder pain, but big enough to acomodate some a4 papers that i need to take to/from work. Also it is not looking like a camera bag, and that`s a plus. The strap is from a bigger laptop bag, has enough lenght, and a brilliant leather padding that my shoulder is happy with. Ah, and the bag and strap had to be black.
– the cameras that i use are 2 Nikon FE`s, the twins, one fitted with a Nikkor 18mm f3.5 lens, and the other one with a Nikon 50mm 1.8 lens. I can not say loud and clear enough just how great these cameras are, they are small (the same size as Leicas), well made, 100%metal, have an Aperture priority mode that let`s me concentrate more on the picture, and have the BIGGEST viewfinder that i`ve encountered. Yes, the nikons had to be also black, and because the white logo on them was popping into my eye, they`ve received a paint with black nail polish on the logo (plus, as much as i respect Nikon i don`t see any reason for me to advertise them for free.. the same aplyes to camera straps, i just don`t get the people who use these kit straps with HUGE logo`s on them..). The hand straps are made by myself from older black camera straps, and they have a plastic stopper to let me adjust them as tight or loose as i want on my wrist. For minimalistic reasons i wanted to have just one camera and 1-2 lenses, the 50mm was one of them, but at some point i`ve bought an 18mm and a love story started… and the constant lens changing was pissing me off, so decided to get another FE. It is great to have these 2 focal lenght always ready to shoot, and the cameras being the same model makes the change so normal. Now and then i look at the bag and feel so happy seeing how little space these 2 fullframe cameras take, and just try to imagine for a second how it would look the equivalent in digital, 2xD700, or 2X5Dmk2…and then adding lenses..
– a small Sunpack flash and the caps for the lenses (i use natural light, but there were some times when i needed a flash and did`n have one… so this is how this little guy made it`s way in the bag)
– film holder made by myself from 3 cans of film and some tape. The main advantage of this is that is modular (if one wants a bigger holder can just add more cans of film), and is almost free. I`ve made a couple of these 3 pieces film holders so when i go in longer trips i can bring more of them, usuay i carry just one holder, never used more than 2 rols of film on a day. The film i have is some 100 and 200 iso on the sides, and a 400 iso in the middle (i always put the fastest film in the middle, with the black cap)
"Film is cheaper than opportunity."
– a Cokin filter holder, with a 52mm ring and a 72mm ring, and some ND filters (all in the same filter holder to save space)
– penknife (because how a friend of mine says, a man must always have with him two things, a knife, and money), lighter, lip balm, spare batteries (compare the size of these with the ones for dslr!!!!!), cable release (same comparation!!!)
– a wery cheap notebook and a pen (because the value of a painting is not in the canvas, and the same way the value of ideas is not given by the paper on witch they are written)
– a map of Bucharest, comes in very useful when i get lost ("getting lost will help you find yourself")
– also in the bag is a small digital compact camera for practical-2012-image-tacking-needs, that i got the photos of the bag with
Ok, almost done the description, but kept to the end the last two things, also in the picure above is my favorite (and only) badge that sits right under the bag flap because i don`t want it to be visible for anyone (hope the text is visible when on the web, if not you can add it separate and bigger)
And a little something for you Bellamy, a tribute number plate , and maybe that B comes from your name. :) (this is not my car)
And yes, i shot the bag on the red cloth on purpose, to give it some festive air, considering your new 100 bag posts.
I`ve said at the beginning that i love anonymity, and that`s why a don`t have a webpage/blog/500pix/facebook/tweeter/bla bla/account, and plus, all this takes to much time, and time should be lived.
I create the photographs that i create for my own happiness and soul, and a folder and some back-ups on cd, and a box with negatives are perfect for me.
But that does not mean that you won`t get some links, here are some things that i recommend you to see and hear, they are far more useful for you guys then my pictures:
"It takes a long time to become young." Pablo Picasso
1. http://www.youtube.com/watch?v=KZYlQ4Wv8lE
2. http://www.youtube.com/watch?v=D1R-jKKp3NA
3. http://www.youtube.com/watch?v=4ZSZLzGNPBQ
Wish you all some great light, in your viewfinders and souls! Roger and out!
"Our best shots are placed in our memory. They are simply there, somewhere…and they represent our private archive. Nobody can touch..nobody can see.."
(Massimo Conti)
A wonderful bag shot, and some very inspiring quotes, I am very happy to feature this bag shot. Thanks so much N K.
Check out the links and please make sure you come and comment.
Keep them coming folks, we need more submissions, so get your bag on Japancamerahunter.com. Send me a hi resolution image of the bag (please make sure it is horizontal) and its contents, with some details about yourself and what you shoot. Oh and don't forget your contact details (twitter, flickr, tumbler et al). Send the bag shots here.
Cheers
Japancamerahunter