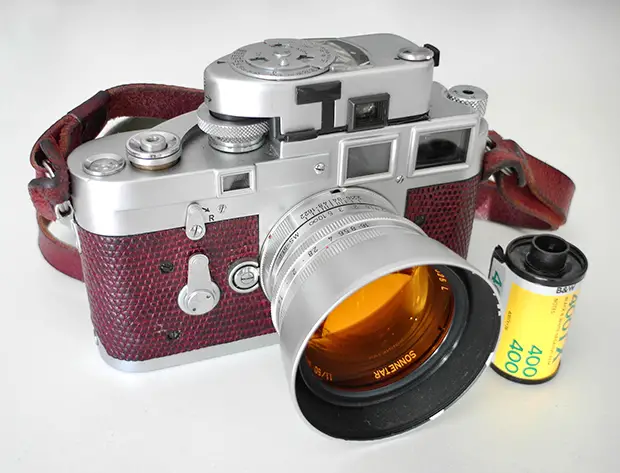 The FrankenLeica
David Lykes Keenan has been telling me about this camera for some time now and finally he has shared it with me. So I thought I would share it with you. A very cool FrankenLeica.

David has been a supporter of the site for a long time (I hope it was JCH that switched him back to film), so I want to offer my support with his new project. David has a Kickstarter out at the moment to produce his own book called FAIR WITNESS. Please go and have a look and give your support.
Now, over to David to hear more about the beast that is the FrankenLeica.
FrankenLeica was born as an everyday 1954 edition double-stroke M3.
I purchased it in 2004 shortly after I became interested in photography again after a 30-year hiatus. I purchased it originally to fulfill a plan I had to recreate the kit I remember my grandfather had in the late 1960s. He let me use the camera, his collection of lenses, and the most curious accessory I had ever seen, a Visoflex.
I had no inkling of the history or pedigree of Leica in those days — but I knew that it was something special.
I did manage to eBay just about everything I remember Grandpa having and had a pretty nice vintage M3 set for awhile. However, cameras, particularly Leicas had come a long way in 40 years, and I moved on to a M6 and finally to the M7. Now, I also have an M9-P and a Monochrom. I sold off all of M3 kit years ago except for the camera itself.
For reasons even I can't explain, I decided that if I was going to keep the M3, I was going to trick it out. Thanks to Don Goldberg at DAG and Jerry Sullivan at Precision Camera in Austin, my pedestrian M3 was, over time, transformed into FrankenLeica.
For no other reason than I could, this is what was done to create FrankenLeica, roughly in chronological order:
double stroke converted to single
flash sockets updated
M3 viewfinder replaced by one from an M2 (to get 35mm framelines)
removable film take-up spool replaced by parts from an M4 including automatic reset of the frame counter
dinged up top plate replaced with new-old-stock replacement part
eyeglass protector added around viewfinder window
vulcanite replaced with purple lizard skin
matching (almost) Luigi leather strap added
Leica Meter MR added
I don't want to think about how much all of these modifications cost.
The lens you see on FrankenLeica is an MS-Optical 50mm f/1.1 Sonnetar.
One thing is certain, I will always keep this camera, I will always enjoy using it, and it is certainly a fun conversation starter.
David Lykes Keenan has been photographing seriously since 2006 when he left his software company in capable hands and has not set down his camera since. Presently he is managing a Kickstarter campaign to publish his book of street photography entitled FAIR WITNESS. Please check the campaign and try to assist in bringing FAIR WITNESS to the bookshelves.
Dave.