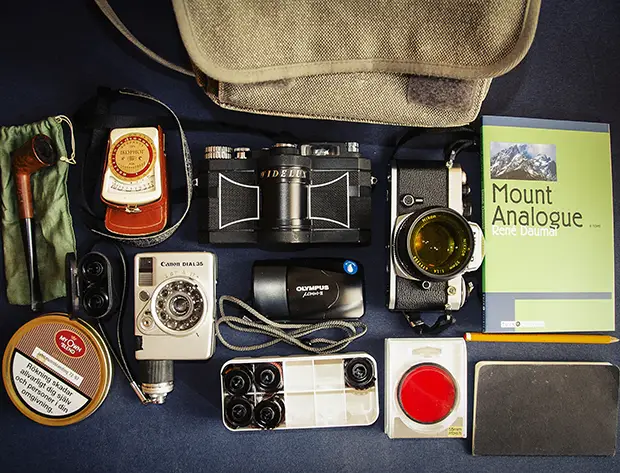 In your bag 880,Rickard Falk
Nice. Rickard is bag after a long hiatus and with a completely new setup. Including a pipe! Check it out.

I'm Rickard, in my late 30s, from Stockholm, Sweden and this is my second bag on here (first one here).
Since last time I've more or less switched over completely to film (still shoot a little digital, once in a while), even started developing my own colour film, and I'm currently on the hunt for a darkroom; I've found a few that I'm looking at so far, so not long now!
I shoot mostly street photography, or, photography on the street at least, and I shoot mostly black and white. My favourite film at the moment is Ilfords HP5+ pushed to 1600 developed in Xtol 1+0. Which is looking fucking awesome, excuse my language, and gives Tri-X a run for it's money imo.
Me and eight other photographers just recently put out a photo book called "Out of Necessity Vol. 1 – Stockholm"; all black and white; all shot in Stockholm; in a limited edition of 400. You can find it here… http://cargocollective.com/oon.
So what's in the bag?
Well, I've picked out a few of my cameras that get the most use, even though I have plenty more.
On the far left we have my pipe and tobacco (important stuff!), then an old Zeiss Ikon lightmeter from the 50s (I guess), which does what it does fairly well. Below it a dual pack of film and my lovely Canon Dial 35 half frame camera. Love half frame!
Next to those is probably my favourite camera of all, the Widelux F7, which is a 35mm panoramic swing lens camera, awesome stuff! Below it the Olympus Mju-II, perfect for the pocket, and then A JCH film case that I got for my birthday..
Next is my workhorse, the Nikon FE, sporting a 50mm f/1.4 with a yellow filter, also have the 35mm f/2 and a couple of others; and a red filter below that.
Then we have the obligatory book, René Daumal's Mount Analogue at the moment, plus a notepad and pen.
That's about it, although there's probably a few more bits and bobs in there, microfibre cloth and so on. Oh.. the bag is a Think Tank Retrospective 5 (also have the 20), good bag imo.
If you wanna check out my photos you can head over to http://analogsuspect.tumblr.com/ which is where I post most new photos at the moment, but you can also check out my homepage http://www.sowl.org and my flickr https://secure.flickr.com/photos/heavyowlstartledfarmer/ (only have one photo on there though I think, not using it much). @magOwl on twitter, although I don't use that much wither. And check out "Out of Necessity" via the link above!
Keep shooting, have fun & shoot a lot!
Peace!
/Rickard
Thanks for sharing your bag with us Rickard. Nice to see a widelux.
Check out the links and make sure you come and comment
Keep them coming folks, we need more submissions, so get your bag on Japancamerahunter.com. Send me a hi resolution image of the bag (please make sure it is horizontal) and its contents, with some details about yourself and what you shoot. Oh and don't forget your contact details (twitter, flickr, tumbler et al). Send the bag shots here. Please understand that there is a long wait now as there is a backlog of submissions. Not all make the cut, so make sure yours is funny/interesting/quirky. And please make sure the shot is of good quality, as the ones that are not do not go up.
Cheers
Japancamerahunter