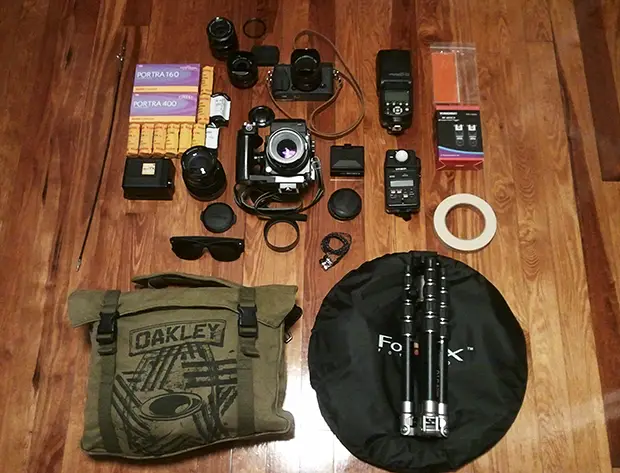 In your bag 850, Stephen Zane
Wow, a travellers bag coming to you all the way from India. Stephen is young, but already is working on projects in different countries. I wish I had been able to do that when I was 18. Check this bag out.

Hi there, my name's Stephen Zane, and I'm an 18 year old documentary portrait photographer hailing from the USA…(or more specifically, Tampa, Florida).
I'm sending this from a hotel in Hyderabad, India just shortly before I embark on my second documentary project of my admittedly quite short life.
Bag is a pretty basic Oakley messenger that's seen more than it's fair share of abuse over the years, with a generic insert inside. The slightly distended shape is from a bunch of little odds and ends that I'll leave up to your imagination.
From there we have a mefoto backpacker tripod, 48″ 5-in-1 reflector, matte black shades, Koss KDX-something-or-anothers, masking tape, (just because it's insanely handy), Minolta IIIF meter, Yonguo YN-560 III Flash, & RF603II  triggers.
Finally to the cameras/film
First, a Bronica ETRS with AEII finder and speed grip, accompanied by the 75mm f/2.8 and 150mm f/3.5 lenses (both really solid, both in the sense of image quality and in the sense of being quite easily used to defend oneself).
Second, a thoroughly gaff taped Fuji Xe-1 with the fuji 18mm f/2, & 35mm f/1.4 lenses, and a Pentax S-M-C Takumar 50mm f/1.4 lens on an m42 converter. (As an aside, the 'Tak is a stunningly beautiful lens both in build quality and rendering, and works as a perfect portrait focal length on aps-c.) The lovely bit of leather wrapped lazily around it is the shortest Figosa strap in cognac.
For film I've brought along mostly Kodak stock, just out of personal preference. It might sound silly, but using presets for portra 160vc was what got me into film photography in earnest, as one day it finally occurred to me that I might as well just actually shoot the damn stuff instead of spending hours trying to get the look I wanted in post. Easily the best decision I've made photographically thus far.
Anyways, I've got:
6 Rolls of Portra 160, 6 Rolls of Portra 400, 3 Rolls of Ektar 100, 3 rolls of Tri-X, and 2 rolls of Fuji Acros.
Also, proving I truly don't understand the word "finally", I've got a few skylight filters, lens hoods, and extra caps, as they seem to really hate being so close their assigned lenses.
My website is below, along with links to all the other usual stuff in the sidebar.
As an addentum, 
Thank you Bellamy for giving the average photographer a place to shamelessly show off 
their own personal gear porn, and apologies that my photo wasn't up to level that guys like Ming Thein and Jason Howe set!
Thanks for sharing your bag with us, Stephen. That Bronica is a hell of a thing to be carrying around India, hope you get some good shots.
Check out the links and make sure you come and comment.
Keep them coming folks, we need more submissions, so get your bag on Japancamerahunter.com. Send me a hi resolution image of the bag (please make sure it is horizontal) and its contents, with some details about yourself and what you shoot. Oh and don't forget your contact details (twitter, flickr, tumbler et al). Send the bag shots here. Please understand that there is a long wait now as there is a backlog of submissions. Not all make the cut, so make sure yours is funny/interesting/quirky. And please make sure the shot is of good quality, as the ones that are not do not go up.
Cheers
Japancamerahunter