In your bag 832, Rick Marquez
Sorry for the delay, normal service is resumed. And today bag is a corker. This 'disney' bag is going down as one of my favourites. check it out.

Rick, here, chiming in from San Diego, California! I've been following all the bags you post on your site for the last couple of years and finally decided to send in something of my own. I know many other working photographers will agree with me when I say that having one camera bag is simply not enough. I have a few different bags and their use depends on what kind of job I've booked at the moment.
I recently, became an annual pass holder to Disneyland and below is the collection that has become my go-to kit whenever I visit the Magic Kingdom.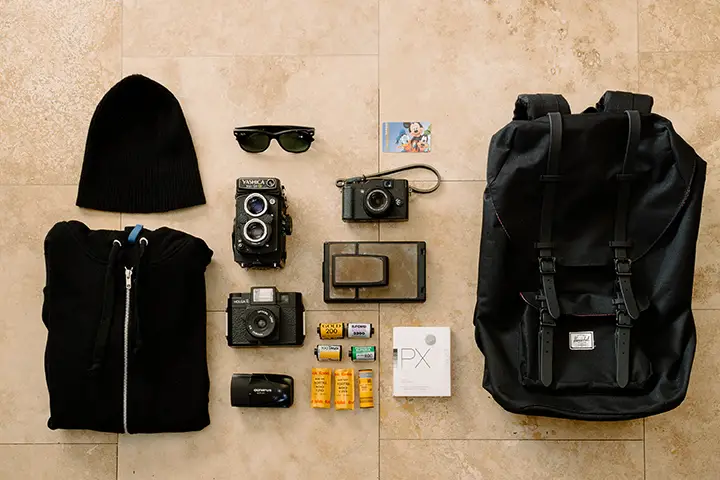 The bag is an all black Little America backpack form Herschel Supply Company. It has super comfortable and breathable padding against my back which makes it a breeze to carry while I wait in line for rides.
My Disney Annual Pass to get me into the park. At the time of this article it's just about paid for itself with the number of times I've visited the park in the last 2 months.
The Fuji x10 which is my favorite digital point and shoot camera ever. I was looking for a great point and shoot to have in the car or carry around when hanging with friends. My main camera is a D800 which is great for work but 36 megapixels and the physical size (not to mention the price) makes it impractical to carry around daily. I was looking for a P&S camera that was somewhat cheap, could shoot in raw, had manual settings and would take photos that were at least a little better than my iPhone 5s. I had an x100 a while back but it was such a nice and expensive point and shoot that I ended up babying it way too much. It ended up sitting in my bag for too long. After Fuji released the x20, the prices on these x10's came way down. I was able to score mine on Craigslist for really cheap and it's seen more use in 2 months than the x100 ever did.
Out of all my medium format cameras, my Yashica Mat-124G is one of my favorite "walk-around" cameras because it doesn't weigh nearly as much as say my Hasselblad 500c, Rollei SLX or Mamiya 645. The images off the Yashica are tack sharp and the shutter sound is pretty stealthy out in public which makes it great from capturing some candid street photography style images. I'll usually keep this loaded with some Kodak Portra film.
My SX-70 is another Craigslist find. There's a certain kind of haunting nostalgia that comes out this camera which makes it a favorite to have around. It's also a great conversation starter when someone else spots me shooting with this one. I might refinish the leather on this one soon since it's starting to crack apart all over. I usually prefer B&W film in the SX-70.
My little Holga. This little guy has the same roll of film in it since God knows when. I think I'll make it a point to shoot through the rest of it next time I'm at the park just so I can see what the first few frames were.
The Olympus Stylus (The MJU ii) is one of my favorite 35mm point and shoot cameras. Super compact with great optics. I'll usually keep this loaded with cheap drugstore films or whatever else is in the fridge that day.
I usually put all my films into a black leather dopp bag (not pictured) which also carries around my phone charger and a spare battery and SD card for the x10.
Sunglasses, a beanie and a hoodie along with some bottled water and snacks round out my essentials for a good day at Disneyland.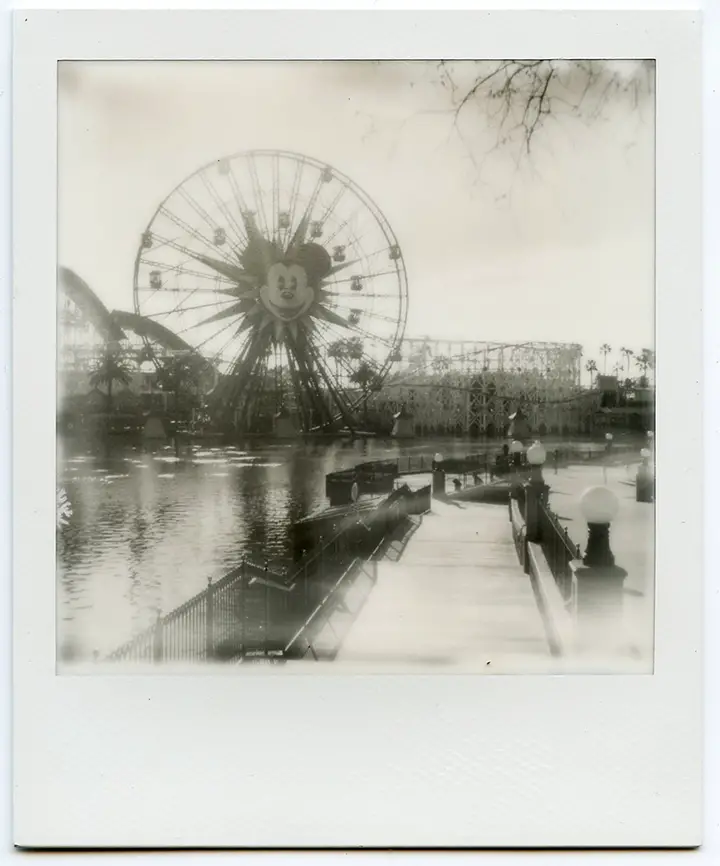 Thanks again for the great site!
Rick Marquez
Instagram: rickmarquez
Site: www.glassboxvisuals.com
thanks for sharing your bag with us Rick. I love the style and the concept. Great stuff.
Check out the links and make sure you come and comment.
Keep them coming folks, we need more submissions, so get your bag on Japancamerahunter.com. Send me a hi resolution image of the bag (please make sure it is horizontal) and its contents, with some details about yourself and what you shoot. Oh and don't forget your contact details (twitter, flickr, tumbler et al). Send the bag shots here. Please understand that there is a long wait now as there is a backlog of submissions. Not all make the cut, so make sure yours is funny/interesting/quirky. And please make sure the shot is of good quality, as the ones that are not do not go up.
Cheers
Japancamerahunter