Show us your film : The grain abides
I have some more for you. This time a personal collection, a collections so massive it needs an excel document and a completed darkroom. Check it out.

Richard Carle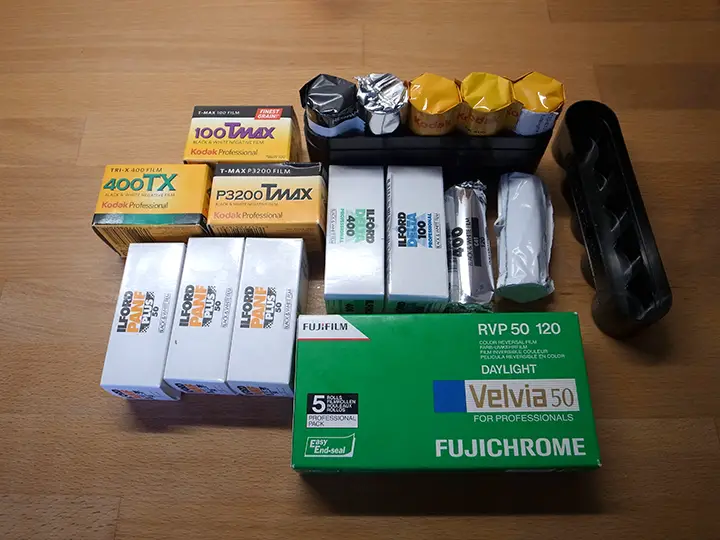 I wanted to send you my collection of films, so here it is.
It's not really a stash, a small pile at best, but a really "colourful" mix.
Below you see the combined contents of fridge and freezer:
5 rolls of Velvia 50 120
3x Ilford PanF 120
1x Ilford Delta 400 120
1x Ilford Delta 100 120
1x Ilford XP2 120
1x FOMA 100 120 (I guess, I got it with the filmcase)
1x TMX
1x TMZ
1x Tri-X
In the JCH filmcase:
1x Ilford HP5x
1x Acros 100
1x Kodak Ektar
1x Kodak Portra 400
1x Kodak Tri-X 400
Cheers
Richard Carle
James Eakins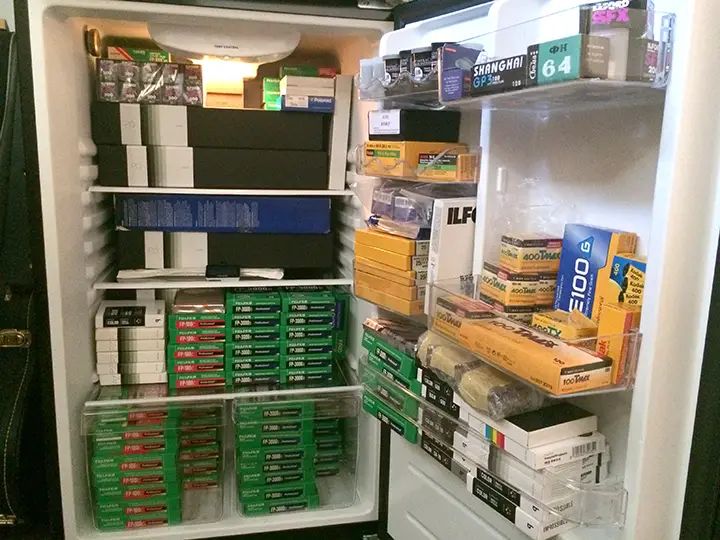 impossible 600 b&w
impossible 600 color
impossible 600 b&w black frame
impossible 600 color silver frame
impossible PX black frame
unknown
Kodak Kodachrome 64 color reversal film
Kodak E100G ektachrome color transparency
Kodak T-Max 100
Lomography Lomochrome purple XR-100-400
Shanghai GP3 Pan Film
Kodak Kodacolor VR
Polaroid blue film type 100
Fuji fp-100c silk
Fuji fp-100b
Fuji fp-100c
Fuji fp-3000b
Polaroid polacolor 125i
Agfa Photo Vista Plus
FPP PolyPan F
Fuji Fujicolor
Fuji Fujichrome cdu type II duplicating film color transparancies
Fuji Fujicolor
Ilford SFX 200 infrared
Kodak 100 Tmax
Kodak Tri-X 400
Kodak BW400CN
Kodak Kodachrome Color Slide
Kodak Tri-X Pan
Kodak ultramax
Kodak 400 Tmax
Kodak-FPP Cinema Pan XX
Lomography Lucky Super 200 redscale
Lomography Lomochrome purple XR-100-400
Rite Aid color print film
Svema FN 64
ultrafine xtreme
ultrafine xtreme 400
Fuji FP-100c45
Ilford delta 100
Kodak E100S Ektachrome color reversal Film
Kodak technical pan
Kodak Plus-X pan
Kodak high speed infrared
FPP super green x-ray
Fuji Super HR-U green
Fuji Super RX-N blue
impossible open PQ 8×10 silevr shade
impossible PQ 8×10 silver shade
Kodak x-omat AR 8×10 exp. 1996
Polaroid polacolor 809
impossible PZ black frame 600 silver shade
impossible PZ 600 uv+ silver shade
impossible spectra color
Kodak Tri-X Reversal Film 7266
impossible PX 70 color
impossible sx-70 color silver frame
impossible sx-70 color
impossible Cyanograph sx-70
Eastman so-331
FPP infared color
James actually shared with me an excel file with all of the film, so he could keep track. Amazing stuff.
NTU Photo-Videographic Society


This is Xavier from Singapore. I'm in my university's photography club (NTU Photo-Videographic Society) and we have a pretty active darkroom. Here's some shots of the developing area, where the magic happens.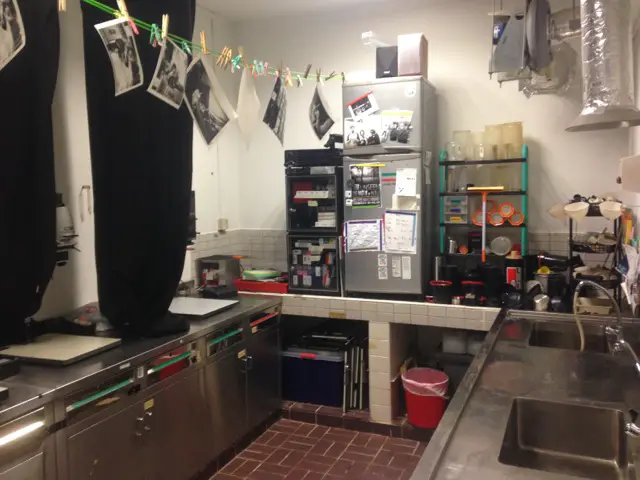 Here's the assortment of chemicals we have in our clubhouse.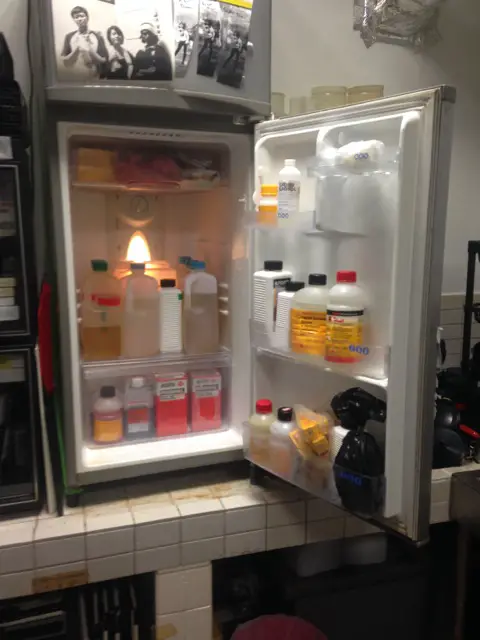 For the actual film we have, its not a wide collection. We use Fuji Tri-X 400 and Ilford Delta 100 as our standard films for teaching darkroom workshops, which we hold twice a year for members. Also we have some old Ektachrome which expired in the late 80s, but I never knew who they belonged too!
This is the sitting area outside the darkroom where we have put some prints up for show, its a little bit messy as we use that whiteboard for teaching too but we have since done some spring cleaning.
Anyway if you are ever thinking of popping by the most expensive city in the world you can find us over at https://www.facebook.com/ntupvs
Cheerios,
Xavier
Excellent stuff. It doesn't matter how small or huge you collection is, it is the passion that is important. Please send more, as I have none left now.
I would love to see your collections, so if you want to send them in feel free. Perhaps you can include a couple of shots taken with your favourite films, that would be fun. Click here to send your stash. Please make sure you send the submissions to this link, otherwise they will not be featured.
Thanks
JCH