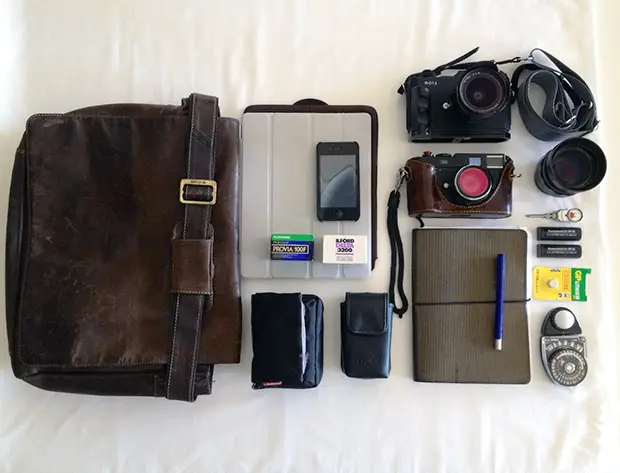 In your bag 812, Christiaan Beukes
Straight from a super simple bumbag we go to a multi purpose street shooters bag, with all the bells and whistles. Come and check out this bag from South Africa.

I'm a 30 year old South African. I run my own business designing automation, lighting, audio visual and cinema systems, and as such I am very fortunate to be able to travel quite a bit. As I write this mail I'm sat in the Munich Tap-House enjoying a craft beer (soon two, or three… )
I would regard myself as a bit of an junkie when it comes to the slow-movement of things- slow food, slow technology, slow everything really. Not slow in the tardy sense, but rather slow in the 'really-immerse-youself-in-the-moment' sense. This includes some crazy places in Cape Town, some coffee snobbery, craft beer loving and of course, a somewhat growing collection of very special and, too me at least, pretty amazing cameras.
So, to get on point – I currently carry in my bag a black Leica M6 TTL loaded with Tri-X or HP5. A Voigtlander 21 f1.8, or 35 f1.4, usually adorns this, and along with my Sekonik light meter, is never far out of my reach or my bag. This is my go-to film setup. However I also enjoy using some of my other pieces; in the film part of the collection I have depending on my mood or who's with me at the time;
Canon AE1-P; courtesy of my father who, as far as i can tell, always used this in Program mode at f5.6 with his 28mm, 50mm and 70-210 lenses (now in my 'camera drawer'). It now does duty properly in a much wider variety of shoots – and I've currently got three spools of film being developed (no, not a self developer just yet – so I send it off to get done!)
Voigtlander Compur – circa 1932 If I have my dates correct, and its currently loaded with some Kodak Porta 120 film. I have yet to actually finish the roll, so I have no idea how these will turn out, but the glass is crystal clear (after a good dismantle and clean) and the bellows are in surprisingly good condition!
My digital go-to is my Epson R-D1s with a Brydge grip. The 1x / lifesize viewfinder is amazing to use, and my fiance always says its strange to see me taking photos with both eyes open when the camera is up to my face! It might only have 6MP but because its completely analogue, with manual shutter cocking and those old school dials, it really has got me head over heels. The images it produces are also really amazing when I manage to nail the focus.
Usually I'll have the Voigtlaner Nokton 50mm f1.1 along with the 35 and 21, a old self timer, a couple of spare batteries for both Epson and Leica, and in this bag I had some Provia and Delta 3200 on hand.
My bag is the best of the bunch i think – it has character and a beautiful patina which has worn over the last 7 years I've had it. Best of all it doesnt even look like a camera bag! I'm nervous that the corners might wear through from all the usage, and in fact when I was last in London, I went to see if the French chap in Camden Town still sold them at his little Vosconti store – and he does!
I should have bought another one then and there, but left with ipad sling bag instead (oops!) It doesnt have the traditional padding, and sections or dividers, but this is where the individual lens bags by manfrotto come in.
My other two lovers (not pictured) are a Canon 5D3 and a 1V HS, both which I use in a more 'workhorse' sense of the word – documenting our business' installations and progress on various work sites. The autofocus is amazing, and its just so easy to use a (D)SLR, but its chalk and cheese vs the rangefinders. They're just such different systems and I find each works well and has its own experience and feel.
Then finally I also have a Polaroid 635 with some impossible project film to compliment the lot for when I think its appropriate! Danielle, my fiance, and I will be using this at our wedding later this year.  I think though, above all, the best camera I have is the one on hand at the time a moment might need to be frozen and framed!
I always have at least one of my two iphones on hand (depending where in the world I am, and if on business or not) and my ipad for browsing, email and filling idle time while waiting for photo opportunities. A notebook for times when its just easier to jot something down, or sketch an idea out faster than the technology allows is also there.
I have not really put much out there image wise – only a small 500px account under Christiaan_BT, with many random images which span the last couple of years, but I would appreciate any comments and critique. I also dont have a specific style of shooting or processing and am very much still finding my feet so to speak.
I have tremendously enjoyed putting this post together for if Bellamy might find it appropriate to post, so fingers crossed! Thank you all for reading – and I'll be happy to answer any questions if anyone has them.
Kind Regards,
Christiaan Beukes
Thanks for sharing your bag with us Christiaan. Shame you didn't send us a website where we can see you work.
Please make sure you come and comment, I love it when you do.
Keep them coming folks, we need more submissions, so get your bag on Japancamerahunter.com. Send me a hi resolution image of the bag (please make sure it is horizontal) and its contents, with some details about yourself and what you shoot. Oh and don't forget your contact details (twitter, flickr, tumbler et al). Send the bag shots here. Please understand that there is a long wait now as there is a backlog of submissions. Not all make the cut, so make sure yours is funny/interesting/quirky. And please make sure the shot is of good quality, as the ones that are not do not go up.
Cheers
Japancamerahunter