In your bag 427, Anthony Thomas
Todays bag is delightfully simple, with a nice range of gear inside, without being overwhelming. Come and have a look.

I'm Antony Thomas, an enthusiastic amateur photographer living in Cheshire, England. I'm still very much "learning the craft" and happily photograph anything that takes my fancy, including landscapes (both rural & urban), interesting buildings, people and my cat, Willow – she is usually the first subject for any new cameras or lenses I get. My favoured focal length appears to be 35mm since, after a couple of years, I realised that two thirds of the photos I had taken were at, or around, this focal length.
Over the last few years I've bought several camera bags (ok, seven) but, although all of them do get used from time to time (honest!), there are only two that are used on a regular basis. My Billingham Hadley Pro bag for my DSLR gear (Canon 7D with various prime & zoom lenses) & my Gobi Messenger bag for my compact camera gear.
My holidays are usually "city breaks", during which I often spend 12 or more hours each day wandering around exploring, so I prefer to take my compact cameras rather than my bigger and heavier DSLR kit. Over the last five years I've been to Lisbon, Porto, Paris, New York, Rome & Barcelona. This year I'm off to Vienna and (hopefully) Amsterdam.
The Gobi Messenger bag is small and unobtrusive, but big enough to take all my gear. It has plenty of internal pockets for holding spare batteries, spare memory cards & film, lens cloths, etc. and a large external rear pocket which is useful for holding maps, guide books and other items I want to get at without having to open the bag.
The three cameras I carry in it are;
Fuji X100 : 23mm f/2 fixed lens (crop factor x1.5)
Panasonic GF-1 : 20mm f/1.7 pancake lens & 14-45mm f/3.5-f/5.6 zoom lens (crop x2)
Olympus Trip 35 : 40mm f/2.8 fixed lens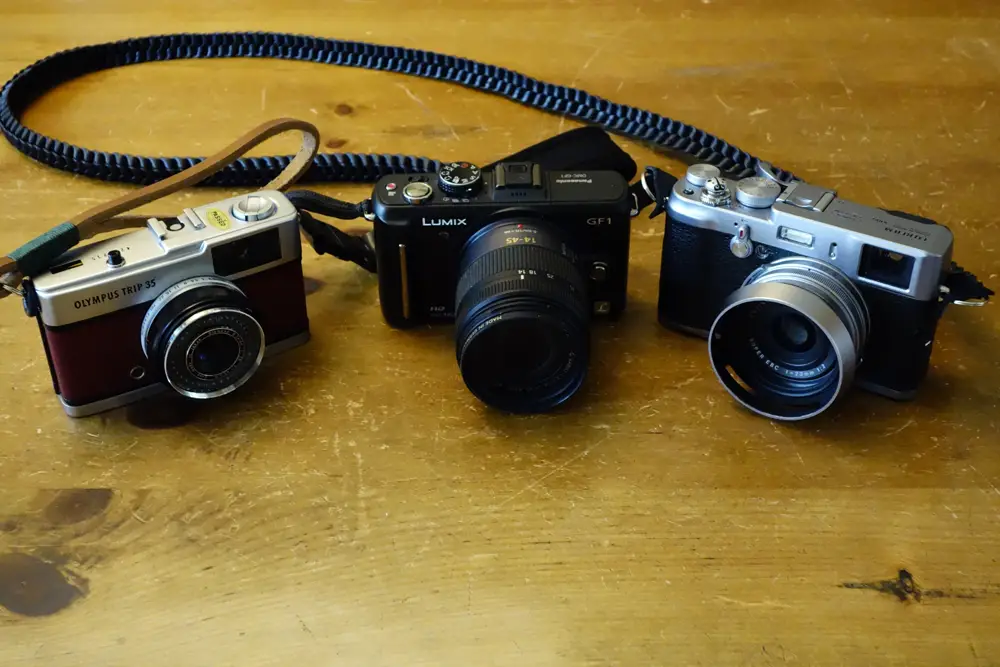 All three of these cameras feel just the right size and weight in my hands. I bought the GF1 first, originally with the 20mm pancake lens and later I added the zoom for the wider range of focal lengths. It may not have the good looks of the X100 and the Trip, it's basically a chunky, plain black box, but it's well built, easy to use and produces good quality images. The only negative is that, after I bought it, I realised I really missed having a viewfinder. Yes, I know there's an EVF I can get, but it's poor quality and expensive so I live without it.
Then Fuji announced the X100 and I just had to have one. I love this camera; it looks great (I like the retro, faux rangefinder look – although I know some people don't), I love the OVF/EVF viewfinder and the 23mm focal length equates to my favourite 35mm. It's a delight to use and the quality of the images it produces is excellent. I've "pimped" it up with a black braided leather neck strap from Barton 1972, the Fuji lens hood, a silver Thumbs Up grip and a silver Thumbs Up Leica Bug soft release.
The Olympus Trip 35 film camera is a very recent purchase – it arrived a week ago. I'd been tempted before, when I first heard of and visited the Tripman website, but managed to resist. Then one recent cold and rainy Saturday afternoon, the combination of the weather, the internet and an "empty" credit card led me once again into temptation and this time I could not resist. Like the Fuji, it's a lovely looking camera – I especially like the red leather cladding – and I've added a brown leather wrist strap from Gordy. I'm looking forward to "dipping my toes" in the world of film photography with it and seeing how it goes. You never know, this might be the first of several film cameras (well I do have seven camera bags to fill!).
Here's a photo showing the cameras inside the bag;
The photos were taken with my Sony RX100, which is my "carry everywhere" camera – no bag required.
Thanks for sharing your bag with us Anthony, shame you couldn't include any links too. If you have any please let us know in the comments.
Keep them coming folks, we need more submissions, so get your bag on Japancamerahunter.com. Send me a hi resolution image of the bag (please make sure it is horizontal) and its contents, with some details about yourself and what you shoot. Oh and don't forget your contact details (twitter, flickr, tumbler et al). Send the bag shots here.
Cheers
Japancamerahunter