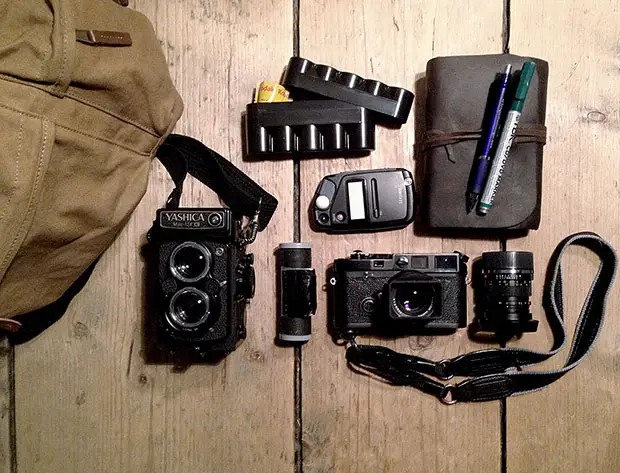 In your bag 781, Christian Johansson
Today we skip across the pond and over to Sweden to check out Christian's bag. This one is a simple and classic mix of different formats. Come and see…

Christian from Sweden checking in with one of my bags. For most photographers I know bags are something you have in piles and pick from when they fits ones needs and thats the way it is for me too, right tool for the work. No one is perfect, some are better then others but the hunt for bags that make carrying and working easy will never stop I think.
I work full time as photographer in my own business but my workbag are another beast. This is my analog day to day bag for the moment, the bag for the photography that keep me sane. For me photography is a 24/7 thing, work and free time, shooting, editing, reading and writing. I separate things so for work it´s all digital and the rest all analog. I use many formats, from half frame to 4×5, instant and film mostly b&w and not much color outside work. Maybe I come back with my large format bag, my work bag or some other bag combo another time.
This bag are a inexpensive backpack from a Chinese seller on eBay, can't remember the name, picked the label of the bag as soon as I got it. Have tried to get a waxed finish on it but I´m not there yet. Tried Fjällrävens Greenland Wax, it´s good for water protection but don´t give the finish I´m after.
Inside the bag are only the essential for a days walk in a city or out in nature.
-Yashica MAT 124G
– JCH 120 film case with some TriX
-Sekonic L-308 B
-Notebook and pens in a leather cover from  Freya on Etsy, https://www.etsy.com/se-en/shop/inkitbooks
-Leica M6 with a black JCH Soft Release
-Voigtlander Nokton Classic MC 35/1,4 with a 3D printed hood from AnalougeRobot, http://shpws.me/pLGq
-Leica Summicron 50/2,0 and a China hood.
-2 film canister with TriX taped together with a spare batterie for the M6, (JCH film case when I´m more actively shooting)
-Room for some cloth, a book or spontaneous shopping.
I guess thats it. Not much but enough, and for most walks to much, rarely use the Cron but it´s a good feeling to a have it with me.
I have two blogs going, check it out if you want, if not thats ok too.
www.papac.se where I post a daily picture and have done so for more then 1400 days strait. Most digital from my work, try to take a picture from that day but thats not a rule I have to follow.
www.peakmoment.se is my blog for analog photography. Post here daily as well but this one have only been up for a couple of month. Good start for this one, from zero to 250 daily visitor. Will try to use this place for writing about my experience and maybe inspire or help someone if I can. Time will tell.
And my flickr space at http://www.flickr.com/photos/papac/
English is not my first language and I use my blogs to practice, writing in English are a challenge even if I can read without any problem. I think this is the way I learn, give my self tasks and then work with it. I have never liked school and skipped classes more often then attending them. I´m all autodidact and proud of it, my teacher would say I have problems with authorities and maybe thats a part of it. Any how I´m now 52 and done it ok so far:)
BTW, thanks for the gifts Bellamy. Santa came twice this Christmas.
Cheers
/c
Thanks for sharing your bag Christian. I love your explanation of English usage too, great stuff.
Check out the links and make sure you come and comment.
Keep them coming folks, we need more submissions, so get your bag on Japancamerahunter.com. Send me a hi resolution image of the bag (please make sure it is horizontal) and its contents, with some details about yourself and what you shoot. Oh and don't forget your contact details (twitter, flickr, tumbler et al). Send the bag shots here. Please understand that there is a long wait now as there is a backlog of submissions. Not all make the cut, so make sure yours is funny/interesting/quirky. And please make sure the shot is of good quality, as the ones that are not do not go up.
Cheers
Japancamerahunter