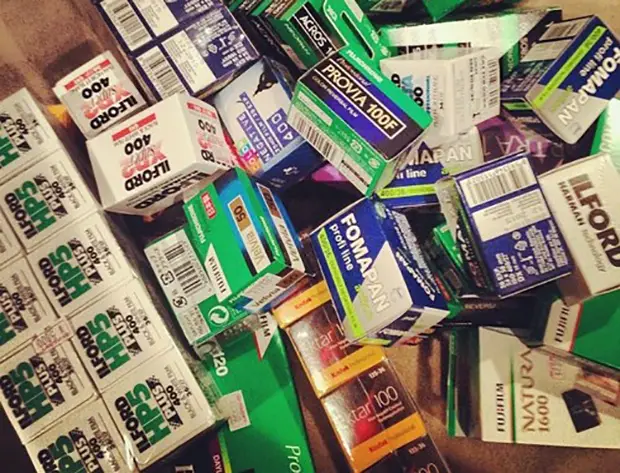 Show us your film : Various Offenders
A few people sent their stash in, so I thought it would be fun to share them with you. I bet some of you lot have incredible collections. Who knows, we could end up with people doing stash swaps. Check it out.

I had fun sharing my meagre collection of film with you lot, and it seems like it inspired a couple of you to send me your collections. So without further ado, let's crack on.
Francois Nadeau
http://www.aminumerique.com/

Francois tells me that his teenage daughter sometimes asks if she eat film if there is no food in the fridge.
Ben Parks
http://benparks.com/

I get the distinct impression Ben is rather fond of instant films. A couple of lonely rolls of 135.
Dan K
http://zdp-189.tumblr.com/

If you read the site, you will know Dan K is a bit obsessive about film can cameras. And this is just further proof. Wow.
That's it for now. Keep them coming.
I would love to see you collections, so if you want to send them in feel free. Perhaps you can include a couple of shots taken with your favourite films, that would be fun. Send your film stash. Who knows, if enough people do it, it might become a regular thing. 
Cheers
Japancamerahunter