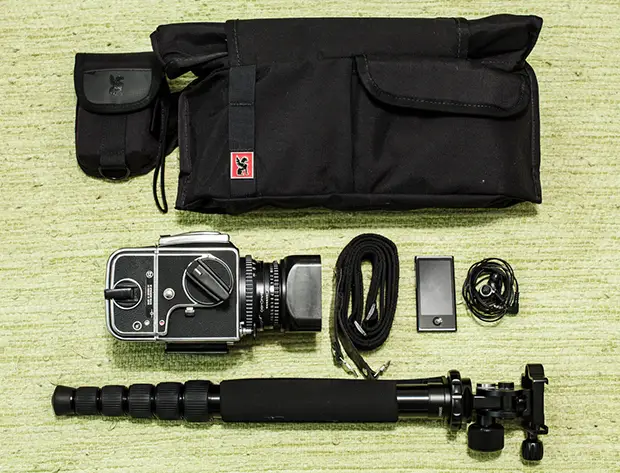 In your bag 739, David Munson
After a bit of a site wobble, I bring you todays bag. David shares with us a wonderfully simple setup.

I've recently gone about giving my daily carry a total do-over in the interest of mobility and not carrying crap I don't need. It is serving me very well now, and will make it easy to keep up my daily photography when I move to Shanghai in February.
This setup covers my day-to-day well and allows me to do most of my normal photography without feeling weighed down (which is novel to me as a chronic over-packer).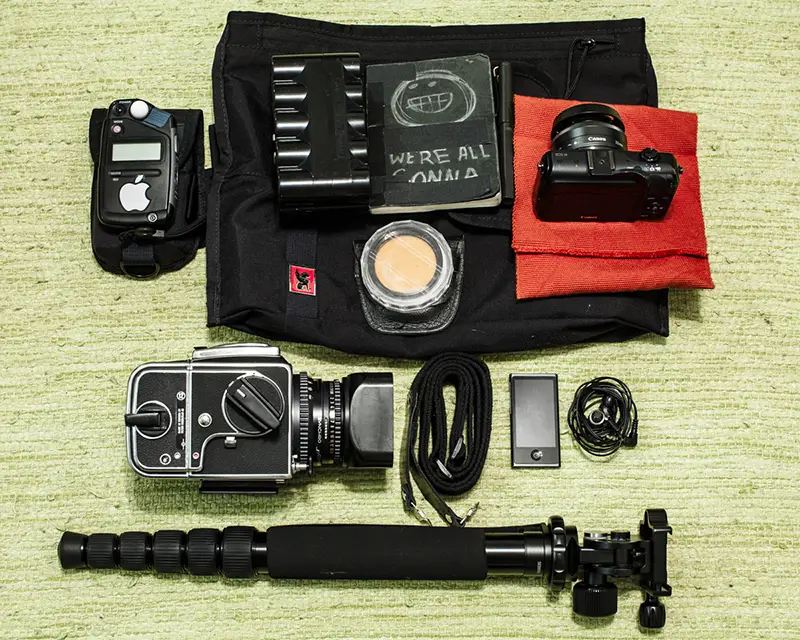 The bag is a Chrome Chekhov. It lets me carry the little bits and pieces easily. The camera doesn't fit inside, but I don't need it to. I have full-size bags I can throw everything in if I need that. I like the lightness and ready-to-go nature of this setup. I can wear the bag across my torso or around my waist and I like that it doesn't swing around and get in the way like a shoulder bag can.
There's a small pouch on the strap that fits my light meter and darkslide perfectly.
The camera is a Hasselblad 500CM with an 80mm f/2.8 Planar C, waist level finder, an A12 back, and an Acratech QR plate. I've had flings with other lenses, smaller and larger formats, but I always come back to 120 film and a normal lens. For at least 90% of what I do, this is all I need.
The monopod is a Sirui P-306 with a Sirui L-10 head. The Hasselblad is the only camera I've ever liked using on a monopod. The monopod is smaller and easier to carry than a tripod, but it still buys me a few extra stops of usable light at the ends of the day. I just tuck it in the strap of the bag and it stays put no problem.
Other items are a notebook and pen, strap, Sekonic L-308 meter, iPod and earbuds, Fuji Acros 100 film, a polarizer and an orange filter, and a Canon EOS M digital.
I could carry more, and can fit a second lens in the bag if I want it, but usually don't. Lightness is freedom, and freedom reduces the number of excuses one can make for not shooting. This is good for my photography.
David R Munson
photo: www.davidrmunson.com
blog: www.photo-otaku.com
Thanks for sharing your bag with us David. I love the simplicity.
Check out the links and make sure you come and comment.
Keep them coming folks, we need more submissions, so get your bag on Japancamerahunter.com. Send me a hi resolution image of the bag (please make sure it is horizontal) and its contents, with some details about yourself and what you shoot. Oh and don't forget your contact details (twitter, flickr, tumbler et al). Send the bag shots here. Please understand that there is a long wait now as there is a backlog of submissions. Not all make the cut, so make sure yours is funny/interesting/quirky. And please make sure the shot is of good quality, as the ones that are not do not go up.
Cheers
Japancamerahunter