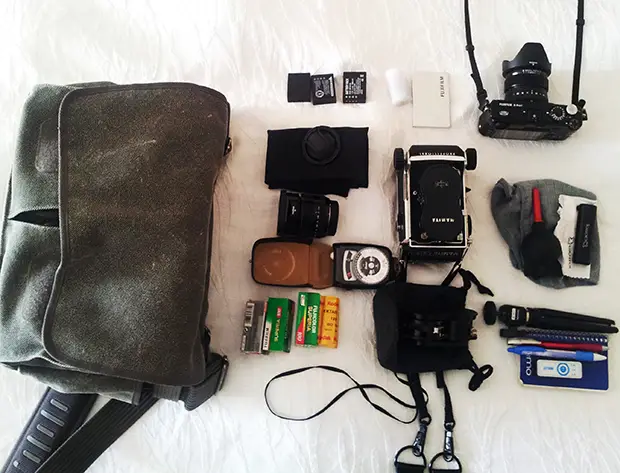 In your bag No: 670, Hubert Figuière
Hubert has been through photographic periods, and this is one of them. Come and check out what he has in his bag for this one.

Hi, I'm Hubert, I'm a software artisan by trade, and photographer by passion. I'm 39. I hail from Montréal, Canada.
I don't have a specific style but I shoot mostly to document every day life and places. This is my "second photographic period": I was on a total hiatus for a few years in the mid 90's, leading to a total reboot.
I have several bags and more cameras than these, but this is the setup I have been using the most lately and that I brought with me for a business trip to Toronto.
The bag is a Thinktank Retrospective 30. I love the look and what it can contain. I originally bought it for the DSLR rig with the big zoom. But in the end this is the one I use to travel.
The kit is as follow from the top right, counter clockwise:
* The digital kit, a Fujifilm XPro-1 with 14mm mounted and a softie. Some SD card in the Fujifilm metallic case. The little film canister next to it is a Lego figurine. 3 extra batteries (this thing run through them fast). Then the XF 35mm f1.4 with its cloth pouch. I love this camera. So much that I barely touched my DSLR since and remain the one camera I take if only one.
* The film kit: a Gossensix light meter when I feel I need it. 120 film rolls in bottom left of the picture (I know I don't have the JCN film cases), including one of my favorite film, Ektar 100 – I mostly shoot in colour. The 105mm for the Mamiya.
* The metadata kit: a notepad with pens that I use to record meta data for the film, the GPS tracker I use for geotagging
* A mini Manfrotto tripod I find I carry more than I use it. I used to not have it in my bag, found it in my move, and left it in this bag. Didn't use it.
* The cleaning kit: a micro fibre cloth, a lens cloth, a brush and a Giotto blower
* The master piece in the centre, my Mamiya C-220 TLR with the 65mm mounted on it. One of my favourite camera. Heavy and bulky, but it always attract conversation and helps me take good pictures. It is also the camera that made me go back to shooting film.
Missing from the picture: the cell-phone. I have some Android Samsung phone I hate, but it is useful even more with a little app called "Exif4Film" that end up replacing the notepad ; or to post to instagram, read twitter, etc. It is the camera I used to take this picture.
While I'm satisfied with that kit, there are a few film cameras I would love to have: Leica M6, Fuji TX (or the X-Pan version) and Mamiya 7.
You can see most of the stuff I have posted either on flickr at
http://www.flickr.com/photos/hfiguiere/ or on my personal gallery
http://hub.shutterbugging.net/photos/list (same pictures)
Cheers
Hub
Thanks for sharing that with us Hubert, It is interesting to hear about your hiatus, as I also had one from 2004 until about 2006.
Check out this links and make sure you come and comment.
Keep them coming folks, we need more submissions, so get your bag on Japancamerahunter.com. Send me a hi resolution image of the bag (please make sure it is horizontal) and its contents, with some details about yourself and what you shoot. Oh and don't forget your contact details (twitter, flickr, tumbler et al). Send the bag shots here. Please understand that there is a long wait now as there is a backlog of submissions. Not all make the cut, so make sure yours is funny/interesting/quirky. And please make sure the shot is of good quality, as the ones that are not do not go up.
Cheers
Japancamerahunter