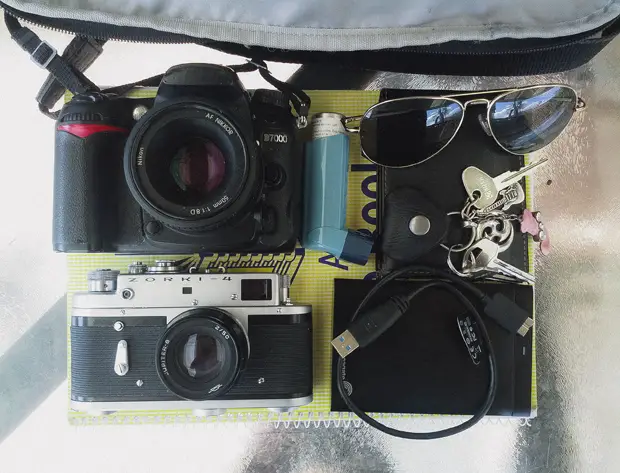 In your bag No: 616, Jackson Wride
Today we have a great bag featuring a nice mix of film and digital. Jackson is only 18 but already knows what he wants from photography. Check it out.

Hi, I'm Jackson and I'm 18.
I'm a student photographer studying at Tafe (CIT) in Perth, Western Australia. This also happens to be my hometown.
I got into photography after deciding to pick it as a subject in Year 11/12. It was there I discovered James Nachtwey and then knew that's what I wanted to do; just document the world, whether it's good or bad.
Anyway, this is my humble bag.
First off is my workhorse of a thing, the Nikon D7000 with a 50 f/1.8D. This goes with me everywhere. Rarely will I ever leave the house without it. The auto focus drives me nuts though, so I manual focus almost everything. The only reason I really still use a DSLR is because my course requires me to have a DSLR. Otherwise I think I would go the way of Fujifilm's X-Pro1. Maybe I can reason with them.
Second camera is my Zorki-4. I believe it's a 1970 model. I inherited this from my great grandfather and I love it. It's got the Jupiter-8 lens on it; a 50 f/2. I don't like to get caught up in sharpness and all that nonsense, all I know is that this camera is great fun to use.
I don't really have any film preferences. Basically whatever I can afford at the time. I suppose if I did have to choose one film as a favourite, it'd have to be something at 400 ISO, Tri-X maybe. My Nikon is almost always set to 400, it's a good ISO for most situations I find myself in.
I also occasionally shoot with my Galaxy Nexus (used to take the photos). It's not too shabby.
Then there's all the other bits and bobs that fill up the remainder of my bag: wallet, keys, sunglasses, hard drive, note book, ventolin (being somewhat asthmatic), pens, lens cleaner..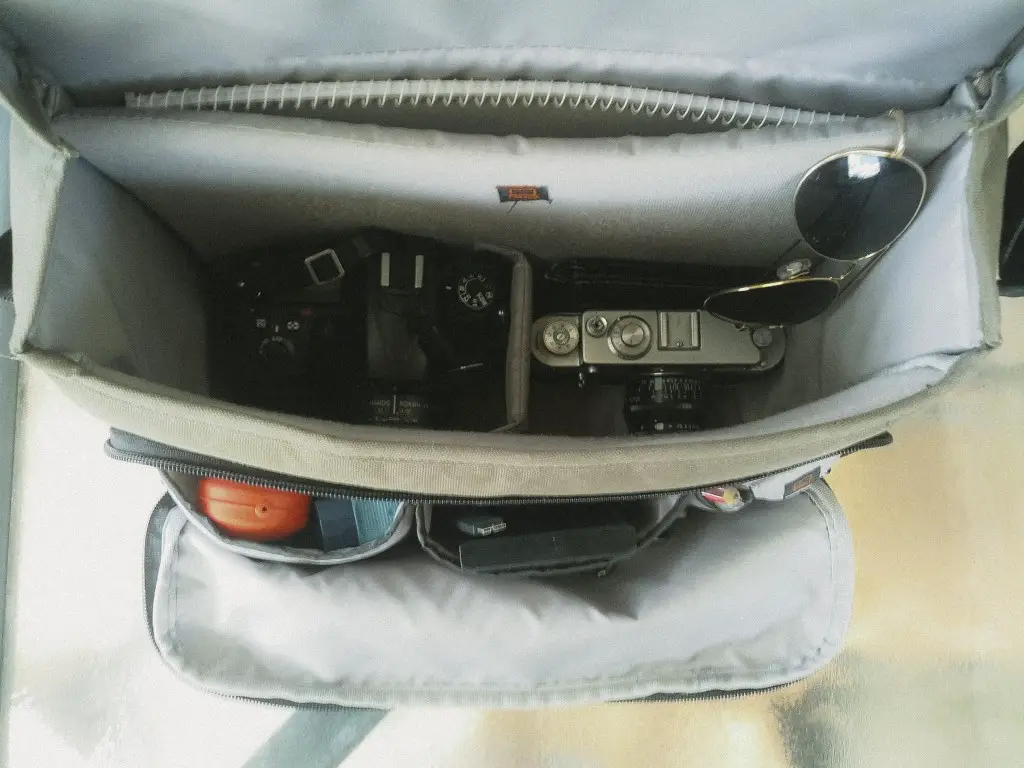 The bag is a Lowepro Event Messenger 250. Very durable and surprisingly water resistant. I'm glad that they give you the ability to either use or not use the velcro patches to hold it closed. Nothing worse than velcro on a bag. Sometimes I'll just go out with my Nikon and leave the rest at home. Depends what the day holds for me.
I'm a big Tumblr user and I post most of my photos there. Mostly street photography or documentary styled. Little old (or young in the scheme of things) Perth doesn't get much exposure I'd imagine so I like to think I'm contributing to that in my photos.
Facebook
Tumblr
Cheers in advance,
Jackson
Thanks for sharing your bag with us Jackson. Nice to see a young photographer mixing film and digital in their work.
Check out the links and make sure you come and comment.
Keep them coming folks, we need more submissions, so get your bag on Japancamerahunter.com. Send me a hi resolution image of the bag (please make sure it is horizontal) and its contents, with some details about yourself and what you shoot. Oh and don't forget your contact details (twitter, flickr, tumbler et al). Send the bag shots here. Please understand that there is a long wait now as there is a backlog of submissions. Not all make the cut, so make sure yours is funny/interesting/quirky. And please make sure the shot is of good quality, as the ones that are not do not go up.
Cheers
Japancamerahunter